New York State
What's on the agenda for the 2023 legislative session in New York?
Everyone's talking about housing – and still fighting over bail.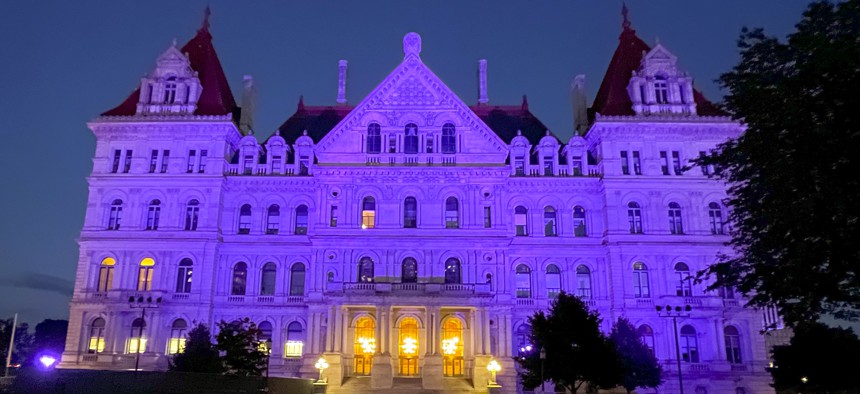 The new legislative session is just around the corner, and officials in Albany have a jampacked agenda for the upcoming year. For Gov. Kathy Hochul, it marks her first year as the elected governor of New York, and her first session with the stability of a four-year tenure ahead of her. That could translate into a different relationship between the governor and the Legislature than the past session, when Hochul had to prove her chops – and build relationships – before her first election.
Meanwhile, Democrats in Albany have kept their numbers, successfully maintaining their supermajorities in both chambers despite some initial concern about the state Senate. That means that the significant bargaining power they held for the past two legislative sessions remains intact. Although lawmakers have not overridden any Hochul vetoes yet, their numbers give them a strong negotiating position.
There will be some big shake-ups next year. A series of retirements and surprise losses have left key Assembly committees in need of new leadership. And lawmakers may start the year in a politically unpopular position if they approve a pay raise for themselves this year.
There are a lot of issues to keep track of as lawmakers, officials, lobbyists and activists make their way back to the state Capitol. Read on for some of the biggest issues in the new session.
Housing
Unsurprisingly, housing is set to take center stage during the 2023 legislative session. Topping the docket for another year will likely be a statewide "good cause" eviction bill that has garnered significant debate in past years. It has failed to pass either chamber yet, but left-wing lawmakers continue to push the legislation forward while landlord groups oppose the legislation that would limit the reasons for which tenants can be evicted, including essentially creating a cap on rent increases. A number of municipalities had passed local versions of the legislation as part of the push to get Albany to act. But in recent months, lawsuits have led to the new laws getting overturned in Albany and Newburgh, which may bode poorly for the statewide version heading into the new year.
But that's not the only thing on the housing agenda this year. Gov. Kathy Hochul has promised that she will focus on housing initiatives in her State of the State address, which she's set to give on Jan. 10, possibly formally proposing 800,000 new housing units over the next decade. It follows her first budget in 2022 in which she touted a $25 billion investment over the next five years to build 100,000 more units of affordable housing. New York City Mayor Eric Adams also recently announced a new housing plan to build 500,000 units in the next decade. Open New York is planning to begin lobbying Albany lawmakers to make building affordable housing easier by easing state-level restrictions.
And, of course, the future of the developer tax breaks to build such housing will doubtlessly come up next year after the 421-a program expired in June. Lawmakers and the governor could not reach an agreement on a replacement program that Hochul had proposed. Getting the program renewed or enacting a new version remains a top priority for real estate developers.
Criminal justice reforms
Carrying over from this past session, activists are focused on sentencing and parole reform. Namely, they're advocating for Elder Parole, as well as Fair and Timely Parole, which have failed to get approval in the past despite strong efforts from advocates. The former would allow incarcerated people over the age of 55 who have already served 15 years of their sentence to automatically become eligible for parole. The Fair and Timely Parole bill would require the state Board of Parole to grant conditional release to anyone who is eligible unless they pose a demonstrable risk.
On the sentencing side, reform advocates are ramping up to advocate for a package of bills that would dramatically change New York's sentencing laws, another holdover from the previous legislative session. Perhaps the most significant piece of legislation would eliminate mandatory minimums, which date back to the Rockefeller Drug Laws from the '70s. Other proposed bills would allow incarcerated people to apply for resentencing hearings after 10 years and would expand laws that allow for reduced sentences for good behavior.
The Clean Slate Act will also be up for debate again after multiple years of coming close to passing. The legislation would wipe the criminal records of most people if they go a certain period of time without being rearrested. Its purpose would be to make it easier for formerly incarcerated people to find jobs and housing by effectively wiping clean their record after showing they have stayed out of trouble. Although it has broad support from a diverse coalition of groups and organizations, it remains controversial.
Not to be left out, Republicans and moderate Democrats will likely call for more changes to the 2019 bail laws, which lawmakers have already rolled back parts of twice. Both legislative leaders have expressed they have no appetite to revisit them again, but after the close race for governor in which Rep. Lee Zeldin campaigned heavily on the issue of crime, as well as the success of Republicans in congressional races who similarly attacked their opponents on crime, the topic will likely return as a contentious subject.
Climate change and energy
At the end of the prior session, the Assembly came close to passing the Build Public Renewables Act, which would allow the New York Power Authority to increase the number of plants it operates and require it to only provide renewable energy. The state Senate approved the bill, but the lower chamber failed to get it across the finish line. After a public hearing over the summer to gain input about the legislation, it promises to become a major issue again. With opposition from New York Power Authority leaders themselves, the bill faces a rocky future, even if it makes it through both chambers.
Funding the state's clean energy and climate goals will also take center stage after both chambers failed to pass the Climate and Community Investment Act that would create a carbon tax on major companies that don't rein in their fossil fuel usage. The money from that tax would go toward local green investments and providing a revenue stream for other green projects. But the bill has faced strong opposition from business and industry groups.
Committees
The formation of various task forces to study one thing or another is fairly routine for the state Legislature, and generally only the highest profile ones tend to get any attention. But next year, these unassuming committees may transform into a bigger issue after Hochul vetoed a bunch of bills in November that would have created them. Among the committees and studies that were vetoed included ones on problem gambling, dyslexia and dysgraphia, blockchain and cryptocurrency, seawalls, fentanyl abuse and overdose prevention, museums and aging in place. She cited unbudgeted costs and redundancy as the reasons for rejecting these proposals and set the stage for them to get revisited in the budget. But Hochul's decision not to sign these fairly mundane bills has ruffled more than a few feathers in the state Legislature and perhaps offered the first look at how the governor will approach budget negotiations in 2023.
Court of Appeals chief judge
Hochul will soon nominate her choice for the next chief judge of the state Court of Appeals, the state's top court, after a panel released a list of recommendations following the resignation of former Chief Judge Janet DiFiore. The task then will fall to the state Senate to confirm her pick, and if recent history is any indication, the process may be a fraught depending on the nominee. In 2021 when then-Gov. Andrew Cuomo nominated Court of Appeals Judge Madeline Singas, progressive activists and lawmakers loudly opposed the former Nassau County district attorney. They started a campaign to get her rejected, and a handful of lawmakers did end up voting against her confirmation. Hochul's first pick to the court, Shirley Troutman, went over much smoother, but the governor's nomination to lead the court will shape it for years to come.
Health care
The next legislative session will likely advance the conversation regarding supervised injection sites. In New York City, there are two sites currently operating in Manhattan, but advocates have argued that the state should fund additional sites. Last session, state Sen. Gustavo Rivera's bill aimed at establishing a program to provide supervised injection sites did not pass the Health Committee. While advocates continue to push for state funding, Hochul hasn't publicly supported these sites. At this year's lone gubernatorial debate, she said she would defer to her health commissioner for guidance and look at the data. But her current health commissioner, Dr. Mary Bassett, is leaving her post on Jan. 1, adding a new unknown to the governor's potential policies. And her administration rejected a proposal from the state Opioid Settlement Fund Advisory Board to fund these sites because it said they violate "various state and federal substance-related laws."
Retiring Assembly Member Richard Gottfried, the longest-serving state lawmaker in state history, has been fighting to get his signature New York Health Act passed for the past 30 years. If passed, the bill would create a single-payer health care system aimed at establishing universal health care in New York. While Gottfried will no longer be pushing for the bill, Rivera has sponsored the bill in the Senate and will be looking for a new partner to sponsor it in the Assembly.
Also, staffing shortages at hospitals across the state have reached a critical level, which led a coalition of 50 upstate hospitals and health systems to call on state lawmakers to pass legislation allowing nurses to complete one-third of their clinical training through simulation. The same group called on the governor to provide more full scholarships to nursing students.
Education
The most contentious education issue this year was secular education, after The New York Times revealed the shortcomings of Hasidic Jewish schools. Although these religious schools, known as yeshivas, were not required to administer the state's standardized tests, "99 percent of the thousands of Hasidic boys who took the exams failed," according to the Times. Shortly after that story was published, the state Board of Regents voted to require private schools like yeshivas to provide a "substantially equivalent" education compared to what public school students receive.
This became a big issue in Hochul's gubernatorial election, and she was largely hands off, saying it was "outside of the purview of the governor." Rep. Lee Zeldin used her stance to flip many Orthodox Jewish neighborhoods.
There have also been reports of corporal punishment at public and charter schools across the state, according to the Times Union. State Sen. Julia Salazar and Assembly Member Emily Gallagher plan to address the issue with legislation banning corporal punishment.
Religious private schools aren't the only education topic likely to be considered in the next legislative session. As the popularity of the charter schools grows, there have been calls for the state Legislature to lift the charter school cap – Hochul said she would support lifting the charter school cap in a gubernatorial debate.
Miscellaneous
New York has faced myriad challenges since the state Legislature was last in session. And lawmakers may attempt to address some of these various issues next year. The Metropolitan Transportation Authority will be facing a "fiscal cliff" after federal emergency aid runs out, possibly by 2024. The agency may need billions of dollars in aid – and state legislators may be forced to make tough choices. "Increasing the gas tax is one way to bring in some additional funds. increasing the sales tax, looking at unappealing choices for making new fees and new taxes," Lisa Daglian, executive director of the Permanent Citizens Advisory Committee to the MTA, told NY1 in November. SUNY, another mammoth institution, may be looking for its own $350 million bailout from the state Legislature to address operating deficits at some of its campuses.
This also has been a bad year for cyberattacks, and lawmakers may choose to bolster the state's digital defenses. Most notably, Suffolk County was plunged back into the 1990s after a ransomware attack impeded the county's operations for months. One Brooklyn Health, which runs three safety net hospitals, has been forced to use pen and paper. Schools and students' data also were frequent targets, including in New York City, Commack and Albany.
Powered By
NEXT STORY: Tenants' rights advocates and lawmakers tout legislative agenda