Budget
Eric Adams eliminates vacant job openings, by the numbers
More than 4,300 city positions were cut in the mayor's latest financial plan.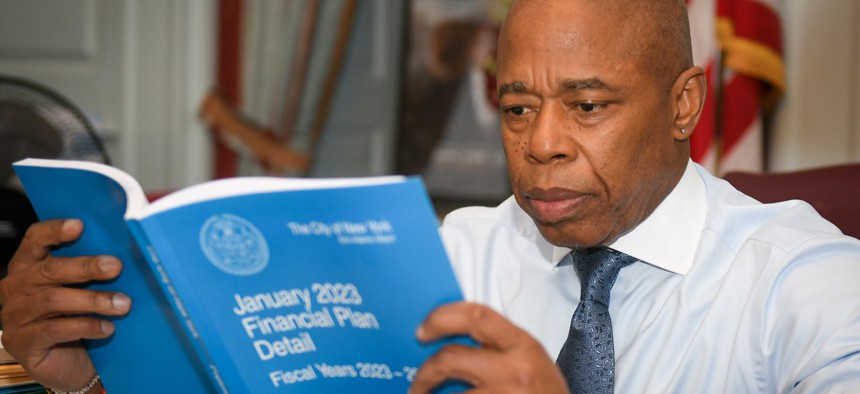 If you can't fill 'em, get rid of 'em. With tens of thousands of unfilled government jobs and precarious economic headwinds, New York City directed its agencies to eliminate half of the vacant city-funded full-time positions in a bid to help find savings in the budget.
Mayor Eric Adams' administration and some fiscal watchdogs have characterized some of those vacant roles as unnecessary. Adams said taking them off the books would allow agencies to focus on hiring for the over 20,000 critical vacant positions still remaining.
Adams' preliminary fiscal year 2024 budget offered a look at how agencies went about making those reductions. Here's a look at the numbers.
4,309 – The number of vacant positions removed citywide for the next fiscal year under the administration's latest savings initiative.
$350 million – The savings achieved for fiscal year 2024 from the vacancy reductions, according to City Hall.
23,000 – The number of open positions remaining after taking those vacant positions off the payroll. Asked about techniques the city will use to fill these jobs, Adams said the city will be more aggressive about seeking candidates.
301,000 – The estimated number of full-time and full-time equivalent people employed by the city, according to Jacques Jiha, director of the Mayor's Office of Management and Budget. The authorized headcount for the next fiscal year is much higher than that in the latest financial plan, at roughly 327,000.
938 – Total number of vacant positions eliminated at the Department of Social Services, including 773 city-funded positions. More than 1,700 vacant positions still remain at the department, and some divisions are experiencing worse shortages than others – like the 46.5% vacancy rate in the Child Support Services Division.
1.7% – The average citywide vacancy rate at major city agencies between 2012 and 2020, according to a November report from state Comptroller Thomas DiNapoli. In fiscal year 2022, that rate was an estimated 7.9%.