Budget
3 issues to watch in NY budget negotiations
Will Gov. Kathy Hochul's agenda prevail?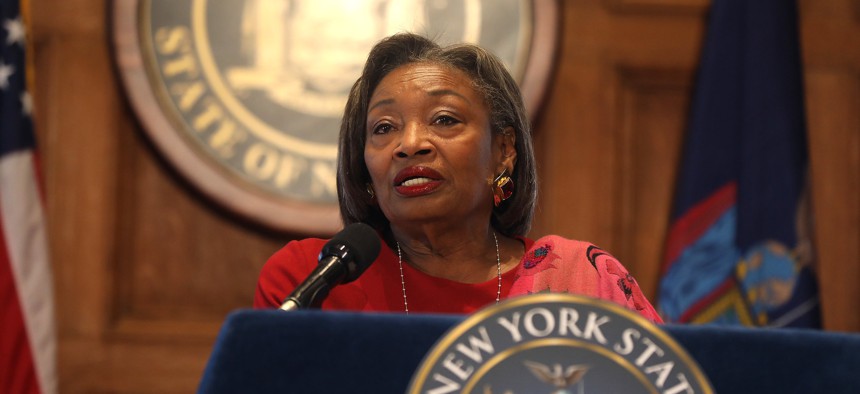 Despite a later-than-usual start to the budget season this year, the deadline to approve the state's fiscal plan for the upcoming year is approaching no slower. With just three weeks before that April 1 budget deadline, both the state Senate and Assembly are expected to offer their rebuttals to Gov. Kathy Hochul's executive budget proposal before the end of the week. Lawmakers, leadership and staff worked on a slightly tighter election year time frame to finalize their one-house proposals, which marked the true start of budget negotiations between the governor and the two legislative bodies.
Although this is Hochul's second budget since taking office, it's her first since her narrow victory in November to serve as governor for a full term. And it's arguably her first real test as governor without an election looming. With supermajorities still in both chambers of the Legislature and a rocky start to the year with the nomination and later rejection of Justice Hector LaSalle as chief judge, negotiations between legislative leaders and the governor are shaping up to be especially tense in the coming weeks.
Here are the top issues to watch during budget negotiations.
Housing
Hochul made new housing development the cornerstone of her budget proposal with a pledge to build 800,000 new units in a decade. A tax break to incentivize developers to build affordable housing called 421-a has expired, and Hochul's housing plan depends on replacing it. Hochul didn't introduce a new tax break proposal after the Legislature rejected the one she presented last year, saying she would work with lawmakers to find a suitable compromise. But according to one labor source with knowledge of legislative negotiations, neither the state Senate nor Assembly plan to include a version of the tax break as part of their one-house proposals. About half of Hochul's housing plan relies on implementing a program similar to 421-a, so leaving out a replacement from the rebuttals would largely gut the governor's agenda. So far, there has not been much indication that lawmakers are working on a tax break replacement. Benchmarks for suburban and transport-oriented development have also faced fierce backlash from officials outside of New York City, although the eased zoning restrictions that Hochul proposed will likely remain. 
On the side of tenant protections, an Assembly source said that the chamber has included the Housing Access Voucher Program as part of its one-house budget. Both the Assembly and state Senate included the proposal last year as well, which would provide rent vouchers to tenants facing eviction and people experiencing homelessness. It was not included in the governor's budget proposal this year. A priority of tenant advocates, the legislation has broad support across partisan lines and among real estate interests, although the question of cost has proved a sticking point. The fate of "good cause" eviction, which seeks to end no-cause evictions and place certain restrictions on rent increases for market-rate apartments, appears less certain, with the Assembly source only confirming the voucher program. 
Taxing the rich
At the start of the year, Hochul pledged that she would not introduce any new taxes and largely made good on that promise. In an apparent attempt to head off some fights from lawmakers on the left, she included an extension of the higher corporate tax rate that was meant to sunset next year. Hochul also proposed an increase to the payroll mobility tax as a means to create additional revenue for the financially struggling Metropolitan Transportation Authority. According to sources familiar with negotiations, other taxes pushed by the left such as new tax rates for the wealthiest New Yorkers and a tax on capital gains have not gained as much steam this year among legislative leadership. The state raised the tax rate on millionaires in 2021, a change that will remain in effect until the 2027 tax year. Some lawmakers have pushed to make the corporate tax rate that Hochul proposed extending permanent, and Michael Kink, executive director of the progressive Strong Economy for All Coalition, told City & State that both chambers will likely "be doing something more than the governor" with regards to corporate taxes.
Charter school cap
With agreement between the executive and legislative branches over the full funding of Foundation Aid for public schools, the education fight this year will likely revolve around charter schools in New York City. Hochul proposed lifting the regional cap on charters in the five boroughs, one that the city has already hit, permitting as many as 85 more of the schools to open. Celebrated by charter advocates and some parent groups, the proposal has faced opposition in the Legislature. In the Assembly, a source with knowledge of the negotiations has told City & State that the chamber has rejected the plan to lift the charter school cap in the Big Apple. The proposal has faced similar backlash from a number of state senators as well. Even New York City Mayor Eric Adams seemed cool to the idea when offering budget testimony to lawmakers last month, citing the $1 billion expected cost to the city an increase in charters would pose. Asked about her proposal on Monday, Hochul told reporters at an unrelated press conference that she is "just responding to parents who want choice, especially in Black and brown communities."