Policy
New York City school safety officers date back nearly 70 years
There's a long history of police patrolling the city's schools.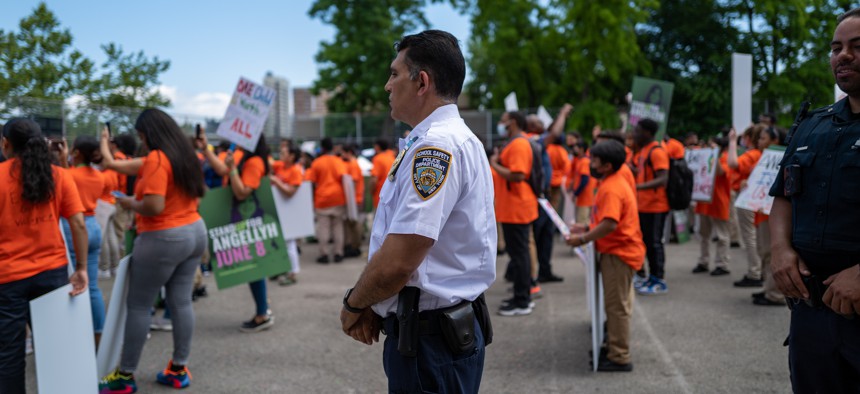 The presence of safety officers in New York City schools dates back to the 1950s, when growing fears surrounding "juvenile delinquency" resulted in collaboration between educators and the criminal justice system. Following a violent incident at a Brooklyn high school in 1957, Kings County Judge Samuel Leibowitz created a grand jury to examine crimes committed by young people. The grand jury suggested either putting police officers in schools or creating a new school police force drawn from retired police officers and firefighters. By 1958, The New York Times reported that police officers were stationed in several schools in Brooklyn, Manhattan and Queens.
As teacher strikes and student protests increased throughout the 1960s, so did the presence of police officers in and around schools. Reports of fighting and racial tension led to calls from parents and police detectives to station more officers in schools, though many students protested their presence. In the late 1960s and early 1970s, the Department of Education began hiring plainclothes security guards – who were not technically police officers but did have the power to arrest students. In 1978, then-schools Chancellor Irving Anker asked the Koch administration to assign hundreds of NYPD officers outside of schools. But Deputy Mayor Herman Badillo refused the request, concerned about the blurred lines of authority between NYPD officers and school security guards.
Efforts to militarize schools accelerated in the 1980s. In 1988, Herbert Berman, then the chair of the New York City Council Education Committee, introduced a bill to put metal detectors in all public schools. Although Mayor Ed Koch supported installing the detectors in five high schools, the plan's $9 million cost made it politically infeasible. Just four years later, though, Mayor David Dinkins announced a $28 million plan to increase safety in schools, which included the installation of metal detectors in 40 schools.
By the mid-1990s, Mayor Rudy Giuliani had arranged for the NYPD to assume authority over safety officers, a move that prompted backlash from the public. Criminal court summonses jumped 101% during the 1999-2000 school year and in 2001, 67% of principals reported that their schools didn't feel any safer.
Mayor Mike Bloomberg continued to push for police presence and enforcement in schools. Though this caused a decrease in crimes, complaints emerged surrounding suspensions and court sentences for children. Mayor Bill de Blasio, following conflicts between students and confiscations of weapons, called for an increase in metal detectors in schools in late 2021 despite debate regarding their effectiveness. While he promised to shift control of school safety officers from the NYPD to the Department of Education, this plan was reversed by Mayor Eric Adams. School safety officers will remain under the NYPD's control until at least 2026.