Labor
Report: Amazon warehouse injuries surpass other facilities in NY
Worker advocates are pushing a bill meant to reduce injuries among warehouse employees.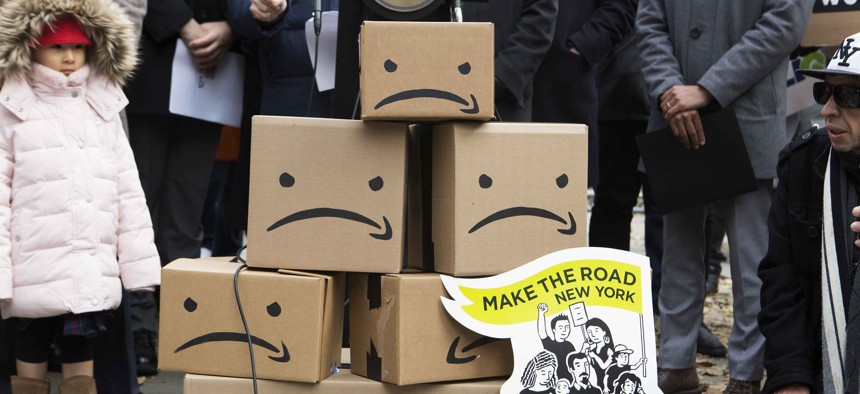 The worker injury rate at Amazon warehouses and logistics facilities continues to outpace that of non-Amazon facilities in New York, according to a new report by the National Employment Law Project shared exclusively with City & State.
Drawing on injury data reported by employers to the federal Occupational Safety and Health Administration, the report found that Amazon workers in the state are injured at a rate of 8.2 cases per 100 workers in 2022. That's compared to a rate of 6.9 cases per 100 workers at non-Amazon facilities in New York. The majority of those injuries and illnesses – at Amazon and non-Amazon facilities – result in the employee having to take time away from work, face restricted duties or be transferred. The report adds that these generally more serious injuries are higher at Amazon facilities than at non-Amazon facilities.
Last year, a study from the National Employment Law Project reported similar findings, though the injury rate at Amazon facilities in New York declined slightly in 2022, from 9 injuries per 100 workers in 2021.
Irene Tung, a senior researcher and policy analyst at the National Employment Law Project, called that decline "negligible." "I think the fact that these injury rates are persistently high despite the fact that there have been active OSHA investigations in several of these facilities in New York state, despite the fact that Amazon is making claims about steps that it's taking, they clearly have not taken the steps that are necessary to really address the injury crisis at its root." 
"We know there will always be ways to improve, but we're proud of the progress we've made and that's detailed in our safety report, which includes a 23% reduction in recordable injuries across our U.S. operations since 2019," Amazon spokesperson Maureen Lynch Vogel said in an emailed comment in response to the report. "We've invested more than $1 billion into safety initiatives, projects, and programs in the last four years, and we'll continue investing and inventing in this area because nothing is more important than our employees' safety." Amazon also objected to the report's description of injuries that result in the employee having to take time away from work, face restricted duties or be transferred as "serious injuries," saying that the metric can include relatively minor injuries.
The report comes on the heels of recent OSHA citations of Amazon facilities in New York and other states. An Amazon distribution center in the Hudson Valley and an Amazon fulfillment center near Albany received citations along with four others earlier this year for failing to keep workers safe and exposing them to a high risk of lower back injuries and other musculoskeletal disorders. Those six facilities previously received citations from OSHA for recordkeeping violations, including failing to properly log injuries. 
Amazon has said that the company disagrees with OSHA's findings and has implemented measures to mitigate the risk of injuries. "We take the safety and health of our employees very seriously, and we don't believe the government's allegations reflect the reality of safety at our sites," Lynch Vogel said in an emailed comment. "We've cooperated with the government through its investigation and have demonstrated how we work to mitigate risks and keep our people safe, and our publicly available data show we reduced injury rates in the U.S. by 23% between 2019 and 2022, and Lost Time Incident Rates worldwide by 53%." The company pointed to the latter metric – Lost Time Incident Rates – which records only incidents in which an employee has to take time off, as a better indicator of serious injuries than what the report notes as serious injuries.
As Amazon drastically expanded its footprint in New York, workers, advocates and some lawmakers have amplified concerns about on-the-job injuries and safety conditions at the company's warehouses.
Addressing those concerns was a top priority for members of the Amazon Labor Union, the independent union that made history in April 2022 by leading a successful vote to unionize JFK8 – a massive Amazon warehouse on Staten Island. Since that historic vote, however, the union has been less successful going up against the union resistant Amazon, and has lost several votes at other warehouses in New York. One of the union votes lost by the Amazon Labor Union was at ALB1, the Albany facility that was among those that received a citation for safety risks from OSHA. The National Employment Law Project's new report noted that ALB1 had the second highest injury rate of Amazon facilities in the state in 2022, at 18.8 per 100 workers. 
The National Employment Law Project, along with the New Yorkers for a Fair Economy coalition, is pushing for the passage of a bill from state Sen. Jessica Ramos and Assembly Member Latoya Joyner that would require employers to implement programs to identify and mitigate risks of musculoskeletal injuries. Tung, the National Employment Law Project policy analyst, pointed to recommendations in OSHA's own reports that could reduce injury risks, including frequent injury prevention training and providing more motorized equipment, like electric pallet jacks, to lift and move heavy items.
The coalition, which includes the Amazon Labor Union and the Retail, Wholesale and Department Store Union, is set to demonstrate with Ramos Thursday morning outside Amazon CEO Jeff Bezos' Manhattan apartment to call for passage of the Warehouse Workers Injury Reduction Act.