News & Politics
Injury rates surge at Amazon's New York facilities
Amazon warehouses nationwide saw a spike in injuries in 2021, but the increase is even more stark in New York.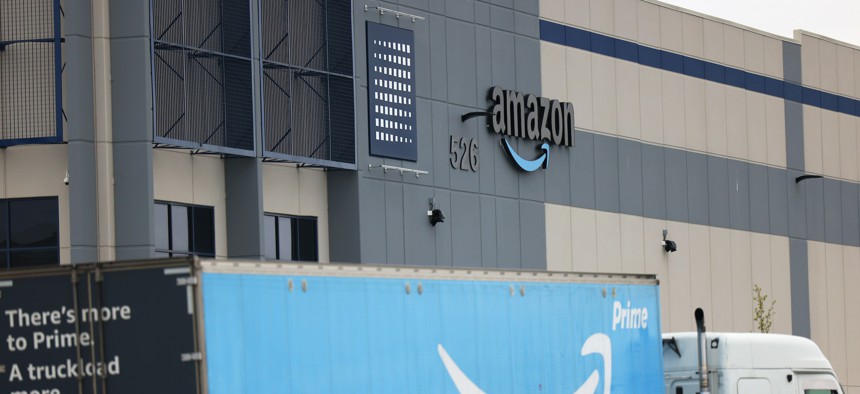 Injuries at Amazon warehouses and logistics facilities in New York climbed 64% in 2021 over the previous year as the company continues to expand its footprint in the state, a new analysis by the National Employment Law Project found. In 2020, Amazon facilities in New York saw an injury rate of 5.5 injuries per 100 full-time equivalent (FTE) workers, and that rate rose to 9.0 injuries per 100 FTEs in 2021.
The increase follows a national trend – Amazon's injury rates across the country rose 20% in 2021, but the increase is even steeper in New York. And it's not just the pace of increase where New York stands out. NELP's analysis, which relies on data that Amazon self-reports to the Occupational Safety and Health Administration, found that the rate of injuries at Amazon's New York facilities in 2021 was higher than Amazon's overall injury rate in the United States that year.
Overall across the country, Amazon's injury rate is higher than non-Amazon warehouses, according to another analysis of OSHA data by a coalition of labor unions called the Strategic Organizing Center. The vast majority of injuries – recorded nationwide and in New York specifically – were identified as "serious injuries," meaning they kept employees from continuing their normal job duties or caused them to miss work. "The vast majority of these injuries are musculoskeletal injuries, repetitive strain injuries from lifting repeatedly at an excessively rapid pace over a long period of time," said Irene Tung, a senior researcher and policy analyst at NELP and the author of the organization's new report. "Those are serious and often disabling injuries that can stay with workers for their entire lives."
Amazon did not comment on why injury rates at its New York facilities might be higher than in other parts of the country. "We hired tens of thousands of additional people to help us meet the unforeseen demand from COVID-19 and people turning to Amazon to help them safely get products and supplies during the pandemic. Like other companies in the industry, we saw an increase in recordable injuries during this time from 2020 to 2021 as we trained so many new people," spokesperson Kelly Nantel said in an emailed statement. "While we still have more work to do and won't be satisfied until we are excellent when it comes to safety, we continue to make measurable improvements in reducing injuries and keeping employees safe."
Nantel also noted that data shows injury rates in 2021 were lower than they were in 2019. In 2019, the nationwide injury rate at Amazon was 9.0 per 100 FTEs; in 2020, it decreased to 6.6 per 100 FTEs; and in 2021, it rose again to 7.9 per 100 FTEs. 
Tung has a guess about why data shows a dip in 2020 and then an increase in 2021. In 2020, Amazon said that it was suspending enforcement of its productivity quotas during the COVID-19 pandemic, but reinstated them by that October. "When Amazon suspended its signature quota-based disciplinary system in 2020, worker injuries declined," Tung told City & State. "When it began aggressively disciplining … based on those quotas, worker injuries skyrocketed again."
Amazon's signature productivity metrics – measuring workers' "rate" and "time off task" – are used to increase efficiency and keep up with the rapid rate of delivery that Amazon offers. But failure to meet those quotas have resulted in discipline for workers, and critics have said those quotas lead to a dangerous work environment that encourages employees to sacrifice safety for productivity. Amazon did not respond to a request for comment about its quotas and whether any suspension of them was related to the dip in injury rates for 2020.
The new data on injuries comes amid a growing effort to organize employees at the union-hostile company. Earlier this year, the grassroots Amazon Labor Union made history on Staten Island by winning the first union election at an Amazon facility in the United States. Longer breaks and immediately providing paid time off for the rest of the day to a worker who gets injured are among the ALU's demands. 
Two of the lead organizers of the Amazon Labor Union – Chris Smalls and Derrick Palmer – spoke to City & State in 2020 about the physical demands of the work. "I (used to) tell every new hire, 'If you have a gym membership, you might want to cancel it,'" Smalls said at the time. "You're going to be on your feet for 10 hour days."
State lawmakers are hoping to pass a bill that might give the Amazon Labor Union one less thing to worry about negotiating when it begins a long and contentious collective bargaining process with Amazon at the JFK8 facility on Staten Island.
State Sen. Jessica Ramos and Assembly Member Latoya Joyner introduced the Warehouse Worker Protection Act last month, a bill that would require employers like Amazon to disclose any quotas and related discipline that employees are subject to, and would prevent employers from enforcing quotas that keep employees from taking breaks and using restrooms. An employee would also be able to request a copy of their own performance data. 
The bill would also require these employers to establish an injury reduction program utilizing input from workers and ergonomists to identify and remedy risks of musculoskeletal injuries. "It cannot be allowed that Amazon or any company is able to make profit on literal back-breaking work," Ramos told City & State. "We can't have high tech sweatshops that just churn through our people."
The versions of the bill in both the Assembly and state Senate have each picked up at least a dozen co-sponsors in the past few weeks. But the bill is up against the clock with only six days left on the state legislative session calendar. "We have nearly doubled the number of cosponsors for this legislation and I am very hopeful that we can get the bill through the Assembly this session and that the Senate passes it as well," Joyner said in an emailed statement. "A healthy economy requires a healthy workforce and we need to ensure that large corporate giants don't push workplace safety in New York to the breaking point."