News & Politics
Amazon Labor Union loses election at a smaller Staten Island warehouse
Workers at the LDJ5 facility rejected joining the union after it led the first successful effort to unionize an Amazon warehouse last month.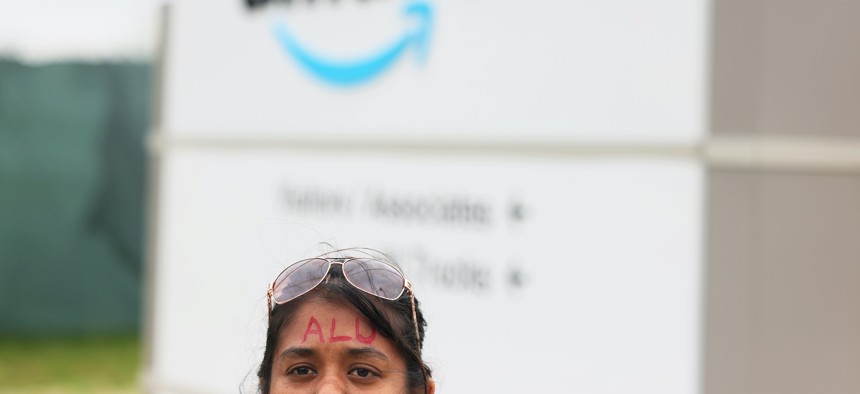 Lightning did not strike twice on Staten Island. Employees at an Amazon warehouse in the borough voted against unionizing with the Amazon Labor Union, according to a vote tally completed by the National Labor Relations Board on Monday. The loss for the independent, worker-led union came weeks after it led a much larger Staten Island Amazon facility known as JFK8 to become the first in the country to vote to join a union.
Employees at the warehouse voted 618-380 against unionizing with the Amazon Labor Union. This second facility, known as LDJ5, is much smaller than JFK8 – it's roughly 1,600 workers compared to more than 8,000 at JFK8 – and many of them are part-time workers. The Amazon Labor Union also had a smaller presence inside the warehouse. The loss was a blow to the Amazon Labor Union, whose momentous win last month cast it as the future of labor organizing.
Still, organizers suggested that not all hope was lost. Halfway through the vote count, as Amazon's lead in the tally grew, organizers commented on Amazon's well-funded resistance to organizing in its facilities, which has included "captive audience" meetings and anti-union propaganda. "The count has finished," the union tweeted after the vote. "The election has concluded without the union being recognized at LDJ5—sortation center on Staten Island. The organizing will continue at this facility and beyond. The fight has just begun."
Last month, the Amazon Labor Union's victory at the JFK8 Staten Island warehouse marked a momentous win for founders Chris Smalls, a former Amazon employee on Staten Island, and Derrick Palmer, a current employee at JFK8, along with a couple dozen other lead organizers. The worker-led union was not affiliated with established unions like the Retail, Wholesale and Department Store Union, which had been unsuccessful in previous attempts to unionize Amazon facilities. RWDSU recently lost a union election at an Amazon warehouse in Alabama, but hundreds of ballots were challenged and the union has filed objections alleging that Amazon interfered in the election.
Amazon's success at LDJ5 on Monday and the company's fight to overturn the JFK8 election result showed that the tech behemoth will continue to be a formidable and well-funded foe for organizers. Still, Smalls was hopeful that the Amazon Labor Union's success at JFK8 could be replicated elsewhere. "Workers are paying attention now, which is beautiful. And we absolutely want to help them," Smalls told City & State last month. "We've got people right here in the tri-state – New York, New Jersey and Connecticut – that want to start ALU chapters. So we absolutely are going to help people out as much as we can. We hope that this will be nationwide."
Powered By
NEXT STORY: Redistricting chaos and Trump legal developments