Labor
Why can't New York City fill vacancies? Council bill would ask departing employees
New City Council data shows the Department of Small Business Services, Department of Buildings and Department of Investigation with highest vacancy rates.
Why is New York City having such a difficult time hiring and retaining staff? New York City Council members hope that mandating exit surveys for resigning and retiring employees will help produce some answers.
On Wednesday, the City Council Committee on Civil Service and Labor held a hearing on a bill from Council Member Shaun Abreu that would do just that. "For the first time, we will be giving departing employees the space to share their experiences and give us as legislators the opportunity to solve some of the issues where we can," Abreu said at the hearing. "Currently, exit interviews are not standard across city agencies, and we're not capturing crucial information about retention issues our city workforce faces."
Representatives of Mayor Eric Adams' administration testifying at the hearing from the Department of Citywide Administrative Services and the Office of Labor Relations noted that the Department of Citywide Administrative Services launched a voluntary exit survey in 2015 distributed to departing managers. Individual agencies may also have their own exit interview system during the offboarding process.
Abreu's bill would require all agencies to create exit surveys and administer them to employees to elicit feedback on their experiences working for the city and their reasons for leaving. Stella Xu, assistant commissioner for human capital at the Department of Citywide Administrative Services, said that the administration is aligned with the idea of the legislation. "We agree with the spirit of Intro 877A, we just want to have the opportunity to discuss refinements to the language and make certain definitions more clear, to make sure that we're making the most effective use out of the (law)," Xu said. Xu did not elaborate on all of their desired refinements, but mentioned wanting to ensure that the exit surveys were limited to "voluntary separations" so that employees leaving under contentious circumstances didn't skew the results.
Abreu's bill currently has nine other co-sponsors in the council.
New York City is suffering from a vacancy crisis in government agencies – as are other municipalities, as Adams is often quick to point out. At a recent City Council hearing, New York City Budget Director Jacques Jiha said that there are roughly 23,800 unfilled positions across the city.
New data provided by the City Council found an overall vacancy rate across the city of 7.9% as of April – a sharp increase from the 1.5% vacancy rate in March 2020 and March 2019, according to a council report. Twenty-six agencies with more than 100 full-time employees had a vacancy rate over than 10%. The Department of Small Business Services topped the list at 26%, followed by the Department of Buildings and Department of Investigation, each with vacancy rates of 18%.
As part of citywide budget cuts, the administration has eliminated thousands of vacant positions across different agencies in recent budget cycles.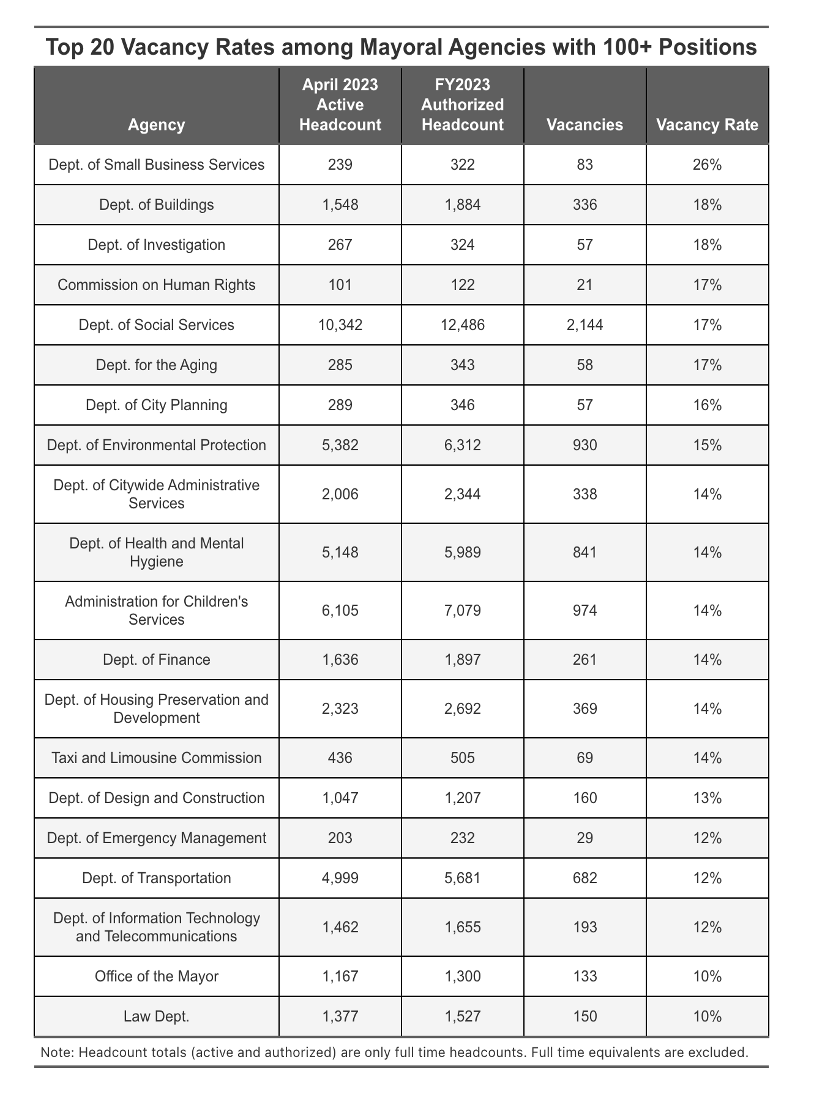 Higher-paying private sector work has always been an attractive alternative to the lower salaries and bureaucratic hiring processes associated with municipal work. But the COVID-19 pandemic changed the nature of work, and some departing and current employees have cited rigidity about full-time in-office work as a new deterrent as many private sector positions offer more flexibility on hybrid work. Existing staff shortages have also left some remaining employees burned out in taking on extra responsibilities.
To ramp up hiring, the Adams administration has launched hiring halls – essentially job fairs where agencies can potentially make on-the-spot conditional job offers after interviewing candidates – in all boroughs. Xu said the 10 hiring halls held so far have resulted in the city making almost 1,500 conditional job offers. The administration has also lifted residency requirements for a few attorney titles, by adding those titles to the "hard-to-recruit" list. And as part of contract negotiations with District Council 37, the city's largest municipal union, the administration agreed to piloting hybrid work, though the pilot will start with just two agencies – the Department of Buildings and the Department of Social Services. The latter also has one of the highest vacancy rates in the city, at 17% as of April.
Council members at Wednesday's hearing said that the exit survey legislation will be another important step to solve the city's retention issues. "An exit survey would help us identify both the unique circumstances and systemic reasons for higher rates of attrition," Council Member Carmen De La Rosa, who chairs the Committee on Civil Service and Labor, said. "Once we identify the root causes of attrition, we can improve recruitment and retention for our city workforce."
Powered By
NEXT STORY: Poll: New Yorkers want 'reasonable justification' for firing