Rikers Island
Elected officials sound the alarm on proposed city budget cuts to Rikers
Amid proposed cuts to jail-based programming, New York City Public Advocate Jumaane Williams says the Eric Adams administration is at a crossroads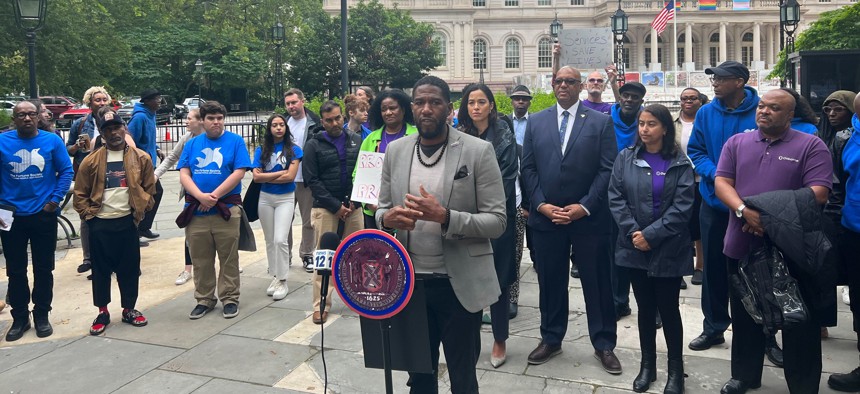 As New York City Mayor Eric Adams and the City Council approach the July 1 budget deadline, elected officials and criminal justice advocates are pushing back against planned cuts to jail-based programming at the Rikers Island jail complex. At a press conference outside City Hall on Thursday morning, New York City Council Member Carlina Rivera, Public Advocate Jumaane Williams and the nonprofit organizations Osborne Association and The Fortune Society called on the administration and the City Council to restore funding to the programs.
"I am deeply concerned about the administration's proposed $17 million cut and elimination of program contracts. This move to cut these contracts is irresponsible," said Rivera, who serves as chair of the council committee on criminal justice.
Adams and the Department of Correction plan to end contracts with nonprofit organizations who provide programs meant to rehabilitate incarcerated individuals in jail and upon release, in order to save $17 million in next year's budget. This will result in several classes – including developing professional trade skills, financial literacy, cognitive behavioral therapy, substance abuse prevention and anger management – being canceled beginning on June 30. 
Many elected officials have warned about the terrible conditions at Rikers, referring to the jails complex as a "humanitarian crisis," and criminal justice advocates assert that cuts to jail-based programming will only make conditions worse. 
When asked about the budget cuts by City & State, a spokesperson for the DOC confirmed that the department will assume the responsibilities previously carried out by the contracted providers and will offer additional programs to people in custody – including educational programming, career and technical education, fine/performing arts, and other enrichment activities. 
But advocates and elected officials say DOC officers are not properly equipped to handle the job. The cuts to programming come as officers have continued to struggle with issues of absenteeism, resignations and alleged neglect for detainees, which have been partly exacerbated by the COVID-19 pandemic. The public advocate said that DOC should not be adding to the officer's responsibilities. "They're struggling to do the job that we are asking you to do right now. There are a lot of issues there. Let's focus on that. Don't add another thing to their plate right now," Williams said.
Williams, who recently made a visit to the jail complex with New York City Comptroller Brad Lander, said the Adams administration was "at a crossroads of how it wants to be remembered" in its handling of the troubled jail complex. He also criticized the state budget for focusing on "austerity" instead of including more options for raising needed revenue. "Austerity budgets and austerity politics never work to address the issues that we want to address. They always make things worse," he said.
Williams and Rivera are not the only Democrats taking issue with the proposed cuts outlined in the mayor's executive budget proposal. Reps. Jerry Nadler, Alexandria Ocasio-Cortez, Nydia Velazquez and Jamaal Bowman have also urged the mayor to rethink the cuts in a letter.