Transportation
Hochul celebrates federal green light for congestion pricing
The long delayed road tolling program is set to start in Manhattan next year.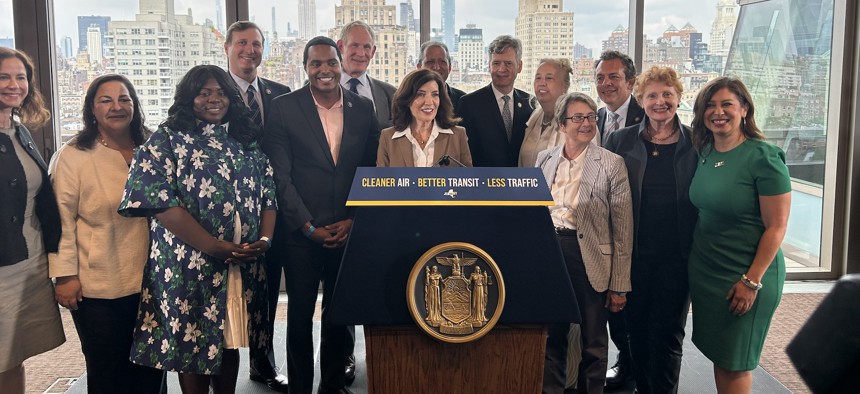 If Gov. Kathy Hochul drove to her press conference near Washington Square Park on Tuesday, she – along with nearly everyone else driving into Manhattan's Central Business District – could owe as much as $23 under a congestion pricing program that is set to go into effect as early as next spring.
In an address at New York University on Tuesday, Hochul celebrated the clearing of the final federal hurdle for the city to implement congestion pricing. "More vehicles have come back than we had even before the pandemic," said Hochul. "These vehicles have an alternative – an incredible alternative – called public transportation." Hochul was joined by Metropolitan Transportation Authority CEO Janno Lieber and officials including Bronx Rep. Ritchie Torres, Manhattan state Sen. Brad Hoylman-Sigal and New York City Transportation Commissioner Ydanis Rodriguez. New York City Mayor Eric Adams, who has said that he supports congestion pricing but also expressed frustration about some of its specifics, was not present.
The state Legislature passed congestion pricing back in 2019, but a long federal approval process – slowed by former President Donald Trump – is wrapping up four years later. 
The goals of congestion pricing are twofold. The program is expected to generate $1 billion in annual revenue for the MTA – sorely needed cash for the agency to fund capital improvements like station accessibility upgrades and signal modernization. But it's also meant to reduce traffic in the heavily congested streets of Manhattan south of 60th Street and improve air quality. 
The final approval from the Federal Highway Administration found that the program will not have a significant environmental impact and that further environmental reviews aren't necessary.
The approval for congestion pricing is also well-timed, as Hochul announced that the state is again expected to experience unhealthy and even hazardous air quality over the next few days due to traveling smoke from Canadian wildfires. Urging vulnerable New Yorkers to take health precautions as air quality deteriorates, Hochul linked the wildfires to congestion pricing's goal of mitigating other effects of climate change.
Congestion pricing has enemies in New York – and commuter states New Jersey and Connecticut – but some of the most fervent recent pushback has come from New Jersey lawmakers, including Gov. Phil Murphy and members of the state's congressional delegation. 
With federal approvals locked up, an appointed board will come up with recommendations for some of the nuts and bolts of the program – including the price of tolls and possible carve outs. The congestion pricing law includes just three exemptions to the toll for emergency vehicles, vehicles carrying people with disabilities, and residents of the congestion zone who earn less than $60,000 a year. It's possible that the board will recommend additional exemptions, though transit advocacy groups have warned against too many exemptions. The more exemptions, the higher the toll price would be.  
Tolls are expected to fall somewhere between $9 and $23, but exactly how much – including variations for peak and off-peak hours – is yet to be determined. The Traffic Mobility Review Board will make recommendations on those details to the Triborough Bridge and Tunnel Authority. 
As chair of the MTA, Lieber doesn't usually have a lot to dance about. But Lieber did a little jig as he walked up to the podium to celebrate the coming implementation of the landmark tolling program. "Congestion pricing means less traffic, better transit, cleaner air and safer streets," Lieber said.