Policy
Adams, Hochul, James announce $485 million gun violence prevention plan
The "Blueprint for Community Safety" was written by the Gun Violence Prevention Task Force.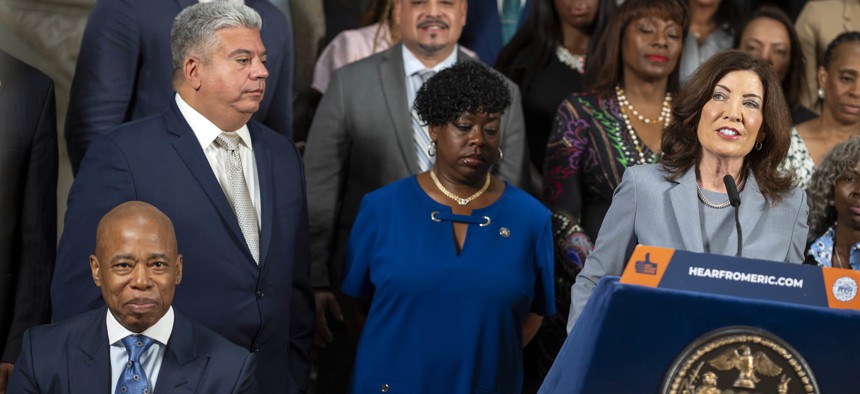 Emphasizing the need for wide-scale collaboration, New York City Mayor Eric Adams, Gov. Kathy Hochul, state Attorney General Letitia James and other top city officials unveiled a $485 million public safety blueprint aimed at averting gun violence in the city through "upstream solutions" like mentorship, housing, employment opportunities and other community investments.
The plan, dubbed A Blueprint for Community Safety, is the culmination of the New York City Gun Violence Prevention Task Force's work to engage with communities to uncover and strengthen existing strategies and recommendations that will help combat gun violence – in both the short and long term. Over 1,500 community members contributed to the task force's multi-agency efforts, which concentrate on six city precincts that were the most impacted by gun violence in 2022. First Deputy Mayor Sheena Wright and Man Up! Inc. Founder A.T. Mitchell – who was appointed the city's gun violence czar last June – co-chair the task force, which was founded last summer with the goal of creating a multifaceted plan to address gun violence.  
Carrying out the blueprint could function as a major cornerstone of Adams' time as mayor. During Monday's press conference at City Hall, he explained that his life's work went into creating the initiative. Much of Adams' tenure has centered on his focus on public safety. And while some of the mayor's initiatives like his directive to increase opportunities for involuntary hospitalization of people with mental illness and the revival of a controversial anti-crime unit, have stirred some concerns about policing, the blueprint largely focuses on community-based solutions.  
"I want folks to know and understand how dope this really is. You have city and state government standing together – together – on the same page fighting gun violence," said New York City Public Advocate Jumaane Williams, who is often to the left of Adams politically. "That doesn't happen all the time, so we gotta celebrate it when it does because many of us have been asking for this for a very, very long time."
"I thank Mayor Adams for helping us redefine the relationship between two very important governments and letting the people know that the era of the governor and the mayor fighting each other is over," Hochul said, adding that she's deployed her "top aides" to be "embedded" in the city's taskforce.
New York City remains the safest big city in the country, and pandemic-era crime spikes – which weren't exclusive to the city – have largely settled down. Shootings dropped around 25% throughout the first part of 2023 compared to the same period in the year prior, deepening already declining numbers. 
Yet, a slice of city communities still bear the disproportionate burden of city gun violence, with 92% of shootings concentrated in 30 of the 77 NYPD precincts. Taking that into account, the plan prioritizes investments in six of the most heavily impacted precincts in the Bronx and Brooklyn. 
"We know that the daily shootings and gun-related deaths in New York City are mostly concentrated in a small portion of our neighborhoods, and they are disproportionately claiming young Black and brown men," James said, adding "it's unfortunate that people of color cannot do innocent and common things like going to a barbecue or a block party or walking to a park or going to school or walking around our neighborhood without the fear of gun violence."
The vast majority of the $485 million figure outlined in the blueprint comes from the municipal budget, although $6 million was contributed by the state. While the city did not provide a detailed breakdown on how money will be spent, some of the major investments include $118 million to increase early support programs like youth mentorship. Another $57.5 million will go toward improving housing conditions, $118.5 million for job and skill training for young people and formerly incarcerated New Yorkers, and $106.7 million for "trauma-informed care" in terms of mental health resources. The city also plans to allocate $2.6 million toward attempting to improve community and police relations through neighborhood safety initiatives.