Policy
New York Assembly member claims to have introduced the first bill written by AI
Assembly Member Clyde Vanel introduced a bill to help renters. It was researched and drafted by artificial intelligence.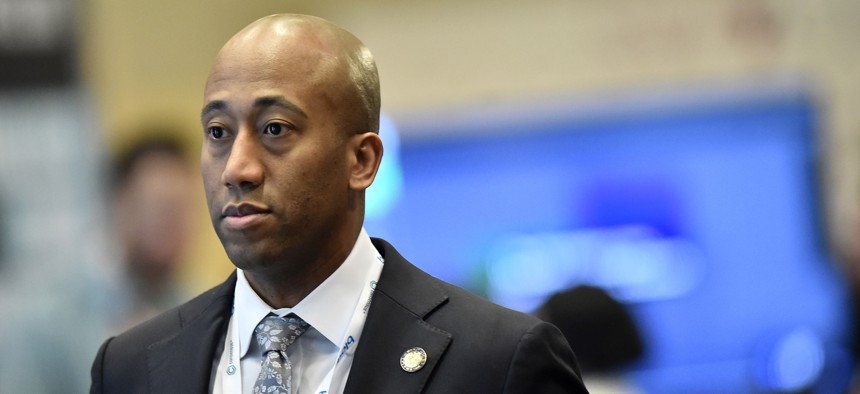 If an artificial intelligence program conceives of and writes a piece of legislation, can an elected official really take credit for it as a sponsor? That's just one of the many questions that sprung to mind for Assembly Member Clyde Vanel when he and his staff asked Auto-GPT to devise a piece of legislation based on current gaps in state law. Auto-GPT is an AI application that uses the same technology as chatbot ChatGPT, but it can execute more advanced tasks.
Assembly Bill 6896 comes with a likely first-of-its-kind "AI disclosure" crediting the AI program for researching and drafting the proposed law before being reviewed and refined by humans. The bill is fairly straightforward. It would require that renters be provided with a copy of their lease agreement when they submit a written request for it to their landlord.
Vanel isn't sure how the application arrived at that idea – whether it came from looking at what kind of laws other states had on the books or something else – but he agrees with its intent and formally introduced it in May. The state Senate has not considered a version of the bill yet.
One thing that is clear to Vanel is that AI's capabilities can't be ignored. "To my surprise, it scoured the internet and scoured the research, and figured out that tenants in New York state currently should have the right to be able to request a copy of their lease," Vanel told City & State this week. The AI program's execution wasn't perfect – Vanel's office had to make some refinements to their broad query of what current gaps exist in state law – but Vanel said it resulted in a good bill that he stands behind. 
Vanel, who chairs the Assembly's subcommittee on Internet and New Technology, is a frequent sponsor of bills that consider what place emerging technologies like AI and blockchain have in New York. The Queens lawmaker recently passed a bill now awaiting Gov. Kathy Hochul's signature that would create a temporary commission to study how to regulate AI, robotics and automation. 
U.S. Senate Majority Leader Chuck Schumer has also called for Congress to study AI recently, saying "we cannot be ostriches sticking our heads in the sand," and emphasizing that a regulatory framework is needed to ensure that the technology is not only not abused, but put to good use. What exactly those regulations would look like is still unclear.
The deftness with which Auto-GPT executed Vanel's request, he said, raises all kinds of questions – from who has authorship of a bill written by AI to how this kind of tool can be used to assist in lawmakers' work.
As Vanel mused in a press release on Monday, should lawmakers be worried about being replaced by technology? And what about staffers in the Legislature's bill drafting commission, for that matter, whom Vanel said he often works with on crafting legislation? According to Vanel, we all need to be concerned. Vanel said that he considers AI, in its current form, as a tool and not a replacement. "This platform can write articles," he said, in a nod to journalists' own concerns. "Should we be afraid? Or should we use these tools to help enhance what we already have, to make our stuff better?" Maybe we should ask a chatbot.