MTA
Congestion pricing still has skeptics in the City Council
Many elected officials acknowledge the benefits of congestion pricing, but still have questions about the MTA's implementation of the historic program.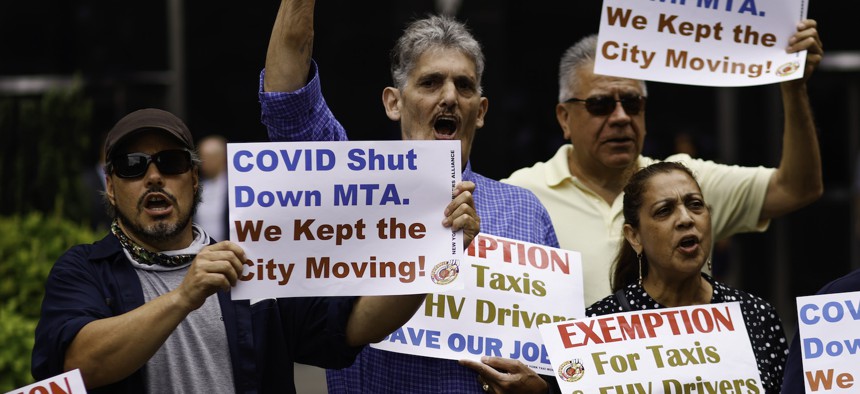 Tolling equipment is already going up around Manhattan's core. A state board is debating a pricing structure and possible exemptions. Despite ongoing challenges from neighboring states, New York's landmark congestion pricing program is chugging along, and implementation is on the horizon, with a start expected next year.
But some New York City Council members, who don't hold authority over the state road tolling program, still have concerns about congestion pricing. At a City Council oversight hearing on Thursday, members raised questions and concerns about the implementation of the program. Those ranged from continuing outright opposition from Republican members to skepticism that outer borough residents will actually see improved transit options funded by revenue from congestion pricing.
"For far too long, transportation agencies in the city have underinvested in transportation deserts," City Council Transportation Committee Chair Selvena Brooks-Powers said in her opening remarks at the hearing. "Residents in outer borough neighborhoods often have few public transit options, and have rarely seen new investment to improve what options do exist."
Brooks-Powers, who represents Southeast Queens, referred to congestion pricing as a meaningful opportunity to generate revenue for the transit system. But she questioned MTA officials for specifics on how the revenue generated from the tolling program – which could charge drivers as much as $23 for driving into Manhattan south of 60th Street – will be reinvested.
MTA officials, including New York City Transit President Richard Davey, didn't go into too much detail, but pointed out that revenue from congestion pricing will help fund the authority's 2020-2024 capital plan, which includes investments in signal modernization, station accessibility upgrades, new buses and train cars, and more.
Brooks-Powers expressed disappointment that representatives of Mayor Eric Adams administration who were invited to the hearing declined to attend.
While much of the pushback to congestion pricing in New York City came from Republicans and conservative Democrats, they're not the only ones who have suggested hitting the brakes on the program. "Congestion pricing before and after COVID, I think, are just two completely different conversations," Brannan told City & State last month, mentioning both a financial burden on residents who rely on cars in areas with fewer transit options and a need to encourage more people to go back to offices in Manhattan. "I think if anything they should hit pause."
A 2022 analysis by the Community Service Society found, however, that the majority of outer borough residents don't rely on cars to commute into Manhattan.
City Council Member Amanda Farías, who represents Bronx neighborhoods including Parkchester and Soundview, questioned how specifically the MTA will spend money set aside to mitigate the effects of increased traffic in areas outside the congestion zone. The program's environmental assessment found that some already congested areas outside the zone could see an uptick in pollution as drivers aim to avoid the congestion zone.
"It is no secret that outer borough communities like mine, especially those in the Bronx, will be most negatively impacted by congestion pricing," Farías said. "The proposed congestion pricing rules are an issue of environmental and economic justice for my neighbors. We will not only have even more traffic coming through our neighborhoods, but we'll potentially be paying large sums just to drive within our own city."
The MTA has proposed a $130 million mitigation plan for environmental justice communities, including electrifying gas-guzzling refrigerated trucks at Hunts Point Market.
Though several council members asked about additional exemptions that could be added to congestion pricing beyond the ones baked into the program – for emergency vehicles, vehicles carrying New Yorkers with disabilities and low-income residents who live in the congestion zone – representatives from the MTA declined to weigh in on those.
The Traffic Mobility Review Board, which is responsible for making final recommendations on a pricing structure and any potential exemptions, met for the second time on Thursday afternoon to discuss those questions.
The board didn't come to any conclusions about additional exemptions or decide on a base toll. But in discussing some of the possible exemptions and credits that New Yorkers and commuters have advocated for – including exemptions for taxis and for-hire vehicles, credits for drivers who have already paid bridge and tunnel tolls, and discounts for overnight trips – MTA officials demonstrated that every exemption comes at a price. 
"Every recommendation about what to charge is connected to every other recommendation," said Juliette Michaelson, a special adviser to the board. Put simply, every exemption or carve-out will increase the base toll for all drivers.
One issue discussed on Thursday was the idea of creating credits for drivers who enter the congestion zone via one of the four tunnels that already carry a toll. Some have advocated for credits to those drivers to avoid double tolling and to avoid so-called toll shopping. 
The Traffic Mobility Review Board modeled different toll credit scenarios, and found that while toll credits would reduce toll shopping, they would increase the base toll rate by between $2 and $9. It would also shift the burden of who is paying the congestion pricing toll, with New Jersey residents paying a disproportionately low amount into the congestion pricing toll based on their trips into Manhattan.
Traffic Mobility Review Board Chair Carl Weisbrod said that the board will be "reconvening in the very near future for further discussion."