Heard Around Town
Cruz still plans to push for state-level work permits for asylum-seekers
The Queens Assembly member said the law is needed for people from places other than Venezuela.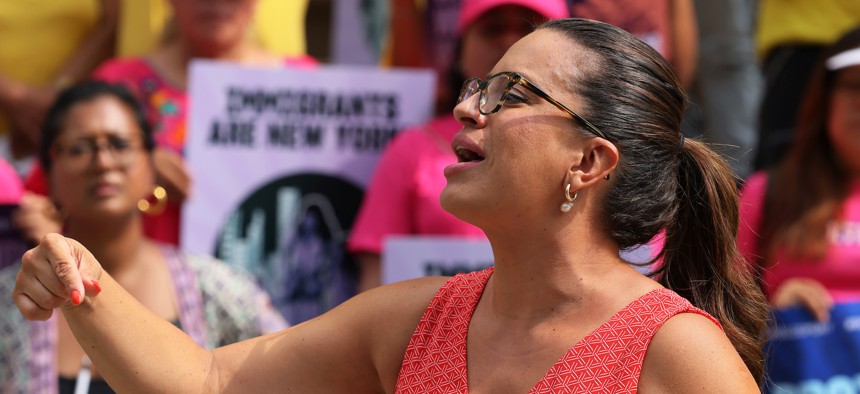 The recent decision by the Biden administration to redesignate Venezuelans for temporary protected status came as a welcome move for migrant advocates, but it doesn't spell the end of a push for the state to issue temporary work permits to asylum-seekers. Assembly Member Catalina Cruz, who introduced legislation that would grant two-year state work permits for migrants who have applied for asylum, told City & State that the Temporary Protected Status announcement is welcome, but doesn't alleviate the need for her bill. "This first and small step fails to cover our newly arrived neighbors who are not from Venezuela," the Queens Democrat said "It does not deviate our responsibility to act – we will continue to work toward a state work permit that will help new immigrants get to work and alleviate the statewide labor shortage experienced by many industries." 
Venezuelans make up roughly 40% of the over 100,000 migrants who have entered the state in the past year, so the newly expanded Temporary Protected Status would not affect the majority of asylum-seekers in New York. They will still need to wait the usual 150 days after filing for asylum to apply for work authorization and at least 180 days before they can actually receive that authorization. The Temporary Protected Status designation also only applies to Venezuelans who have been in the country since before July 31, so it does nothing to aid new arrivals.
Gov. Kathy Hochul had previously floated the idea of state-level work permits in the face of federal inaction, but she did not bring up the prospect during a personal meeting with President Joe Biden when he gave her a heads up about the Temporary Protected Status decision. She told reporters on Wednesday, before the federal action became public, that she first wanted to exhaust other avenues first. A spokesperson for Hochul referred to those comments when asked whether she would still pursue state-level work permits.
Powered By
NEXT STORY: Which counties are closing their doors to asylum-seekers?