Education
Major felony crimes up in New York City schools
School safety has been a major focus after a string of high-profile incidents occurred outside school buildings last year.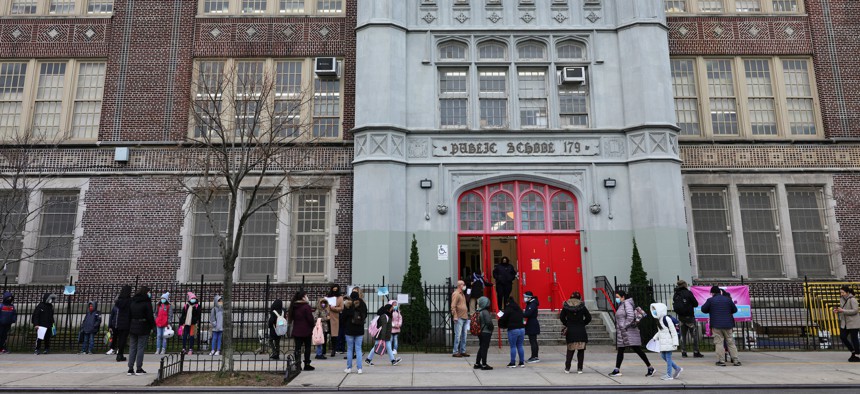 Major felony crimes increased 16% in New York City schools during fiscal year 2023, and there were more incidents of burglary and grand larceny compared to the previous fiscal year, according to the mayor's management report.
The over 500-page report was released on Sept. 15 and it delves into various performance indicators for each city agency, tracking the first full fiscal year of New York City Mayor Eric Adams' tenure. With New York City public school students returning nearly two weeks ago, school safety has been a central topic after a string of high-profile incidents occurred outside school buildings last year. The number of weapons confiscated at public schools also spiked, though some students said they felt inclined to bring pepper spray or Tasers with them because they felt unsafe going to and from school.
The mayor's report said major felony crimes in public schools increased from 346 incidents in fiscal year 2022 to 402 in fiscal 2023. Burglary and grand larceny in schools increased by 76% and 53%, respectively. According to the report, other criminal incidents fell from 1,758 to 1,683 – a 4% drop – while noncriminal incidents increased 14% compared to the previous fiscal year.
School safety in New York City is multifaceted – what it should look like and what it means has long been debated. For years, the city has invested in technology like metal detectors and hired thousands of school safety agents – unarmed New York City Police Department employees who monitor building entrances, operate metal detectors and respond to student behavioral issues. At the same time, the Education Department's Office of Safety and Youth Development has worked closely with schools to create a safe, inclusive environment by investing in and expanding nonpunitive programs like restorative training, mental health programs and social-emotional supports, according to the report.
Adams' own take on restorative justice programming, Project Pivot, will be expanded from 144 schools to around 250 this academic year. The program, which is being prioritized in schools with the highest need, helps build relationships between students and community-based organizations through violence interruption programs, mentorship, recreational activities, counseling as well as safe passage programs to and from school. Every public elementary school is scheduled to have a front door camera system installed by the spring, according to the department. All roughly 3,900 school safety agents will also be equipped with bullet-resistant vests this school year for the first time.