Courts
New York's progressive chief judge joins with conservatives to expand DNA searches by law enforcement
In a 4-3 decision, Chief Judge Rowan Wilson ruled that the Commission on Forensic Science has the authority to allow law enforcement to search DNA databases to find partial DNA matches from relatives of potential suspects.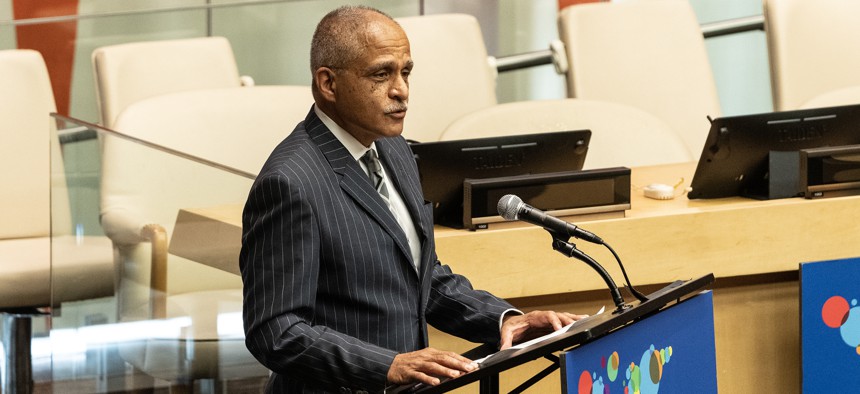 When he took the bench, New York Court of Appeals Chief Judge Rowan Wilson was welcomed as a breath of fresh air by progressive lawmakers and activists. That perception may be challenged now that he's joined with the court's conservatives to affirm law enforcement's ability to search DNA databanks for the relatives of criminals.
Last week, the court voted 4-3 to allow law enforcement to do the searches, with judges Michael Garcia, Madeline Singas and Anthony Cannataro concurring with Wilson's majority opinion. Two of the court's more liberal judges – Jenny Rivera and Caitlin Halligan – recused themselves from the case and were replaced by Stephen Lindley and Michael Lynch. Lindley wrote the dissenting opinion, which Lynch and Shirley Troutman joined. 
The case was brought by Terrence Stevens and Benjamin Joseph, two siblings with family members who have gone through the criminal court system. They filed suit in 2018 against the state Division of Criminal Justice Services, its executive director Michael Green and the New York State Commission on Forensic Science. The brothers accused the commission of exceeding its power under state law by giving itself the right to crawl genealogy records to find links to suspects.
"These individuals (related to people convicted of crimes) are subjected to scrutiny by law enforcement for no other reason other than the possibility that their genes are similar to those of a Databanked Individual," the 2018 suit said. 
DNA evidence has been a tool in criminal cases in the U.S. since 1986 – New York created its own DNA database in 1996 – but in recent years police have been able to rely on ancestry-tracking services to find suspects.
Wilson's opinion said that the state legislature granted the Commission on Forensic Science the right to make changes to policy when it created it.
"On the merits, this appeal presents two straightforward questions: (A) does the legislature have the power to delegate rulemaking authority over familial DNA searches to the Commission; and (B) did the legislature do so," he wrote. "The Court unanimously agrees that the legislature has that power; the disagreement is whether the Databank Act granted the Commission the authority to promulgate the (Familial DNA Search) Regulations. We hold that it did so."
David Siffert, the legal director of the Surveillance Technology Oversight Project and an organizer with the progressive court reform group The Court New York Deserves, said that Wilson was caught between preserving the privacy rights of New Yorkers and preserving the power of state agencies. 
"I think he got it wrong," Siffert said of Wilson's opinion that the Commission on Forensic Science had the authority to allow familial DNA searches. He said that he agreed with the dissenting opinion, which argued that the commission only had the power to regulate full DNA matches, not the partial matches that occur when law enforcement searches for family members with similar DNA. But Siffert, an outspoken supporter of Wilson's nomination, also said that he doesn't think one case should decide the efficacy of a judge's work.
He also noted that Fourth Amendment privacy rights weren't mentioned in either Wilson's majority opinion or the dissent, even though allowing law enforcement to crawl DNA databases obviously puts people's genetic privacy at stake. The case focused entirely on whether or not the state Legislature had given the Commission on Forensic Science the authority to regulate DNA searches, without even considering whether those searches would violate the Fourth Amendment – which Siffert said was a sign of the general "failure of our courts to uphold the Fourth Amendment."
The Court of Appeals decision could prompt the state Legislature to step in to pass a law prohibiting law enforcement from searching DNA databases for potential familial DNA matches. State Senate Judiciary Committee Chair Brad Hoylman-Sigal told City & State that the decision "calls for clarification by the legislature."
Hoylman-Sigal, a supporter of Wilson's appointment to the Court of Appeals, said that DNA is an emerging technology and legislation hasn't adapted to its advances. He also called for the NYPD's DNA database – which is separate from the state's DNA database – to be shut down. "Only one database should exist, overseen by the state," he said
The Manhattan lawmaker added that while it was important to balance privacy concerns with the needs of victims and their families, "people shouldn't be routinely treated as suspects."
Antony Haynes, director of cybersecurity & data privacy at Albany Law School, said that law enforcement's use of DNA searches can reinforce racial bias. 
"Since black and brown communities are overpoliced, police databases are more likely to contain their DNA. Allowing police to use family DNA may end up supercharging surveillance of communities of color, sweeping in DNA from uninvolved persons, and potentially furthering racial oppression," Haynes wrote in an email. "One of the basic principles of American jurisprudence is to avoid unjustly harming the innocent. Because familial DNA testing targets innocent siblings, parents and children, such use appears to be contrary to this presumption, and would seem to violate the rights to genetic privacy, due process, and equal treatment under New York law."
The decision from New York's highest court will have ramifications for the future of policing and privacy in New York. While it may become easier to find criminals and crack cold cases, New Yorkers' genetic information will be increasingly accessible even if they've never been arrested. Like Hoylman-Sigal, Haynes said that the expanded use of DNA searches by law enforcement was ultimately a balancing act.
"For example, in California, law enforcement secretly accessed genetic data from private companies and found the Golden State Killer through family members' DNA," he said. "On the law and order front, it's wonderful because we've caught a serial killer, but on the privacy front, it's terrible because the family members did not really consent to this use. There's a difficult balancing act between the desire to promote law and order and the need to preserve privacy and freedom."