Albany Agenda
Ready to hire: Hochul announces 18,000 potential job openings for migrants in New York
Hospitality and food service companies were the biggest group of employers to enroll in the state program.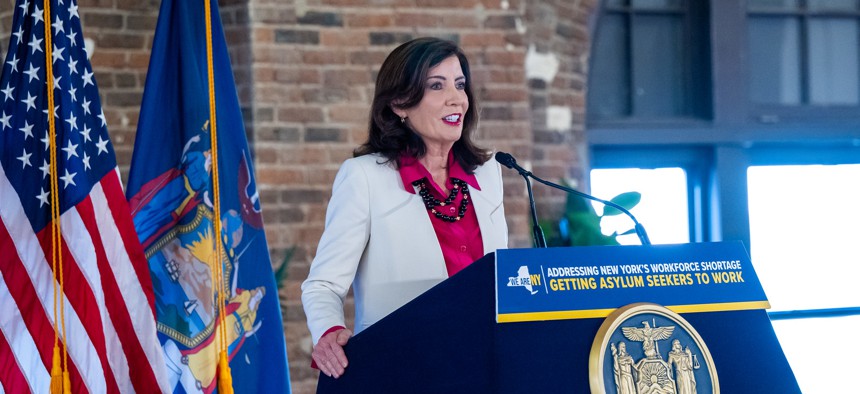 As both New York City and state officials continue to try and discourage more migrants from coming to New York, Gov. Kathy Hochul said on Monday that employers in the state are ready to hire asylum-seekers once they receive work permits.
During a press conference in Manhattan, Hochul announced that nearly 400 employers from across the state had signed up to participate in a state Department of Labor program meant to connect migrants authorized to work with jobs. According to her, that translated to roughly 18,000 jobs. "That can help solve our problems, at least a start towards reducing the number of people who need shelter in our city," Hochul said. Venezuelans who arrived in the country by July 31 will be eligible to apply for Temporary Protected Status beginning on Tuesday, meaning that some would be eligible to receive work authorization and can begin filling those jobs.
According to data released by Hochul's office, over half of the jobs would be in New York City, with the rest scattered across the rest of the state. After the city, the Hudson Valley, Western New York and Long Island would have the most jobs among employers who have signed up. The 379 employers also represented a range of industries, with the most – 24% – from the hospitality and food service industries. "When I think about all the folks that have come to New York City seeking asylum … they want to work hard, they want opportunity," said Andrew Rigie, executive director of the New York City Hospitality Alliance. "And we know our city's restaurant industry represents that opportunity." Rigie was one of three representatives of the food and hospitality industries to speak at the Monday press conference.
Health care and social assistance were 79 of the employers, or 21% of the program's participants. That made it the second-largest industry to sign up to connect with migrants, but no representatives from the field spoke at the press conference hosted by the governor. Asked for a list of the largest participating employers, particularly in health care, a spokesperson for the state Department of Labor said they did not have a full list, but added that Premier Home Health Care Services is one of the larger health care employers participating in the program. The company has offices in Manhattan, Long Island, Westchester County and Staten Island. And a spokesperson for the Greater New York Hospital Association told City & State that it is currently trying to determine if any of its members are participating. A spokesperson for the New York Health Plan Association also did not immediately have information regarding which, if any, of its members signed up.
Other industries made up smaller percentages of participating employers. The third-largest number of employers came from manufacturing, from which 38 companies signed up, or 10% of all employers so far. After that was 8% in administrative support, 7% categorized as "other," and 5% each for construction and retail. No representatives from any of these other fields spoke at the Monday press conference.
The announcement came on the heels of comments that Hochul made over the weekend on CBS' "Face the Nation" calling on the federal government to impose "a limit on who can come across the border." She said that the border is "too open right now" and that many people asking for asylum are "ending up in the streets of New York." A top adviser for New York City Mayor Eric Adams also called on federal officials to "close the border" on Sunday. Asked by reporters whether the statement went too far as Republicans seized on it, Hochul demurred. "I've been in the business long enough to know that no matter what I say … they will interpret it and misinterpret it and lie about it in any way that suits their political interest," Hochul said.