Andrew Cuomo
Mirror, mirror on the wall, who's the leftest of them all?
Cynthia Nixon is trying to get to Gov. Andrew Cuomo's left. But is there any space there?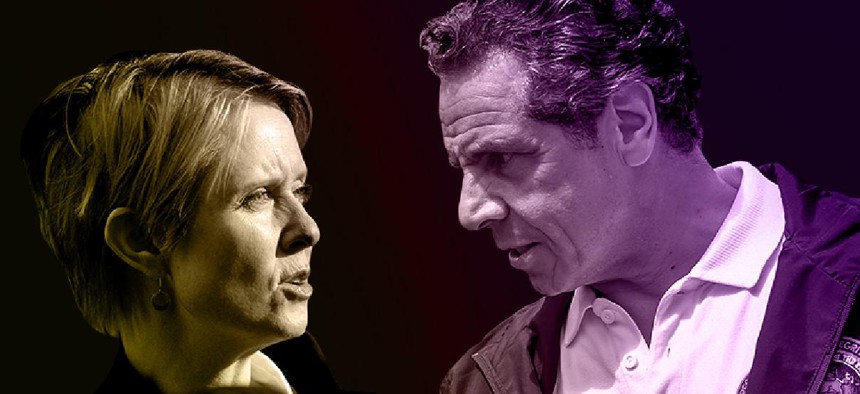 Since actress and activist Cynthia Nixon announced that she was launching a primary challenge against Gov. Andrew Cuomo in March, the two seem to be locked in an intense competition to see who can be more progressive. Cuomo's recent efforts to tack to the left – visiting NYCHA facilities, restoring voting rights to former felons, coming out in support of a plastic bag ban – have been dubbed by some on Twitter as #TheCynthiaEffect. Nixon's campaign even issued a press release comparing Cuomo's positions on issues before and after she entered the race.
But Nixon's attempt to outflank Cuomo on the left raises the question of whether there is enough space to Cuomo's left for a candidate even to occupy.
Cuomo has a record of instituting many progressive policies in his two terms, such as shepherding same-sex marriage into law, passing gun regulations through the state Legislature and banning hydrofracking.
"Gov. Cuomo's record of progressive accomplishment is unmatched – from delivering a $15 minimum wage, marriage equality, the strongest gun safety laws in the nation, free college tuition, paid family leave, a record $27 billion in funding for education, first-in-the-nation special prosecutor, and sweeping measures to protect new York's environment," said Abbey Fashouer, a spokeswoman for Cuomo's campaign. "We'll put that record up against anyone, anytime."
Yet Cuomo's detractors argue that the governor only promoted these issues because he was pushed – and that there's still room for Nixon to outflank him on the left. She has been endorsed by a number of progressive groups, although some of those organizations have received contributions from her family foundation.
Christina Greer, an associate professor at Fordham University and a McSilver Fellow at New York University, noted that Cuomo's ban on fracking occurred after the 2014 gubernatorial contest, when progressive primary challenger Zephyr Teachout campaigned heavily on the issue. She also pointed out that Cuomo only recently urged the Independent Democratic Conference to reunify with mainline Democrats, after years of letting the breakaway caucus give Republicans de facto control of the state Senate. "It's not that he doesn't ultimately come around, it's just how long it takes him to come around," Greer said.
However, Democratic consultant George Arzt argued that there isn't much space left for Nixon to say that she is more progressive than Cuomo, given his record of achieving liberal goals – and on the issues where she is more left-leaning, it won't help her garner enough voters.
"There's certainly dissatisfaction in large numbers for the governor, but there are not enough votes. She's got to broaden out," Arzt said. He suggested that her progressive critique of Cuomo may have the counterintuitive effect of motivating centrist voters to turn out for the governor by making him seem comparatively moderate.
In a Quinnipiac poll published last week, 28 percent of Democratic voters said that they would vote for Nixon, compared to 50 percent supporting Cuomo. Forty-nine percent of very liberal Democrats said they would vote for Nixon, while 31 percent they would vote for Cuomo, but Democrats who identify as somewhat liberal or moderate/conservative prefer Cuomo by large margins.
That doesn't necessarily mean Nixon should tack to the center. Arzt recalled working on Bill de Blasio's 2009 campaign for public advocate. Arzt told de Blasio that he needed to moderate his views to attract more voters. "He looked at me like I had 12 heads. And it turned out that he was right," Arzt said. "He used his progressivism to win elections."
Although many experts, including Arzt, are skeptical that Nixon can win, some see a path to victory in the left lane: Greer compared Nixon's odds to that of then-Sen. Barack Obama seeking the Democratic nomination for president in 2008. To overtake the establishment-backed frontrunner, Greer argued, Nixon has to attract new voters who have never participated in politics before. Nixon is hoping to replicate this strategy.
Here is a guide to Nixon and Cuomo's stances on a few critical issues, and whether Nixon can credibly claim to be more progressive than the incumbent.
ENVIRONMENT
Nixon's plan
On Earth Day, Nixon released her first major environmental proposal, a progressive call to action including the following planks:
Transition to 100 percent renewable energy "no later than 2050."
Pass the Climate and Community Protection Act, which would require state agencies to create plans to lower greenhouse gas emissions in power plants, cars and buildings. The bill has passed in the Assembly but been stymied in the state Senate.
End investment in all new fossil fuel infrastructure, such as pipelines.
Work with the state Legislature "to make corporate polluters pay for the damage their causing to our communities and our planet." Support campaign finance reform to prevent these "corporate polluters" from influencing candidates and legislation.
Oppose offshore drilling.
Divest pension funds from fossil fuel stocks.
Close nuclear power plants.
Uphold the regulations of the Paris Climate Agreements on a state level.
Is it more progressive than Cuomo's policy?
A few decades from now, in theory. Nixon released her climate plan hours after Cuomo revealed his 2025 energy efficiency target, and she called her opponent's proposal a "rehashed energy plan." Cuomo's agenda includes a 40 percent reduction in fossil fuel use by 2030, reducing New York's energy consumption by 3 percent by 2025 and providing $36.5 million to train almost 20,000 New Yorkers for renewable energy jobs. Cuomo has also already pledged to uphold the Paris Climate Agreement, has publicly opposed the Trump administration's proposal for offshore drilling, installed a cap-and-trade system to lower carbon pollution in power plants and banned fracking. Cuomo has also called for divesting from fossil fuels. He recently supported a plastic bag ban – after helping to block a New York City surcharge on bags last year.
Nixon argues, essentially, that Cuomo's policies don't go far enough. Although the Cuomo administration is closing the Indian Point nuclear plant, it recently authorized a bailout of other nuclear power plants upstate. (The environmental community itself is divided over nuclear power, which many – fearing radioactive waste and the risk of meltdowns – oppose. But some climate activists support nuclear power because it is low-carbon.)
While Cuomo has banned fracking, that does not preclude building a pipeline through the state. Cuomo has called for 50 percent renewable energy by 2030. From Nixon's perspective, it's "too little, too late." Cuomo allies counter that reaching 100 percent renewable energy by 2050 might not be feasible.
Last Friday, Cuomo announced that his administration would be taking steps to prevent offshore drilling near the state, by lobbying Washington and by supporting a bill in the state Legislature that would prohibit pipeline infrastructure on state land associated with offshore drilling. When asked by City & State if his announcement was in any way a reaction to Nixon's criticism, Cuomo responded: "I have been banning pipeline infrastructure and fighting pipeline infrastructure since I was attorney general. I've been doing it for years and years and years."
Cuomo did not ban pipelines as attorney general, although he did reach a settlement with ExxonMobil over an oil spill in 2009. He has fought pipeline infrastructure as governor, by denying permits and delaying approval for natural gas infrastructure. Nixon reacted to Cuomo's anti-pipeline proposal by criticizing the governor's past donations from fossil fuel industry employees and his support for a new fossil fuel power plant in Albany.
TRANSPORTATION
Nixon's plan
On Nixon's campaign website, there is an entire page dedicated to #CuomosMTA. Nixon notes that she rides the subway daily, unlike the governor, and says that she would "immediately make the emergency rescue of our transit system a top priority of her administration." Like New York City Mayor Bill de Blasio, a longtime ally, she has pushed back against the state's insistence that the city should have to provide half of the MTA's $800 million-plus Subway Action Plan, which would implement emergency repairs. (De Blasio ultimately agreed to contribute city funds under pressure from Cuomo.)
Nixon has called for a "dedicated revenue stream" for the MTA and she supports congestion pricing. She also provoked the ire of transit unions by suggesting that "with the deals that they have now, you can't hope to make improvements to the trains in a fiscally responsible way."
Is it more progressive than Cuomo's policy?
A few years ago, it certainly would have been. Now, it's more a difference in commitment to raising awareness of the issue and putting a solution at the center of the agenda. Subway riders grew frustrated with Cuomo's inattention to the decaying system. The MTA is under de facto control by the governor, who appoints the chairman and five of its members. However, Cuomo repeatedly denied that he has control over the agency has pursued what critics call cosmetic improvements to subway stations at the behest of his appointees. In a noteworthy pivot, Cuomo said last year that he supports some version of congestion pricing and helped shepherd through relatively limited legislation that would introduce a surcharge on for-hire vehicles to support mass transit in this year's budget. Transit advocates were disappointed that he allowed the budget without an adequate new funding stream. Cuomo also declared a state of emergency for the MTA in June 2017, although some question if this has resulted in any true progress.
MARIJUANA LEGALIZATION
Nixon's plan
Nixon has called for legalizing recreational marijuana since the beginning of her campaign. In April, she officially announced that she supported legalizing recreational marijuana. Her main rationale was racial justice: She noted in a video explaining her views that 80 percent of New Yorkers arrested for marijuana are black or Latino, while whites and people of color use the drug at around the same rates. "We have to stop putting people of color in jail for something that white people do with impunity," Nixon said, calling for previous marijuana arrests to be expunged. She also said in the video that regulating and taxing marijuana would create a tax revenue stream and could help the state's agricultural sector.
Is it more progressive than Cuomo's policy?
Yes. Cuomo called marijuana a "gateway drug" as recently as last year. The National Organization for the Reform of Marijuana Laws gave him a C- grade on his legislative record. However, he supports the decriminalization of marijuana, and signed a bill legalizing medical marijuana – with an extremely narrow set of qualifying conditions and very rigid conditions – into law in 2014. That law has since been expanded to cover more illnesses.
Cuomo's positions seem to be evolving on legalizing recreational marijuana. In January, he announced that the state would study the possibility. Perhaps in an effort to deflect criticism from the left on the issue, Cuomo claimed that New York was "ahead" of other states for conducting the study – a statement that PolitiFact rated as "false," since many states have fully legalized the substance already. A Quinnipiac poll released last week found that 63 percent of New Yorkers support legalizing recreational marijuana, including 75 percent of Democrats.
IMMIGRATION
Nixon's plan
Nixon visited a U.S. Immigration and Customs Enforcement field office in Syracuse on April 26 to call for more aggressive tactics to challenge ICE activity in the state. Nixon said the state should direct the New York Department of Criminal Justice not to share its fingerprint database with ICE, the Department of Corrections to stop complying with detention requests from ICE, and the Department of Motor Vehicles to stop providing biographical information to the federal immigration agency. She also supports making New York a sanctuary state and the passage of the Liberty Act, which was approved in the Assembly but died in the state Senate. She also supports providing driver's licenses for undocumented immigrants and increased funding to the Liberty Defense Project, which provides legal services for immigrants.
Nixon's first endorsement from a lawmaker came from New York City Councilman Carlos Menchaca, the city's first Mexican-American elected official. Menchaca said in an op-ed in Newsweek that Nixon is committed to progressive immigration policies, such as passing the New York DREAM Act.
Is it more progressive than Cuomo's policy?
Yes, but not by much. Nixon's campaign stop in Syracuse occurred the day after Cuomo sent a cease-and-desist letter to ICE threatening legal action if it continues metro-area round ups of undocumented immigrants. The governor also said he was signing an executive order banning ICE agents from entering state property without a warrant. This was a modification of an earlier executive order which blocked state agencies from asking a person's immigration status. Cuomo also began the Liberty Defense Project, which Nixon claims needs more funding.
Nixon's announcement was in part a response to Cuomo's actions, as she said he did not go far enough in pushing back against ICE and proposed further actions the state could take. Cuomo has not publicly come out in support of providing licenses for undocumented New Yorkers, although a spokeswoman told the Syracuse Post-Standard he supports such legislation. He also reportedly supported providing drivers licenses to undocumented immigrants when the idea was first proposed by then-Gov. Eliot Spitzer in 2007.
In his op-ed, Menchaca denounced the governor for failing to pass the New York DREAM Act. Cuomo could argue that this is because the Senate is controlled by Republicans – but critics of the governor believe that he has tacitly allowed the GOP to maintain control because it suits his political priorities.
HOUSING
Nixon's plan
Nixon's housing plan, unveiled last week, seems heavily influenced by reforms promoted by advocacy group New York Communities for Change, which has endorsed Nixon. Her policy involved several steps, including:
Closing loopholes that allow landlords to take housing out of rent stabilization and raise rents, such as the vacancy bonus and the preferential rent loophole.
Expanding rent stabilization laws to apply throughout the state.
Increase funding for the state Division of Homes and Community Renewal.
Protect tenants living in smaller units.
Protect tenants from eviction.
Change how cost of capital improvements are passed on to residents.
Is it more progressive than Cuomo's policy?
Yes, but how much depends on your priorities. Nixon's plan would do more to protect affordability in currently-regulated apartments, but not as much to expand the future supply of rent-regulated affordable housing. Low-income housing advocates vary in their emphasis but generally argue that both are needed. Nixon's ideas also require approval from a Legislature that has heavy influence from the real estate lobby and one chamber in GOP control. Cuomo recently replaced the 421-a program with an initiative that grants tax cuts to developers who set aside subsidized affordable apartments, although one analysis found that it might not benefit New Yorkers as much as expected. A week after Nixon visited a New York City Housing Authority facility in late March and deplored its state, Cuomo declared a state of emergency for NYCHA. The state budget includes a $500 million cash infusion for the beleaguered agency.
CRIMINAL JUSTICE
Nixon's plan
In many ways, Nixon's policies on other issues intersect with her criminal justice priorities – for example, her position on legalization of recreational marijuana, and her opposition to detention of undocumented immigrants by ICE. On May 1, Nixon marched on Wall Street to protest banks funding private prisons. There are no private prisons in New York.
Is it more progressive than Cuomo's policy?
Not really. Nixon has yet to lay out a full criminal justice platform. Cuomo has taken steps to the left on criminal justice, including closing 24 prisons, according to his administration. In 2015, he signed an executive order appointing a special prosecutor to investigate police-related civilian deaths. He also signed legislation that raised the age at which defendants could be tried as adults in criminal court. Cuomo made bail reform a priority in his state budget address, although it was not included in final budget legislation, and may never pass a Republican-controlled state Senate. He signed an executive order restoring voting rights to felons on parole in April. However, critics argue that Cuomo only takes progressive positions when he is pushed, or when he knows that – as with bail reform – it may not be likely to actually come to fruition.
Powered By
NEXT STORY: Schneiderman resigned in scandal. Here's how politicians are reacting.