Campaigns & Elections
Rep. Yvette Clarke's epic reelection battle
The Brooklyn congresswoman faces opponents to her right and her left.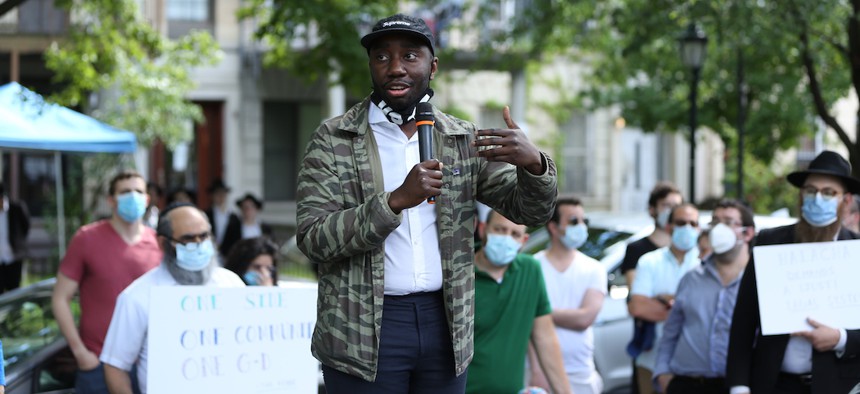 Rep. Yvette Clarke stood behind the podium at the Salem Missionary Baptist Church in the heart of Flatbush, Brooklyn. It was Martin Luther King Jr. Day – before the coronavirus outbreak would put an end to stump speeches – and the all-black, mostly elderly crowd greeted her as a friend. Many of the congregants knew her personally. Those that didn't could name a relative or a neighbor that Clarke did know. The congresswoman is a member of St. Gabriel's Episcopal in Prospect Lefferts Gardens, but she feels comfortable at Salem – it was her babysitter's church, so Clarke used to come sometimes as a child growing up in the area. 
The speech was just one event on a busy holiday with at least five stops. And that was just one day on Clarke's two-year political rejuvenation tour. The seven-term congresswoman denies that she has changed any part of her constituent outreach routine, but observers in the Central Brooklyn congressional district have noticed a new effort from Clarke ever since getting a scare from Adem Bunkeddeko in the 2018 Democratic primary. 
Bunkeddeko, then a first-time candidate who has worked in economic development, came rather close to knocking out Clarke, getting 47% of the vote and garnering an influential endorsement from The New York Times. Raised in Queens as the son of Ugandan refugees, the Harvard-educated Bunkeddeko made the case that the district needed an energetic new voice. Clarke, who has been in Congress since 2007, won with just 53%. 
Clarke spoke for more than 20 minutes to the rapt crowd at Salem, some of them recording the whole thing on their phones. "We can help ourselves to achieve whatever it is we desire with God's help," Clarke said, exhorting the crowd to persevere through difficult and dangerous times. "We don't live in episodes. We are living part of an epic."
Little did Clarke know then, in January, just how epic her re-election battle would be. Clarke, the only black woman in New York's congressional delegation, is trying to hold on to her seat while facing three challengers. Bunkeddeko is back, a classic reformer arguing that the district needs a more proactive representative – and one who doesn't take so many corporate donations. 
There are new candidates too. Isaiah James, an Army veteran and member of the Democratic Socialists of America, thinks both Clarke and Bunkeddeko are too corporate-friendly. And there's Chaim Deutsch, a New York City councilman running a campaign to court the district's Orthodox Jewish minority. 
Of course, the June 23 Democratic primary for New York's 9th Congressional District is happening in the midst of the coronavirus pandemic, which has upended traditional campaigning. And this Brooklyn district, which includes the Barclays Center and the Brooklyn Museum, has seen some of the largest protests against police brutality and systemic racism in the last few weeks. Residents of the district, at least 48% of whom are black, may be more ready to get involved in the political process than ever before. 
All together, it's a much more complicated and unpredictable race than in 2018 – and with absentee ballots coming in at unprecedented levels, it's unlikely to be called on election night. Clarke is living part of an epic.
Clarke is a member of the Congressional Progressive Caucus and has, by multiple measures, one of the most progressive voting records in the House of Representatives. She was an original co-sponsor of the Green New Deal resolution in the House, as well as the Medicare for All Act. While her two insurgent opponents, Bunkeddeko and James, can criticize Clarke for a lack of notable legislative accomplishment, they're largely in agreement when it comes to policy. 
Clarke's list of donors, however, looks like a stock ticker. She has raised thousands of dollars from corporate political action committees, such as those of T-Mobile, Verizon and Amazon. An analysis from the campaign finance watchdog OpenSecrets.org found that nearly $550,000 of the $781,000 Clarke has raised this cycle came from political action committees, with most of that total coming from PACs associated with businesses. Bunkeddeko and James haven't taken any PAC money. Deutsch has taken just $1,000, from a PAC that has overlapping membership and policy goals with the American Israel Public Affairs Committee, or AIPAC. So campaign donations have become a hot topic in the race, and one of the main ways the candidates have differentiated themselves from one another. 
While even some moderate Democratic candidates have been following the party's more progressive wing lately in rejecting certain donations, Clarke has been unapologetic about raising money from all comers. "I do not believe in litmus test pledges against receiving money from certain entities," she wrote in a questionnaire for the Jim Owles Liberal Democratic Club. But, she emphasized, "no contributions I receive buy my vote or my voice."
Still, her opponents have found her contributions to be fertile ground for criticism. In a June debate on NY1, Bunkeddeko asked Clarke why she had accepted a $1,000 donation from a Lockheed Martin PAC in February, despite taking a #DivestfromWar pledge to not take money from weapons manufacturers. Weeks earlier, Bunkeddeko had sent out a press release calling on Clarke to return her donations from another arms manufacturer, Raytheon. Clarke has received $30,500 from Raytheon over her career, but nothing since 2014.
"First of all, I never took a pledge," Clarke responded, before mentioning her leadership on passing the anti-corruption bill HR 1 through the House of Representatives in 2019. Clarke's campaign later confirmed to City & State that Clarke was mistaken, and that her campaign had pledged not to accept money from groups like Lockheed Martin. 
Clarke also seemed to stumble in a May debate hosted by a number of progressive groups, including New York Communities for Change. When the moderator asked if she would return her donations from the real estate industry and sign a pledge to reject further donations, she denied taking the money. "I'd like to see what you're qualifying as real estate interests," Clarke said, after defending her voting record as "the most progressive record in the New York delegation except (Rep. Alexandria) Ocasio-Cortez."
An analysis from New York Communities for Change shared with City & State found Clarke had taken $67,100 from the real estate industry between the beginning of 2018 and now. The activist group, which declined to endorse in the race, has an expansive view of real estate money, including donations from individual real estate agents and people working in construction. But some of the donors are fairly described as representing real estate interests, such as the $1,000 given by William Wallace IV, a real estate developer who is building an apartment building in Clarke's district that is controversial because it would cast a shadow on part of the Brooklyn Botanic Garden.
When City & State asked about Clarke's contributors, her campaign hit right back at Bunkeddeko, noting that he has taken money from "Trump donors." Only one example was given: venture capitalist Ken Langone, a supporter of President Donald Trump who along with his wife gave a total of $10,800 to Bunkeddeko in the last election cycle. Bunkeddeko's campaign returned the money after the election. But Bunkeddeko also got $500 this cycle from Everett Cook, a private equity executive who typically donates to Republicans. "You can't throw stones and hide your hand behind your back," said Clarke's communications director, Krysten Copeland. 
James too, has attacked Bunkeddeko's donor list, in particular contributions from political consultants Bradley Tusk and Chris Coffey, who have worked for the Police Benevolent Association – an NYPD union that has opposed criminal justice reforms. Bunkeddeko slammed the attack on Twitter, saying it ignored his identity as a black man. The PBA itself has endorsed his opponent, Deutsch. 
So while Clarke has raised money mostly through PACs, and Bunkeddeko and Deutsch have gotten most of their money from individual donations over $200, James has focused on small-dollar fundraising. "We don't take charter school money, Wall Street money, housing developer money, PAC money – any of that type of money," James told NY1. But James has struggled to fundraise at all, spending just over $13,000 through the end of the most recent Federal Elections Commission filing period on June 3. By contrast, Deutsch has spent nearly 10 times that amount, with just under $128,000. Bunkeddeko has spent just over $351,000 on the primary, and Clarke has doubled even that total, spending $759,000 through June 3. A fifth candidate who will appear on the ballot, small business owner Lutchi Gayot, has reported spending less than $8,000 and isn't expected to have much of an impact on the race. 
Clarke's mother, Dr. Una Clarke, is a political legend in Brooklyn's West Indian community. Born in Jamaica, she emigrated to Brooklyn and, in 1991, became the first Caribbean-born member of the New York City Council. When she was term-limited out, her daughter Yvette Clarke won her seat at just 36 years old. A few years later, in 2004, the councilwoman decided to aim higher, and challenged the longtime incumbent Rep. Major Owens. Owens ended up winning, but took his long planned retirement at the end of that term. In 2006, Clarke won the four-way primary for the open seat with about 31% of the vote. Bunkeddeko isn't as lucky as Clarke to get an open seat on his second try, and will instead be facing more difficult dynamics than his one-on-one race with the congresswoman two years ago. In that race, Bunkeddeko did very well in the high-turnout, wealthier, whiter parts of the district, including Park Slope, Prospect Heights and Windsor Terrace. Clarke got her 53% of the vote thanks to strong support in the less-wealthy, majority-black areas of the district such as Flatbush, East Flatbush and Brownsville. Clarke also won the majority of the vote in the southern part of the district with a large Orthodox Jewish and Russian-American population, in areas such as Midwood and Sheepshead Bay, but turnout was very weak.
And that's where Deutsch appears to have seen an opportunity. Clarke, Bunkeddeko, James and Gayot are all black. That's the largest demographic group in the district, where, according to the U.S. Census, 48% of residents identify as black alone. But the district is also 19% Jewish, according to a 2011 study from the UJA Federation of New York, making it the fifth most Jewish district in the country. While secular and Reform Jews in areas such as Park Slope and Ditmas Park lean left, and they mostly backed Bunkedekko in 2018, some 38% of Jewish households in the district are Orthodox, with a significant presence in neighborhoods such as Crown Heights and Midwood. Deutsch's campaign has focused on winning over these voters, who, according to The Jewish Press' endorsement of Deutsch, feel that Clarke has "relegated Jewish issues to less than second-class status." But as one of the City Council's more conservative members, Deutsch is also appealing to moderate Democrats in the district more broadly. He's running on a law-and-order message and proudly touts endorsements from the Police Benevolent Association, another union for NYPD detectives, former Republican U.S. Sen. Al D'Amato and City Councilman Rubén Díaz Sr., a fellow socially conservative Democrat who's running for Congress in the South Bronx. 
In a district of more than 730,000 people, just 30,561 voted in the 2018 Democratic primary. So it wouldn't take many votes to make a huge difference in the race, especially if Deutsch manages to win support in tight-knit communities like the Hasidic Jews living in Crown Heights. So Clarke's allies have been framing Deutsch's campaign as a real threat to her reelection. Deutsch "has a real chance of winning if the progressives split the vote," City Councilman Brad Lander, a white liberal from Park Slope, wrote in an email to supporters, urging them to vote for Clarke. And Assemblywoman Rodneyse Bichotte, the Brooklyn Democratic county leader who has also endorsed Clarke, told City & State that the race could come down to how much Deutsch can increase turnout among Orthodox Jewish voters. "If they do, then (the vote) could be split three ways," she said. "If not, it will reflect very similarly to two years ago."
Bunkeddeko's campaign has shot back, writing in an email that Clarke's "surrogates are using scare tactics" and that actually he is the one "best positioned to defeat right-wing homophobe Chaim Deutsch." Deutsch has taken a number of votes in opposition to the LGBTQ advocacy community, such as voting against a ban of so-called gay conversion therapy. Asked to comment by City & State, Deutsch wrote off Bunkeddeko's words as "politicking."
Like Deutsch, James' presence in this year's primary shakes things up as well. While he has failed to earn the widespread support and endorsements that some of his fellow DSA-affiliated challengers have secured, James will still likely be able to win over some of the left-leaning, establishment-skeptical voters that may have voted for Bunkeddeko two years ago. And in a close race, that could make the difference between putting Bunkeddeko or Clarke over the top. 
Bunkeddeko too has struggled somewhat with endorsements. Just like in 2018, he got The New York Times' backing. Bunkeddeko also has the endorsement of the United Auto Workers Region 9A and, on Tuesday, he got his first endorsement from an elected official in New York City Councilman Carlos Menchaca. It's a decent line-up, but pales in comparison to Clarke, who has the support of major labor unions and a long list of elected officials, from every wing of the Democratic Party, including Rep. Hakeem Jeffries, who represents a neighboring district, state Sen. Zellnor Myrie, whose district overlaps with Clarke's, New York City Council Speaker Corey Johnson and City Comptroller Scott Stringer. 
In a typical year, multiple challengers and a hefty advantage in endorsements and fundraising would all but guarantee victory for Clarke. But with a complicated field and the election changed by the coronavirus and the protests, not even Bichotte is ready to declare victory for the incumbent.
"I'm confident enough that (Clarke) will make it," she said, "but I cannot predict what the turnout will be because of the pandemic, and because of absentee (voting)."
Clarke said that we live as part of an epic, and not in episodes. But 2020 could end up being the end of Clarke's tale. 
Correction: This article originally misstated the precise nature of the relationship between two political action committees.