Scott Stringer
Scott Stringer has always been progressive
Three constants in the New York City comptroller's career have been his liberal politics, ambition and work ethic.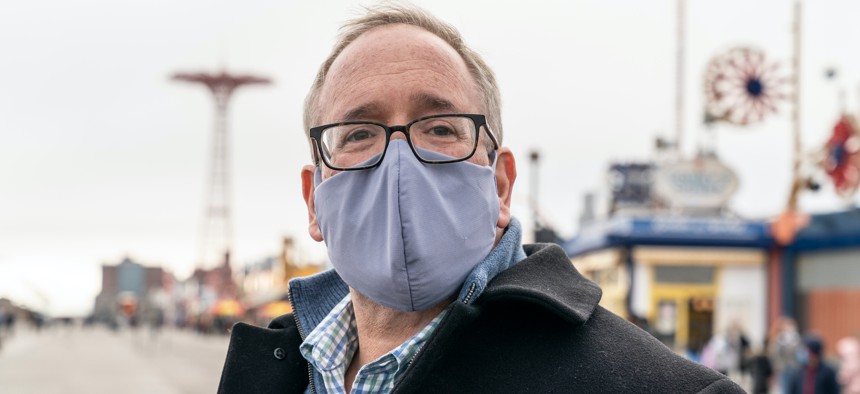 Before his campaign was rocked by two accusations of sexual assault, New York City Comptroller Scott Stringer was a top-tier mayoral contender who could plausibly claim to be the most qualified candidate.
Though the office wields considerable influence, the work of the New York City comptroller is followed most closely by fiscal policy wonks, which could explain why almost 50 years have passed since the city's chief fiscal officer was elected to be its chief executive. It so happens that Ronald Stringer, the father of the current comptroller, Scott Stringer, served as counsel to former Mayor Abe Beame, the last person to fill those roles consecutively when he entered City Hall in 1974.
Stringer was born into politics on both sides. His mother Arlene Stringer-Cuevas served as a City Council member from Washington Heights in Upper Manhattan, and his stepfather Carlos Cuevas was deputy borough president of the Bronx. Stringer got his own start in politics as a kid when he volunteered on a congressional campaign of his cousin, former Rep. Bella Abzug. Abzug was a liberal icon of her day, and Stringer has sought to continue the family tradition over the course of a career that has spanned nearly three decades in elected office.
He entered the Assembly in 1993, filling the Upper West Side seat vacated by his mentor Rep. Jerry Nadler, and remained in Albany until winning the Manhattan borough president race in 2005. That year, The New York Times lauded Stringer's "commitment to the principles of good government" in its endorsement of him. "It was Mr. Stringer who pushed hard to change the ossified rules in Albany, and stood up to angry colleagues on behalf of a reform requiring them to actually be present in the chamber to be recorded as voting."
Stringer has been an early adopter of some progressive causes. He called for the closure of Rikers Island before other top city officials, for example. But he's not one to stray too far from the Democratic establishment either. "He's not rigid in a policy sense or in a political sense – he is always willing to look at where things are," said George Arzt, a political consultant who was a spokesperson for Stringer's successful 2013 comptroller campaign.
Harold Holzer first met Stringer, whom he recalled as "this young eager kid with a very loud foghorn voice," when he was a reporter covering Abzug's 1972 congressional primary. Holzer, who is now director of the Hunter College Public Policy Institute's Roosevelt House, later worked with Stringer during his days as an Albany legislator and Manhattan borough president, and he described him as a "practical innovator."
"He deals with practical issues like infrastructure and safety, and at the same time he is a Bella Abzug progressive," Holzer said.
The comptroller's office is not generally viewed as a platform for formulating public policy. Reviewing city contracts, auditing the spending and performance of agencies, and overseeing the city's pension funds are its primary functions. But the comptroller also has a policy office, which Stringer has used to advance a range of proposals. In the wake of Superstorm Sandy, for instance, the comptroller came up with a plan to increase the height of the city's shoreline, particularly from the Lower East Side to the Battery in Manhattan.
"One of the things that I have been impressed with is he put out a proposal on how the city could address the child care problem for the 0-3 age group, and it dealt in a very smart and effective way with the affordability, accessibility and quality problems," said James Parrott, the director of economic and fiscal policies at The New School's Center for New York City Affairs. As further evidence, in his view, that Stringer is one of the city's "astute policy leaders," Parrott pointed to the comptroller's ongoing efforts to create a retirement fund for workers who don't have an employer-provided pension fund.
Some budget hawks give Stringer's tenure as comptroller less enthusiastic reviews. In 2014, the year both Stringer and New York City Mayor Bill de Blasio entered their current offices, every municipal contract had expired, and teachers union leaders were demanding retroactive pay increases to match raises that other city unions received during the Bloomberg administration. The de Blasio administration soon hammered out a nine-year, $5.5 billion contract with the United Federation of Teachers, which included the back pay but stretched it out over eight years. As New York City's budget watchdog, Stringer had to sign off on the deal.
"The city is not supposed to owe people for current and past obligations – only for long-term debt or for capital projects – so this is the comptroller's main role: Does this pass the balanced budget requirements that the city has under its charter and under state law?" said Nicole Gelinas, a senior fellow at the Manhattan Institute, a conservative think tank. "The comptroller was very nice to the teachers union in all of this: He just asked for a very small superficial tweak, but mostly let the deal go through."
Gelinas added, however, that Stringer was "certainly engaged in the job" of comptroller, and praised some reports that the office has released under his watch, including a 2018 examination of the impact of Airbnb on city rents. She described his tenure overall as "basically a competent management of the status quo."
One of Stringer's most-cited achievements has been his role in the 2018 decision for the city's pension funds to divest from fossil fuel companies, which made New York the first major pension system to do so.
Stringer's mayoral campaign touts his efforts to boost city spending on minority- and women-owned businesses. The comptroller's office, according to the campaign, increased its own share from 13% to 50% of contracts awarded. But Bertha Lewis, president of The Black Institute, told City & State that she was "disappointed" in the comptroller's record in that area. According to Lewis, she approached Stringer's office about an initiative to set aside 1% of the city's pension fund for investments in MWBEs, but the comptroller "never took (her proposal) seriously." She also criticized Stringer for not ensuring that some portion of the billions of dollars in COVID-19 relief funds for the city was allocated toward MWBEs.
Contrary to the perception of Stringer as having recently moved left, former Assembly colleagues say he was always a staunch progressive, so much so that he stood out in even the overwhelmingly Democratic chamber. "When he was in Albany, we treated him like he was from another planet," said Mark Weprin, a former Assembly member who served with Stringer. "He was further left than anybody. He was the most liberal member of the state Assembly! Manhattan had completely different views than the rest of the state." In 1995, Stringer was one of only nine Assembly members to oppose Megan's Law, which created a publicly available registry of sex offenders, although in his 2013 campaign for comptroller his spokesperson said he supported the legislation. He was among the first elected officials arrested during protests following the 1999 police killing of Amadou Diallo and his record on issues like rent control, ethics reform and taxation was staunchly progressive.
Weprin added that, despite Stringer's differences from many colleagues ideologically, he was well-liked among Assembly members. "He was a good guy: knowledgeable, and definitely driven," Weprin said. Stringer also had his eyes on City Hall, more than 20 years before he would finally run for mayor. "He wanted to be mayor early on," Weprin said. "He wanted to be mayor since he was in the Assembly."
As Manhattan borough president, an office he held from 2006 through 2013, one of Stringer's signature issues was working on community board reform, including the appointment process, recruitment, funding and how conflict of interests were dealt with. Ruth Messinger, a former Manhattan borough president, said that Stringer saw the office, which is largely ceremonial, as a legitimate platform from which to influence policy, including around land use and development. "He was early on questioning the value of huge tax breaks to developers who were only developing luxury housing, and that would become a key issue of his policy concern both as city comptroller and now as candidate for mayor," Messinger said.
In January 2020, Stringer released an affordable housing proposal that would end the 421-a tax subsidy to developers. But Tenants PAC Treasurer Michael McKee criticized the comptroller for previously taking campaign donations from the real estate industry. When Stringer was a district leader in the 1980s, McKee told City & State, "I heard him make the following speech time and time again on the Upper West Side: 'We have to make sure that these politicians know that if they take landlord money, they are not going to get the tenant vote.' That is verbatim. And then, of course, when he ran for borough president in 2005 that all changed." In 2019, Stringer swore off donations from real estate developers.
The recent disavowal of real estate contributions by many Democratic politicians has coincided with the ascendance of the party's progressive wing, a shift in which Stringer has stayed ahead of the curve. In the past few years, Stringer broke with his party's establishment in endorsing the progressive campaigns of a number of young women, including Tiffany Cabán for Queens district attorney as well as state Sens. Alessandra Biaggi, Jessica Ramos and Julia Salazar.
Going into the 2021 Democratic mayoral primary, Stringer was seen as a leading contender because he was unquestionably qualified and aligned with the ascendant progressive movement.
But in April a sexual assault accusation, dating back to Stringer's 2001 campaign for public advocate, wounded his candidacy. Though Stringer denied the allegation, many of the young progressives whom Stringer had backed rescinded their endorsements of him. On Friday afternoon, Teresa Logan, a Manhattan woman, told The New York Times that she had worked at a bar Stringer co-owned in 1992 and that he had groped her and kissed her at the time. Stringer told the newspaper that he had no recollection of Logan but that he apologized if any of his behavior had made her uncomfortable.
When City & State interviewed 16 former Stringer staffers for a May story, none knew of any alleged sexual misconduct, but many said he was a demanding and sometimes mercurial boss. Being demanding may come hand-in-hand with being intensely ambitious and hardworking. Over the course of their relationship, Holzer said that he has spoken to Stringer at 6 in the morning and 11 at night, and characterized his work ethic as "extraordinary."
Holzer, who was in charge of government relations at The Metropolitan Museum of Art during Stringer's tenure as borough president, said that much of the collaboration between his office and cultural institutions flew under the radar, as it involved mundane infrastructure needs. LED lighting, Holzer said, "sounds boring but saves millions and millions of dollars" in energy.
"He believes in justice, and he believes in picking up the garbage as well," Holzer said.
– With reporting by Jeff Coltin
This article is part of our For The Record series, examining the leading mayoral contenders' professional records. You can read the rest of the series here.