New York State
Why Cuomo will resign … and why he won't
A point-counterpoint of the potential reasons behind the governor's decision-making.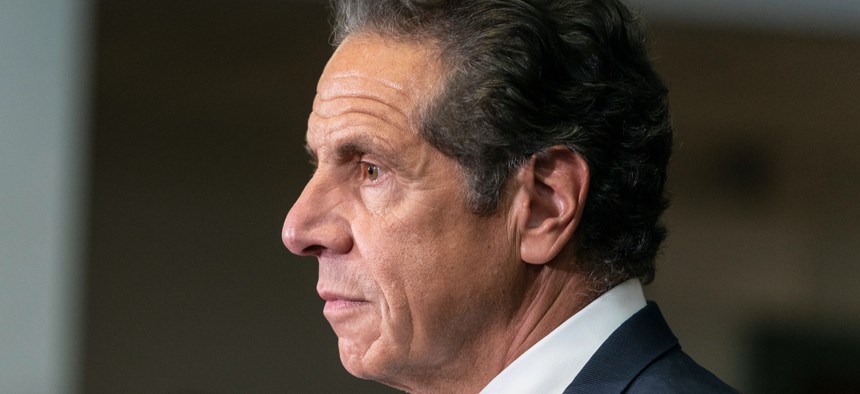 When nearly a dozen women came forward in late 2020 and early 2021 accusing Gov. Andrew Cuomo of sexual harassment, sexism and a toxic work environment, he refused to resign, despite widespread calls from within his own party. On Tuesday, a report from the state Attorney General's office detailed and confirmed the accusations – reigniting calls for his resignation and impeachment. The chorus grew to include even formerly steadfast allies, such as state Democratic Party Chair Jay Jacobs, but Cuomo once again refused to resign. Here's why he's sticking around. And what could make him leave.
Why he won't resign:
Cuomo is notoriously stubborn. He continues to say that he meant no harm and that his accusers were just misinterpreting his actions. Resignation would look like he's admitting he's wrong.
The office provides leverage. It gives Cuomo something to give up if civil or criminal cases move forward. It also gives him a physical office and a huge staff as he deals with ongoing investigations, potential lawsuits and a possible impeachment trial.
The office is powerful. No matter the scandals swirling around him, Cuomo is still signing bills into law, executing contracts and negotiating deals to build new airport terminals.
Time is on his side. Scandals fade from the headlines and calls for resignation lose their immediacy. Just last month, politicians who had called for Cuomo's resignation were still meeting with him.
Polling could be worse. A Marist College poll conducted after the report was released found 52% of Democrats said he should resign, versus 41% who said he should serve out his term, and 8% who were unsure. That's a majority, but barely.
He has a path to reelection. It's narrowing, but Cuomo still has more than $18 million in his campaign account, and if many challengers run in a primary, he could win with a relatively small percentage of loyalists. He'd have a shot in a general, too, given downstate's anti-Trump sentiments.
He has nowhere to go. Literally. Since Cuomo and his former partner Sandra Lee sold the residence they shared in Westchester County, he has reportedly lived full time at the governor's mansion in Albany.
Why he will:
He could get impeached and removed. Assembly Speaker Carl Heastie intends to move forward with impeachment, and with nearly 90% of state senators calling for his resignation, it isn't much of a stretch to say that a vote to remove the governor would be likely to pass.
There are more investigations to come. Beyond impeachment, Cuomo is facing a federal investigation into COVID-19 deaths in nursing homes, James' investigation regarding his book deal and at least four harassment-related investigations by local district attorneys. Things could get much worse for him.
He's lost his party. The vast majority of state legislators, the state's entire Democratic congressional delegation and even President Joe Biden have called on Cuomo to resign. He could hurt the party and become even more of a pariah than he already is.
He's losing his most loyal supporters. NAACP New York State Conference President Hazel Dukes and other Black leaders who had previously urged patience and stood by Cuomo have turned on him. As have the labor unions like 1199SEIU, 32BJ SEIU and New York State United Teachers that traditionally depend on mutually beneficial relationships with the governor.
Reelection seems unlikely. Money isn't everything, and the Marist College poll found that just 18% of Democrats think he deserves to be reelected – while 73% say it's time for someone else.
It could keep allies in power, and opponents out of power. Resigning would mean his lieutenant governor, Kathy Hochul would lead the state. Her, or other business-friendly moderates could run in 2022. If Cuomo runs again, the chance a leftist like Jumaane Williams wins would increase.
He's done it before. As New York City Mayor Bill de Blasio recalled, Cuomo dropped out of the 2002 race for governor, rather than face certain defeat. The question now is: How much has Cuomo changed in 20 years?