New York State
Cuomo impeachment: 'They're going to have to pull him out'
The three-term governor has weeks to plot his political survival, and he's not planning to go anywhere quietly.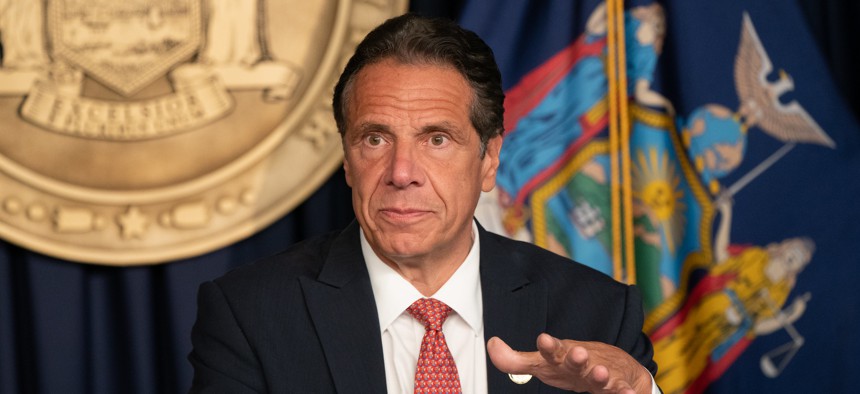 Nearly every elected official, from state legislators to President Joe Biden, has said that Gov. Andrew Cuomo should resign. Yet, the three-term governor has said he is not going anywhere. 
The forces against him might have convinced a less … stubborn politician to step down months ago. Probes are examining an alleged cover-up of COVID-19 deaths in nursing homes and a controversial $5.1 million book deal inked by the governor last year during the height of his pandemic fame. A bombshell report by Attorney General Letitia James released this week detailed an array of sexual harassment allegations against the governor. Local prosecutors are examining possible criminal charges. 
But if history tells us anything, Cuomo will stay in office through the end of his term next year unless state lawmakers impeach and remove him. Democrats in the Assembly held an emergency meeting Tuesday to discuss what to do next. In the event of impeachment, which seems likely, the governor probably has a few weeks to strategize his political survival. 
Members of the Assembly Judiciary Committee are holding an already scheduled meeting next week to get updates from the private law firms tasked with conducting their sprawling investigation of the governor. The 150-member Assembly could impeach the governor by a majority vote based on any formal charges approved by the committee. This would make Lt. Gov. Kathy Hochul acting governor while Cuomo faces an impeachment trial. After an affirmative Assembly vote, everything would ultimately depend on the High Court of Impeachment, which would include seven members of the state Court of Appeals along with almost all state senators. Majority Leader Andrea Stewart-Cousins of Westchester County (who has reiterated calls for his resignation following James' report) would not participate because she would be acting lieutenant governor. The trial itself could be similar to the impeachment trials of former President Donald Trump. Witnesses might be heard. The governor could have lawyers argue on his behalf. A two-thirds majority of that body would decide his fate. If the High Court of Impeachment voted to convict Cuomo, then he would be the first sitting governor removed from office since William Sulzer more than a century ago.
Cuomo has survived political scandals before with the help of labor leaders and Black leaders. As allegations initially surfaced, Assembly Member Rodneyse Bichotte Hermelyn of Brooklyn defended him, saying he deserved "due process." Christian pastors argued that calling for Cuomo to resign undermined James' position as the first Black woman to serve as a statewide elected official. Elected officials, labor leaders, civil rights activists and others appeared at the governor's public events as he continued his efforts to project normalcy while the various investigations continued. "I love listening to Inez Dickens," Cuomo said after the Manhattan member of the Assembly called for due process at an April event nominally focused on vaccinations. 
Erstwhile allies have since turned on the governor. Powerful unions like SEIU 32BJ and the Retail, Wholesale and Department Store Union have called for his resignation as have Dickens and around a dozen others who penned a March letter pushing back at Cuomo's immediate ouster. "He is unfit for office and should step down and resign," Bichotte Hermelyn said in a statement following the release of James' report. It now appears that a majority in the 150-member Assembly supports impeaching Cuomo. Speaker Carl Heastie of the Bronx is vowing to pick up the pace with impeachment after facing accusations for months that he was slow-walking the process, saying in his recent statement that Cuomo "has lost the confidence of the Assembly Democratic majority and that he can no longer remain in office." Even longtime loyalists like state Democratic party Chair Jay Jacobs say Cuomo should resign. Making the governor leave, however, is another matter entirely.
Politically, there is a substantial difference between calling for the governor to leave office and casting the deciding impeachment vote, and Cuomo will likely force the Assembly members to take decisive action. Despite the momentum of recent days, it's still not certain a majority of Democrats will actually vote to impeach the governor if push comes to shove. Legislative leaders could be reluctant to hold a vote that significantly divides their own party. Majority Leader Crystal Peoples-Stokes of Buffalo, an influential force in the chamber, has said the governor should resign without explicitly saying whether she would vote to impeach him. "There is a process," Assembly Member Patricia Fahy of Albany said in an interview while stressing that it would be inappropriate to decide before a formal vote. 
Of course, the governor could always resign to spare himself the embarrassment of getting impeached and removed from office. Yet, he has some pretty good reasons to hold on for as long as possible. Fifty-nine percent of respondents to a new Marist poll said Cuomo should resign, but less than half of nonwhite respondents said so. His poll numbers could improve with time as they did in the months following media reports of sexual misconduct earlier in the year. 
The governor still retains the ability to sway lawmakers. He can veto their legislation, withhold funding for their districts and attack them in public. That could make some legislators think twice before joining efforts for his ouster. Longtime political observers note that unless he gets convicted of something, Cuomo is going to stay right where he is as legislators continue talking about what they might do about it. "I've known him for 40 years," Democratic consultant Hank Sheinkopf said in an interview. "They're going to have to pull him out."