News & Politics
Hochul says she is open to decriminalizing sex work
Advocates for two competing bills are vying for the new governor's attention on the controversial issue.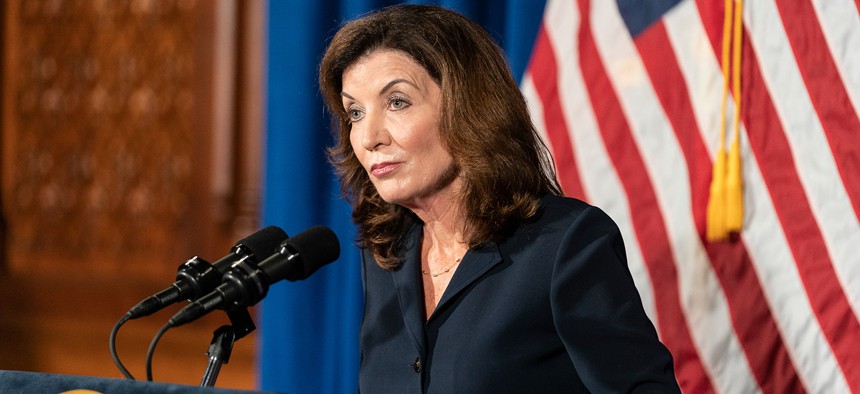 Gov. Kathy Hochul did not endorse the decriminalization of sex work this week – but she is already taking a very different approach to the issue compared to past governors. "It is absolutely something I've thought about and I'm considering," she said at a Thursday press conference in response to a question from City & State. "I'm discussing it with many advocates and people who have strong opinions on this." Her predecessor, by comparison, was known for opposing the idea, though he supported other LGBTQ-friendly ideas like the repeal of the "walking while trans" law. 
The new governor has activists more optimistic than ever about passing legislation that would reduce criminal penalties for people who make money through prostitution. Two competing bills are before the state Legislature. Their respective advocates have very different approaches and each side is wondering what Hochul might do in the coming year as she considers a broader array of proposed criminal justice reforms. 
"This is amazing," Bianey Garcia, an organizer with the advocacy group Make the Road New York and a former sex worker, said in an interview. "I think Albany is taking sex workers seriously for the first time."
Her organization is part of a coalition of groups that is backing legislation sponsored by state Sen. Julia Salazar of Brooklyn and Assembly Member Richard Gottfried of Manhattan that would eliminate criminal statutes targeting sex workers as well as the people who pay them. "We hope that when (Hochul says) 'decrim' that she's talking about the real comprehensive decriminalization for sex workers that will ultimately lead to better outcomes for people," Jared Trujillo, an attorney with the New York Civil Liberties Union, said in an interview about the legislation. Bill supporters point to research, including a study that found the vast majority of sex workers in New Zealand reported that they were better off after decriminalization than before. A separate government study found no subsequent increase in the sex trade.
A spokesperson for the governor did not respond to a request for comment by publication time about who exactly are the "many advocates and people" that she has spoken to about decriminalization. City & State reached out to more than a dozen advocacy groups and leading activists on decriminalization to ask whether they have been in contact with the governor on the issue. None of those supporting the aforementioned bill said they have spoken to the governor or her staff about it. The Hochul administration has had discussions with people backing a rival bill sponsored by State Sen. Liz Krueger of Manhattan and Assembly Member Pamela Hunter of Syracuse. "I have shared my position and the bill I carry with the Governor's staff," Krueger said in a statement. "The sex trade is a system of exploitation that takes advantage of the most vulnerable and those whom our society has left with the fewest options. It is vital that survivors are not criminalized." Sonia Ossorio, president of NOW-NYC, said in an interview that she has spoken to Hochul about the issue in the past though not since she became governor.
Supporters of the second bill believe that criminal penalties should be reduced for the people who sell sex, but not necessarily for those who pay for it. "Decriminalizing sex work for the sex worker and holding responsible the exploiters – the traffickers – absolutely needs to happen," Hunter, who has not spoken to the Hochul administration about the issue, said in an interview. The legislation cites the "Nordic Model" adopted in countries like Sweden in recent decades, which a legislative memo credits with reductions in street prostitution. That highlights an important difference with the rival bill, which would allow consenting adults to buy and sell sex without fear of criminal prosecution. "I'm happy with (Hochul's) comments yesterday, but I also know what she meant by them," Ossorio added. "Commercial sexual exploitation of women, opening the sex market …  that's not a vision for New York that she embraces." 
Opponents of the bill, however, balk at the idea that it represents true decriminalization at all because sex workers who live or work with each other could still be prosecuted, according to Trujillo of the NYCLU. "If you look at the most marginalized sex workers, it matters," he added. Critics of the Nordic Model have also noted how it reflects the idea that paid sex acts are inherently bad between consenting adults, especially when some people have to resort to such means to survive. "My biggest issue with what we call the Nordic Model, or the equality mode, is that it conflates sex trafficking with consensual sex work which are two different things and that is the message that we have to center around decriminalization of sex work with lawmakers," Elisa Crespo, the executive director of the New Pride Agenda and a former sex worker, said in an interview.
More than a few elected officials have gotten behind the idea of reducing criminal penalties for sex workers in one way or another. New York City Mayor Bill de Blasio, for example, earlier this year endorsed an approach similar to the legislation sponsored by Krueger and Hunter. Whichever way Hochul might be leaning on decriminalization, her willingness to consider it is something new in state politics. "I don't know that I've heard of any New York governor or the governor of any other state being open to the topic," Gottfried, who has served in the Legislature for more than half a century, said in an interview. If partial or full decriminalization prove too much for Hochul in the short term though, advocates say she could take a look at outstanding legislation that would prohibit the use of condoms as evidence of illegal sex work in a court of law. Another bill would decriminalize the unlicensed practice of massage. For now at least, some activists say they are just happy that the new governor is paying attention to issues they care about. "This issue has impacted my community for many years," Garcia of Make the Road said. "As a former sex worker and as a trans person, it's really important listening to those people in power talking about our lives."