Campaigns & Elections
AOC, downstate progressives help India Walton
Many Buffalo Democrats are staying on the sidelines. So the party's mayoral nominee has gathered support elsewhere.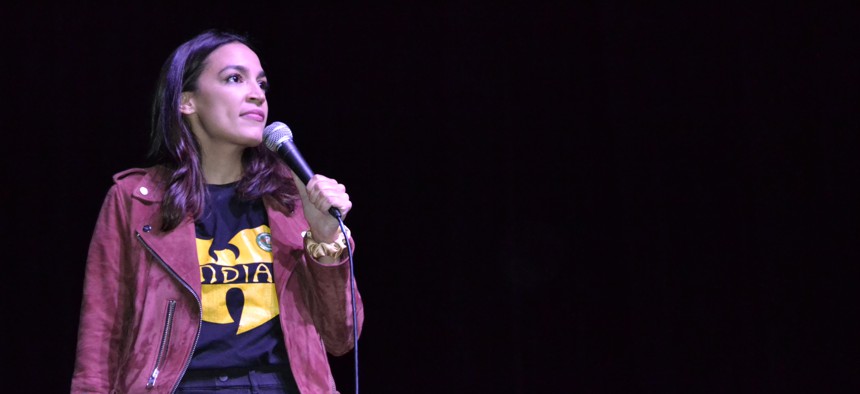 As Rep. Alexandria Ocasio-Cortez took the stage in a downtown Buffalo theater, "Never Leave You" by Lumidee was bumping on the speakers. She danced over to India Walton where the two progressive stars, one well-established and the other on the rise, shared a long embrace as the crowd erupted.
Ocasio-Cortez, U.S. Sen. Bernie Sanders and other progressives have been publicly supporting Walton's campaign for months, stumping at rallies or posting on Twitter. But this visit was what the Walton campaign had been waiting for. The member of Congress was in town to kick off the first day of early voting, and her visit drew such a big crowd that Western New Yorkers lined up hours before the event and the line stretched for blocks.
Not all New York Democrats, particularly those from Buffalo, have been so gracious to Walton and her campaign, despite her status as the party's nominee. Ocasio-Cortez had something she wanted them to hear.
"Any Democrat right now that is trying to establish a precedent of not uniting behind the party's nominee is playing a dangerous game," she said. "I want to send a very direct message to some of those folks. Because, if you, especially as an elected official and as a Democratic elected official, try to go out and undermine your party's nominee, how can you ever turn around and ask people to support you when you are the party's nominee?"
Ocasio-Cortez is one of the biggest names to get behind Walton, but she also represents another large group of those supporting the nominee: downstate Democrats. At the event, the only other elected official to speak besides AOC was state Senate Deputy Majority Leader Michael Gianaris, who also represents Queens. At a Walton rally earlier in the month, speakers included progressives from around the state and beyond: Working Families Party National Director Maurice Mitchell, former gubernatorial candidate Zephyr Teachout and state Sen. Jabari Brisport of Brooklyn.
The norms surrounding endorsements are imperfect and informal. But for Democrats – the common phrase "vote blue no matter who" comes to mind – there has typically been an obligation to support the winner of the primary.
People have current dealings with the city that they don't want impacted by taking a stand in coming out for me. I think it's an unfortunate state of being.
– Buffalo Democratic mayoral nominee India Walton
This race, however, is anything but normal. With her stunning victory in June, Walton knocked Brown off the ballot, something the four-term, nearly three-decade political veteran could have avoided if his campaign had gathered signatures for a minor-party line. But Brown and his finely tuned campaign machine pose a real threat, as he fights for his political life through the only means he has left: a write-in campaign.
This leaves some Buffalo Democrats, it seems, with a difficult choice. Many, like Gov. Kathy Hochul, are hedging their bets, choosing not to endorse either candidate.
At a New York City press conference last month she said she would work with whichever candidate won.
"Buffalo's success is important to me personally," Hochul said. "So that is my commitment. I will work with whoever the voters select. It is up to the voters."
Of Buffalo's nine-member Common Council – the city's legislative body – five are staying out of the fray. Three are backing Brown: Ulysses Wingo, Chris Scanlon and Joe Golombek.
Common Council President Darius Pridgen, who is also one of the city's most influential religious leaders, has worked with Walton in her activist roles in the past. He recently had her on his radio show for a relaxed and cordial interview, but has not endorsed either candidate.
Only Rasheed Wyatt, the council member who most often openly butts heads with the mayor's office, is supporting Walton, making his official endorsement at a late October press conference in front of a theater in his East Side district.
Asked why he thought no other council members had backed the Democratic nominee, he said there has been a lack of trust between the council and the mayor's office that left some members cautious about attaching themselves to any candidate.
"I think people just have to warm up to the idea that she's someone who's going to keep her word," Wyatt said.
Wyatt is not alone as a local Democratic elected official working to get Walton into the mayor's office. State Sen. Sean Ryan and Assembly Member Jonathan Rivera have both supported Walton, as has Erie County Legislature Chair April Baskin. And Walton has the recent backing of some prominent Democrats, including U.S. Senate Majority Leader Chuck Schumer and U.S. Sen. Kirsten Gillibrand.
New York City Public Advocate Jumaane Williams, Gianaris and other leaders in downstate progressive circles helped to organize a fundraising junket for Walton in September. 
While Walton has not been able to get some local Democrats to endorse her, the support from downstate has been built through a shared vision rather than geographic allegiances. Ocasio-Cortez drew long rounds of applause during her speech, hitting on progressive themes like renter protections.
During an early October event, Brisport explained why he had traveled to the Queen City to stump for Walton.
"I came here from Brooklyn because sometimes in New York politics, sometimes people try to make a false divide," he said. "They say there's an upstate, there's a downstate. But I want to be clear, and India knows this and I know this, if people are hungry in Buffalo, they're hungry in Brooklyn, and if people are out in the cold and they're homeless in Brooklyn, they're hurting in Buffalo too."
Other big names in the party have helped Brown or otherwise worked to undermine Walton's campaign.
Assembly Majority Leader Crystal Peoples-Stokes, who worked with Walton on a parking permit system for one Buffalo neighborhood and statewide marijuana legalization, endorsed Brown, a longtime ally, on the morning of the start of early voting, the same day as the AOC rally. Peoples-Stokes, who came up in politics with Brown through the Grassroots political organization, will potentially help him in the East Side districts that make up their shared base. Her support could help him fight back against the Walton campaign highlighting his ties to and support from Republican developers like Carl Paladino and Nick Sinatra.
And state Democratic Party Chair Jay Jacobs drew swift criticism from many Democrats, including Ocasio-Cortez, after he mentioned white supremicist David Duke in a hypothetical scenario explaining why he didn't have to support the party's nominee.
Walton has her own ideas about why some in the party are choosing to sit out or endorse Brown.
"Sixteen years is a long time and people have working relationships with the incumbent mayor," she said, standing in the frigid October air after the Wyatt endorsement.
Behind closed doors, she has continued to have productive conversations with elected officials and business leaders, including those who have either stayed out of the race or endorsed Brown, she said.
"People have current dealings with the city that they don't want impacted by taking a stand in coming out for me," Walton said. "I think it's an unfortunate state of being that what is best for our people is based on what these relationships are, but that's the reality of local politics and I'm hopeful that I can change that when I'm mayor."
She has been clear that she will work with anyone looking to improve Buffalo, if given the opportunity. Still, she is frustrated that more of the same people who have called for unity behind primary winners in the past aren't standing with her now.
But she can't dwell on that now, as one of the most competitive and unusual mayoral races in the city's history draws to a close.
"It doesn't really bother me that sitting electeds aren't coming out and endorsing," Walton said. "It would be nice if they did. But my responsibility right now is to get my message out to the voters."
Powered By
NEXT STORY: Adams and Sliwa face off in last mayoral debate