Campaigns & Elections
Cold War between James and Williams looms over governor's race
The Black progressive Brooklynites have to deal with each other first.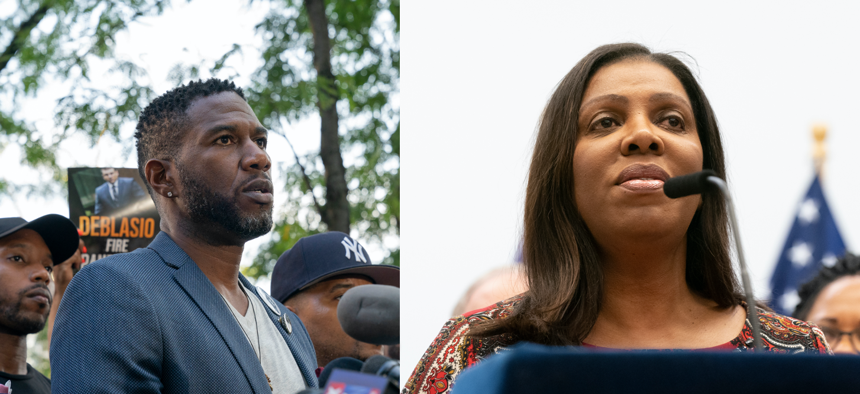 It seems increasingly likely that both state Attorney General Letitia James and New York City Public Advocate Jumaane Williams are both going to run for governor, setting up a cold war between the two politicians over the question of just who will be carrying the progressive torch into the 2022 Democratic primary against Gov. Kathy Hochul – the still-new executive whose Western New York roots could make her vulnerable against the right challenger. 
James and Williams are both Black, lifelong Brooklynites with deep roots in the political strongholds of North and Central Brooklyn and appeal to progressive voters statewide. So before either James or Williams take on Hochul, they'll have to deal with the threat of mutual assured destruction, damning each other to lose as they split the anti-incumbent vote, not to mention the vote-rich borough of Brooklyn, which alone makes up 20% of the primary vote. 
James' campaign announced Friday that's she's officially running for governor. Williams launched an exploratory campaign for governor last month, and his public statements suggest he's also close to formally announcing a run, with sources close to Williams suggesting that could happen as soon as this weekend, when he will be campaigning in Buffalo with Democratic mayoral nominee India Walton. Hochul, for her part, announced she would be seeking election as governor in 2022 before even taking office upon former Gov. Andrew Cuomo's resignation in August.
James, Williams and allies of both of them have been in a behind-the-scenes dance for months, both trying, without apparent success, to keep each other out of the race. Multiple sources tell City & State the two met in person recently, and that Williams told James that he has every intention of running for governor, even if she does too. A source close to Williams, who asked for anonymity to discuss a private conversation, said that James told Williams that if he ran, she would not. "But we didn't believe her," the source said.
Assuming both of them run, longtime allies will be in a tough spot. "The Black Central Brooklyn stakeholders are going to have to think long and hard about who makes the best executive," said Andre Richardson, a Black, Central Brooklyn-based consultant who isn't working for any of the candidates. And that's not going to be specifically based on prior relationships." 
Bertha Lewis, a progressive activist and longtime ally of both of them, simply is not ready to think about it.  "I've known all of these people for decades. I'm not getting the middle of it. I can't. It's too much," she told City & State. "People should sit down with each other and create a real strategy. All of this crabs in a barrel – I don't like it."
There are, of course, clear differences between the two candidates. Williams is a socialist who challenged Hochul's reelection as lieutenant governor in 2018, falling about 99,000 votes short, 47% to 53%. In the same election, James was running for state attorney general on an informal ticket with Hochul and Cuomo, defeating Zephyr Teachout, who ran to her left, 40% to 31%. That was a somewhat rare turn for James, who won her first election on the left-leaning Working Families Party ballot line. A run against the incumbent Hochul in 2022 would put both James and Williams in position as insurgents, running against a somewhat more moderate, big business-friendly candidate in Hochul. But the two Brooklynites' approach could differ. Many labor unions backed James' 2018 run, and she could pull some of that support from Hochul. She could tap into a national Democratic donor base excited about the prospect of electing the nation's first ever Black woman governor. Williams, meanwhile, could appeal to a national, small dollar donor base that has supported leftist candidates like U.S. Sen. Bernie Sanders – who endorsed Williams' 2018 run. He'll position himself as the true progressive in the race, and allies of his have already used Walton's race in Buffalo as a litmus test. Williams has endorsed the Democratic nominee, while both Hochul and James have declined to endorse, out of apparent deference to Democratic Mayor Byron Brown, who is running a write-in campaign. "The narrative is Jumaane needs to jump out of the race because we need to support Black women, but she's on the record on not supporting (Walton)," said the source close to Williams.
James, of course, would prefer to keep that criticism out of the governor's race. "The Jumaane thing is a major problem for Tish. He's pure and she's not. He doesn't take money from evil real estate and whoever," said a former elected official who asked for anonymity to discuss the race. But Hochul's campaign is more worried about James than Williams. "The Hochul people only fear Tish," the former official said. "That's the only one they fear."
Poll numbers suggest Hochul may have reason to fear. Hochul held comfortable leads over the Brooklynites in both a recent Siena poll and a recent Marist poll. But James, who holds a statewide position, far outperformed Williams, a citywide official. 
The field, and the dynamics of the race, are still far from set. New York City Mayor Bill de Blasio, has been signalling that he will run, and as another progressive Brooklynite, could further shrink the lane. And both Rep. Tom Suozzi and Yonkers Mayor Mike Spano could run as suburban moderate foils.
But the poll numbers concern people like Camille Rivera, a progressive consultant with New Deal Strategies who lives in Central Brooklyn and isn't working for either candidate. "It's a Democracy. You can never tell anybody not to run," she said. But at the end of the day we saw what happened in the mayoral race. We weren't able to coalesce around one candidate, and not having that block unified is going to spell trouble for the left." 
But other politicos are accepting that both James and Williams may run – like Trip Yang, a political consultant who worked on both James' attorney general campaign and Williams' race for public advocate. "You have to be prepared for that possibility. Everyone has to look at how they can best serve," he said. "My view as a voter is it's always a good thing when you have more quality candidates in a race."
Editor's note: Trip Yang also is a member of City & State's Advisory Board.
Powered By
NEXT STORY: The People vs. Andrew Cuomo is now officially a thing