Campaigns & Elections
Who are the Democrats running for New York governor in 2022?
Some political notables have better chances than others at beating incumbent Gov. Kathy Hochul next year.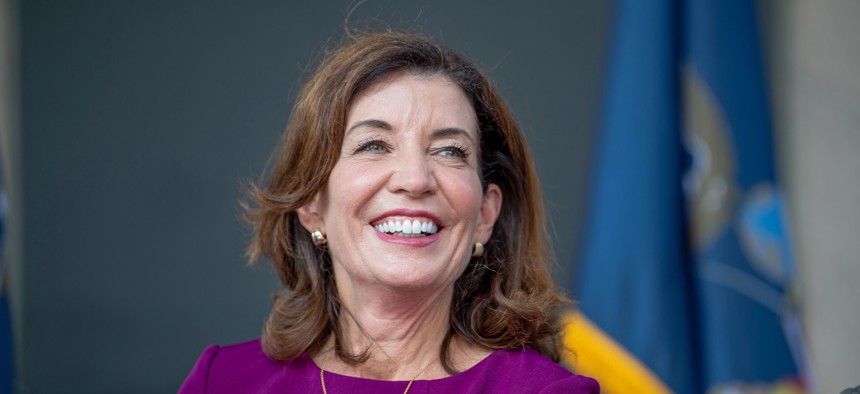 Gov. Kathy Hochul sure is looking good nowadays when it comes to winning a full term in office. Her first weeks in office have featured some big policy wins and a few new endorsements highlight how much progress the Western New York native has made in cultivating support downstate. "Throughout her life and career, Governor Kathy Hochul has consistently stood up for the voiceless and marginalized in our communities," Hazel Dukes, president of the NAACP New York State Conference and prominent supporter of ex-Gov. Andrew Cuomo, said in a Monday morning press release announcing her endorsement of Hochul in the 2022 race for governor. Statements like that ought to help Hochul move past old comments on issues like immigration that might hurt her efforts to woo lefty progressives. 
The big question facing the governor is exactly who she will face in the 2022 Democratic primary. State Attorney General Letitia James is the biggest x-factor considering her statewide profile and past support from progressive groups like the Working Families Party. But Hochul's ongoing success with locking up support from the Democratic establishment might push James to announce a campaign sooner rather than later. Others, like New York City Public Advocate Jumaane Williams of Brooklyn, Rep. Tom Suozzi of Long Island or Suffolk County Executive Steve Bellone, might eat into Hochul's support from one side or another on the political spectrum. 
So while Hochul is looking good, she still has a long way to go in terms of securing a win next June. That task is unlikely to become any easier in the upcoming weeks as a litany of prominent Democrats consider their chances against Hochul. Here is a list of who is running, who is not, and who is still keeping political watchers in suspense. 
This article was last updated Oct. 18. 
Running
Gov. Kathy Hochul
The unexpected governor was largely unknown to most New Yorkers when she took office in August, but recent polling, new endorsementsfrom establishment figures like Hazel Dukes and Democratic State Party Chair Jay Jacobs, as well as her prolific fundraising, have made Hochul the woman to beat for the Democratic nomination. Her ongoing appearances across the state ought to help build some name recognition among the downstate voters who will likely make or break her chances next year, but the June primary is many months away, and she did not exactly waltz to victory in her 2018 reelection campaign despite similar advantages of incumbency. 
New York City Public Advocate Jumaane Williams
Jumaane 2022 is not official, official, but an exploratory committee means Williams is serious about challenging Hochul in the Democratic primary. A lot has changed since they competed in the 2018 primary for lieutenant governor. Williams is now a citywide official with strong ties to Black voters and lefty progressives. His appeal to these important constituencies could help him beat Hochul next year if he can raise the money and grassroots support to win big in his home borough of Brooklyn while competing elsewhere across the state. 
Maybe running
State Attorney General Letitia James
The biggest question of the 2022 primary is whether James will run or not. It appears increasingly likely that she will enter the race to potentially become the first Black female governor in the state. Like Hochul, James can lean on the powers of incumbency to tout progress against problems like opioid addiction. Her fundraising and recent appearance in Buffalo alongside striking workers meanwhile raised eyebrows and suggested how James might compete for upstate voters while leveraging her hometown ties to New York City voters. Good luck guessing whether that means an announcement is going to happen in the upcoming weeks.
New York City Mayor Bill de Blasio
From a weird run for president to getting heckled at the Columbus Day Parade, the two-time mayor might be the only person who believes he could get elected governor. But one advantage that he has over his potential competition are the weeks he has left to leverage his sway as mayor (he has experience with that) to help him in the campaign. That was not enough to become a serious candidate in 2020, but maybe, just maybe, Hizzoner can exceed expectations if he at least stays in the race until Election Day this time around. 
State Comptroller Thomas DiNapoli
Is he the most exciting elected official? Umm, no. But the Long Island Democrat has won three elections since he replaced his felonious predecessor in 2007. Holders of other statewide offices have resigned, been imprisoned or otherwise left elected office in disgrace since then, yet DiNapoli is still there crunching the numbers. That might add up to a serious bid for governor if he decides to sacrifice job security for the sake of ambition. For now, he still seems set on staying on as comptroller. 
Rep. Thomas Suozzi
The Long Island Congress member is placing his political bets on his ability to get his colleagues to repeal the cap on state and local tax reductions. He would have a very real win to sell to voters if that somehow happens, and his willingness to stand up to the purported dangers of Western New York socialism gives him a clear lane to compete for in a competitive primary for governor. Yet, Suozzi says a campaign for governor is a no-go if the SALT repeal does not happen. 
Suffolk County Executive Steve Bellone
"The last of the New York centrists" hopes to become the first county executive elected as governor. His brand of moderate politics could give him a chance in a crowded primary where a plurality is enough to win. Bellone has led the largest county in the state outside New York City, which gives him some unique talking points to bring to voters. At this point, his relative obscurity at the state level leaves him as a dark horse to watch in the coming race. 
State Sen. Alessandra Biaggi
Few people appeared to get under the skin of Team Cuomo quite like the two-term progressive. The Bronx legislator openly floated the idea of challenging Cuomo in a primary, but his resignation takes some of the oomph out of a potential run. A crowded primary might not be worth the effort compared to a quixotic challenge to the longtime bête noire of the left. That appears to be one reason why she is eying other opportunities like potential runs for state attorney general or lieutenant governor. 
Westchester County Executive George Latimer
The Westchester County executive has helped make Westchester increasingly blue in recent years. That has led at least one vocal supporter to make the case that the former state senator should be included in discussions of who might get in the race, though the "Lawn Ranger" himself has remained coy about whether he is really interested in returning to Albany anytime soon. 
Yonkers Mayor Mike Spano
The mayor of New York's third-largest city doesn't have much of a statewide profile, but that's not stopping him from considering a run for governor. He told News12 Westchester in August that he'd give Hochul some time to settle into her new job, but planned to decide whether or not he'd mount a run this year. Sources close to Spano, who comes from a large political family, told the Yonkers Times there could be an opening for a suburban moderate if the progressive vote were split enough. 
Not running 
Former Gov. Andrew Cuomo
The fallen master of Albany has been in exile on Long Island since fleeing Albany weeks ago, but he has hardly disappeared. His remaining supporters are still attacking the investigation that led to his downfall, and he is apparently intent on avenging himself. That might include using his remaining war chest – which is still accepting donations – to wage a final battle for political redemption. While Cuomo supposedly has no interest in running for office next year, his remaining money and name recognition could still make him a competitive candidate if he changes his mind.
U.S. Sen. Kirsten Gillibrand
New York's junior senator has ambitions beyond Congress – after all, she ran for president. She wants to build on her brief and unremarkable run and campaign for president again, she told Politico New York in July. But she said then she has no interest in running for governor. She reiterated to Gannett papers in October that, in spite of Cuomo's resignation, she has no interest in running for governor. 
Assembly Speaker Carl Heastie
The Bronx powerbroker told a Syracuse reporter over the summer that he is "absolutely not" interested in entering the race. 
With reporting by Jeff Coltin