Campaign Confidential
Does Keith have the Powers?
And more coverage of New York elections.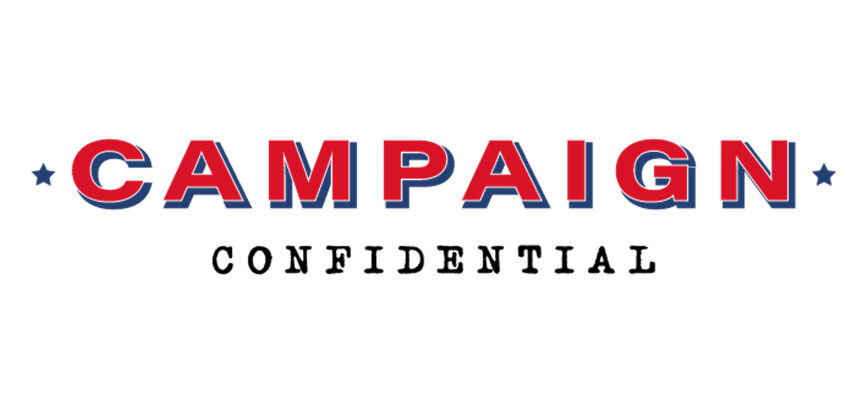 Keith Powers could be a compromise candidate
It's early days in the race for New York City Council speaker. New and returning council members will only whisper about who they might support. The likely incoming mayor is expected to put his finger on the scales for a preferred candidate but has yet to confirm it. Voting blocs led by influential Democratic county party leaders or members of Congress are still forming. It's mid-October, less than three months from when the speaker will be officially elected, and the campaign is still happening behind closed doors. No public forums have been scheduled yet.
It's a race that requires patience for someone like Council Member Keith Powers, who is one of a few people who have been campaigning for speaker for years. "I've met with and talked to almost every single incoming member. I've of course met with (Eric Adams). I've talked to labor. I'm at every big event," Powers, who represents Midtown and the Upper East Side, told City & State recently. "Especially this year, you have to really build a coalition."
In a year with several dozen new members – some of them on the far left and not aligned with the Democratic establishment – it's unclear what those coalitions will look like. Several incoming council members have told City & State that they feel good about Powers, including some who said he was their top – if not final – choice. "We don't know where this might go because it's early in the game," said one likely incoming council member who praised Powers and said they support him, but who asked not to be named because they haven't made a final decision. "I don't want to box myself (in), but I do know that Keith is one of the people on my list." While Powers is regarded as a strong contender in the race, acceptable to progressives and a competitor for Adams' support, it may not be enough to be on everyone's list of maybes.Read more here about Powers' path.
- Annie McDonough
By the Numbers
$0
That's how much New York City mayoral candidate Eric Adams got in the latest round of public matching funds, since he declined the approximately $2.8 million that could have been coming his way. The company line being: "There's no reason to spend taxpayer money for the campaign," as Gothamist reports, which is quite a turn for a candidate who has long claimed he wants fully public funded campaigns. Instead, Adams' $758 average contribution size over the previous period was the highest of the entire campaign. That's even though he used to take donations up to $5,100, but is now capped at $2,000.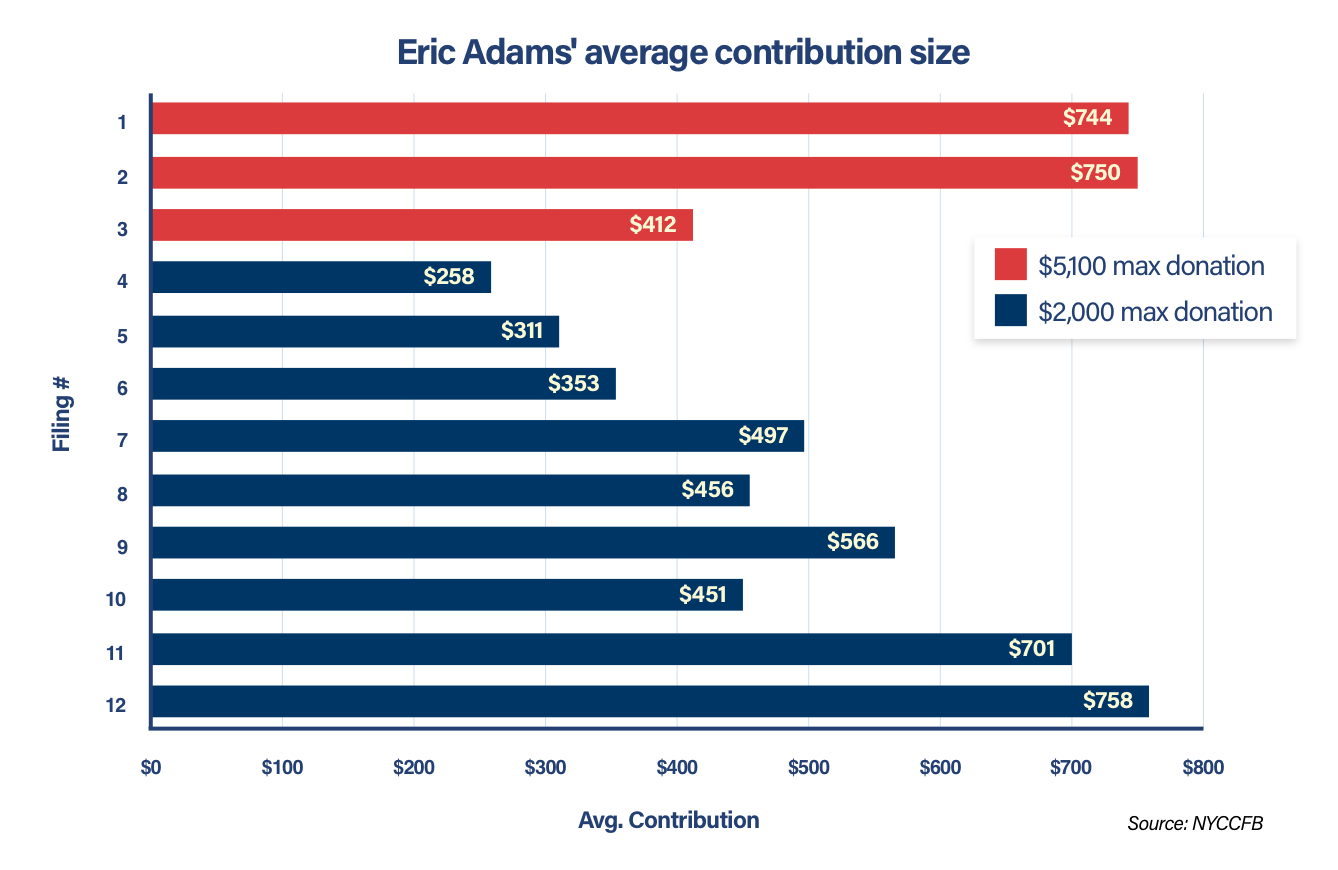 The Dante Addition
He's posing at the Met Gala, hobnobbing with Harry and Meghan and backstage at Global Citizen. Yes, Dante de Blasio is everywhere lately, which has some wondering if he's building up to something. It could just be a young man enjoying the waning days of his dad's power, but then how do you explain the brand new public Instagram account? The decidedly unglamorous appearance at a public safety event in Brownsville? The lengthy, politician-y quote to the Times when his ballot was inadvertently revealed? A de Blasio source speculated he might be considering a run for office himself, but conceded that path (and path to victory) would be unlikely. "He's more like Chirlane in his attitudes. He's an introvert." (And his appearance in the Department of Investigation report on the family's security detail wouldn't help). But with the famous 2013 ad under his belt, you can't rule it out. "He has this currency," the source said. Dante did not respond to an Instagram DM, and City Hall also did not respond to a request for comment. But others have speculated this latest Dante kick may have more to do with Bill's political ambitions – after all, the last reemergence of Dante was during the mayor's presidential campaign. If people close to Bill de Blasio aren't sure what his son will do next, they're pretty confident about the father. All five former employees of the mayor surveyed expect him to run for governor in 2022.
An amigo in high places?
Lt. Gov. Brian Benjamin tells City & State he's gathering "every single Latino elected official" in his office on Third Avenue on Friday to discuss Latino representation in the high levels of government and politics. "I think we should look at every new opening until we get some sort of semblance of balance," he said. Some, of course, were hoping for a Latino LG, but Benjamin is looking forward to the council speaker race, where "we should be thinking about the overall diversity of New York City and New York state, and picking someone who best helps to round out the leadership in the city in the state, from a diversity standpoint." State Sen. Jessica Ramos will be attending the gathering and was a little more clear in her preferences. "I am of course supportive of having a Latina City Council speaker," she said. How about Francisco Moya, who shares much of her Queens district? "I am supportive of a Latina City Council speaker," Ramos reiterated.
An end to the Holden saga
Take a look at the ballot and – sure enough, Democratic Council Member Bob Holden is listed on the Republican line too, after apparent placeholder John Spataro dropped out. However Holden, who also has the Conservative Party line, has maintained for months that it wasn't planned. "There were people who didn't want me to (take the Republican line). They said, 'You made a half promise that you would transfer parties and go to the Republicans.' And I did – I was thinking about it," Holden told Campaign Confidential last month about what happened in 2018. So getting the line this year "wasn't a sure thing," he said. "I had to kind of tell them – it doesn't matter if you give it to me or not because I'm still going to win. I've got no opponents." The pitch worked. He got the line, and the Queens GOP endorsement. What might have helped? Holden's communications director works for both Holden and Queens GOP chair – and Council District 32 candidate – Joann Ariola.
Endorsement Watch
City Council candidate Kristin Richardson Jordan endorsed Cathy Rojas for mayor … 32BJ SEIU endorsed almost every Democrat running for office but declined to endorse a few, including Mark Murphy for Staten Island borough president or Christopher Marte for District 1 in Manhattan … U.S. Sen. Kirsten Gillibrand did endorse Murphy … Voters for Animal Rights endorsed a lot of Democrats, including Todd Kaminsky for Nassau County district attorney … the New York City Police Benevolent Association endorsed Steven Saperstein for District 48 in Brooklyn … the New York State Laborers Political Action Committee and Uniformed Firefighters Association endorsed Joann Ariola for Council District 32 in Queens … while the Central Queens Independent Democrats endorsed Felicia Singh for District 32 … Resilience PAC endorsed a slate of candidates, including Singh in District 32 and Brad Lander for comptroller … Vote Mama endorsed seven council candidates, including Carmen De La Rosa in District 10 in Manhattan and Olivia Drabczyk in District 51 on Staten Island.
Got tips? Email JColtin@CityandStateNY.com or send a DM to @JCColtin
District Data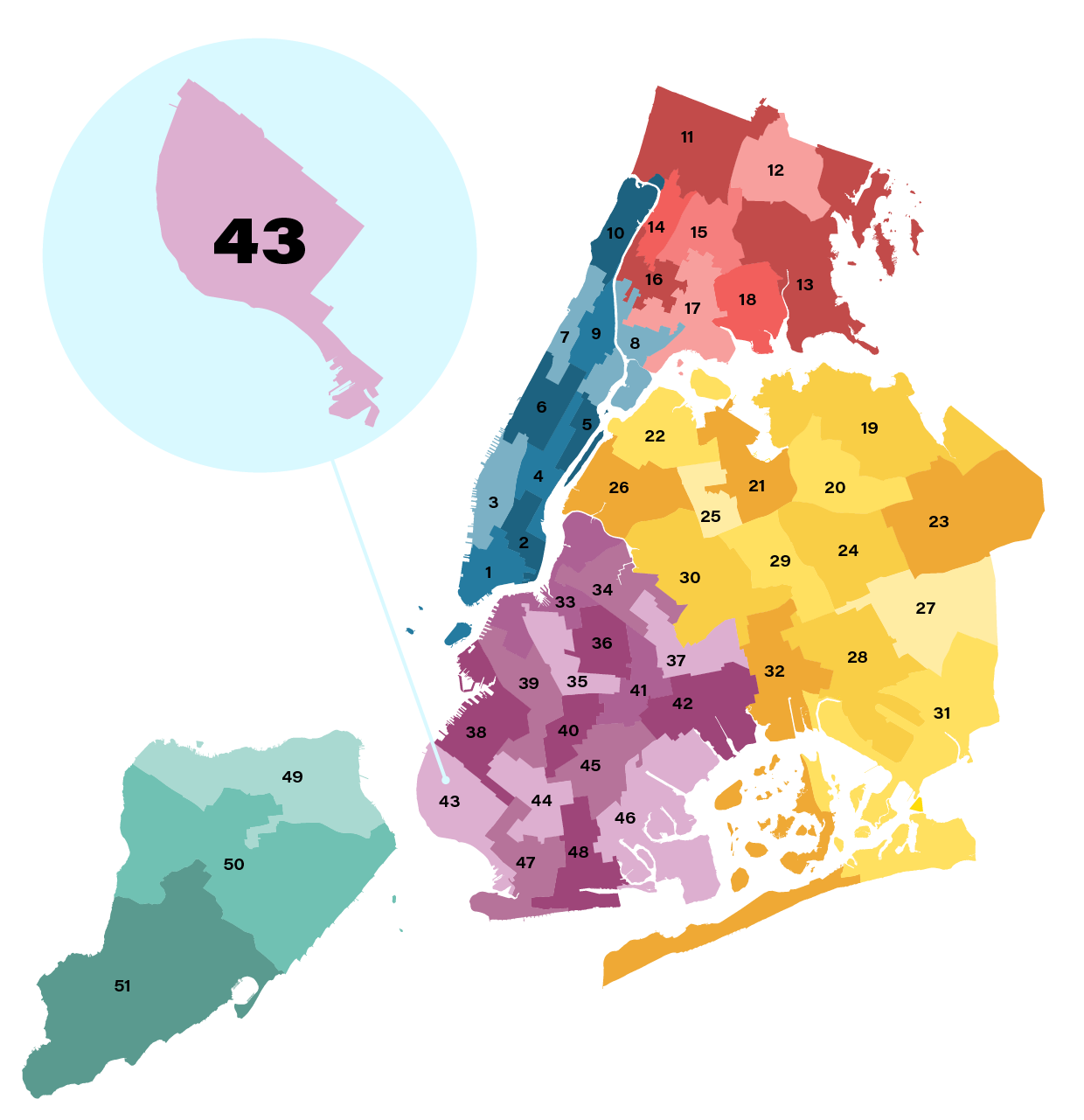 City Council District 43 in southern Brooklyn, covering neighborhoods including Bay Ridge, Dyker Heights and Bensonhurst
Current council member: Justin Brannan, since 2018, who's running for reelection
2010 census demographics: 58.7% white, 24.2% Asian and Pacific Islander, 14.2% Hispanic, 1% Black
Housing: 64% renter-occupied, 36% owner-occupied
2013 general election results: Vincent Gentile (Democratic, Working Families): 62.8%, John Quaglione (Republican, Conservative, Independence): 35.5%
2017 general election results: Brannan (D, WFP): 50.2%, John Quaglione (R, C, I): 47.1%
Who's running: Justin Brannan (Democratic, Working Families), Brian Fox (Republican, Conservative). Justin Brannan is mounting a serious campaign to be the next council speaker, but he can't fully focus on that until he gets through his reelection bid in this swingy district. Hoping to unseat him is Brian Fox, who founded a technology staffing firm and now spreads conspiracy theories on social media. Brannan is active in the district and has outraised his opponent, with about $260,000 to Fox's $166,000. But Fox is focusing on hot-button issues, criticizing bail reform and saying he'll crack down on reckless driving, a slight at Brannan, who has been caught speeding 16 times. Brannan is poised to win, but may be cursing his speaker opponents right now who don't have a similar distraction.
Twitter Posting 
I just passed someone wearing a t shirt that said I AM THE CONTROLLER and without thinking I said "it's pronounced comptroller" and laughed to myself and they did not

— Sylvia (@sylvia_nyc) October 9, 2021
Thanks for reading City & State's Campaign Confidential newsletter, where senior reporter Jeff Coltin is covering the biggest races in New York, from the City Council speaker to mayor, and looking ahead to the 2022 elections.
Once a week, on Wednesdays. Sign up here.
Powered By
NEXT STORY: Could Keith Powers be the consensus speaker candidate?