This Week's Headline
Hochul gets competition and Cuomo gets a criminal complaint
Rounding up the week's political news.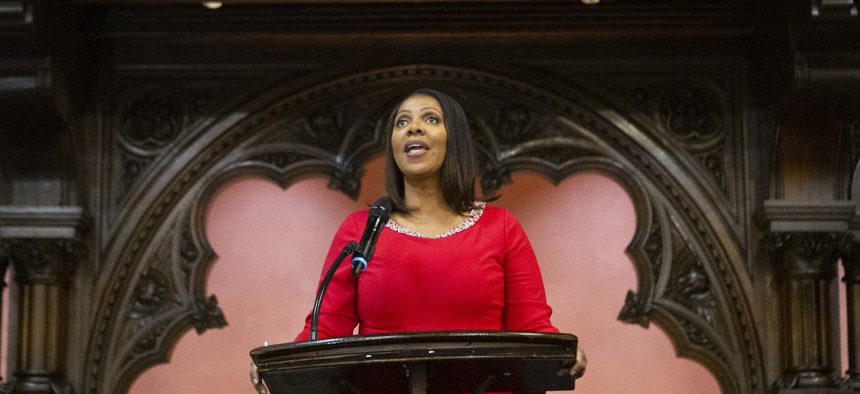 The 2021 general election is finally upon us, and a lively round of debates rounded out the last week of campaigning. In New York City's mayoral race, Democrat Eric Adams and Republican Curtis Sliwa again went head to head in a sprawling, often odd rematch on Tuesday. And Wednesday morning featured a debate between candidates in an actually competitive race between Democratic nominee India Walton and incumbent write-in candidate Byron Brown.
But don't expect any kind of breather between this election and 2022. Keep reading for the latest on next year's elections and the rest of the week's news.
Kathy Hochul just got some more competition
The 2022 Democratic gubernatorial primary began the moment Kathy Hochul stepped into office earlier this year, and her list of challengers keeps on growing. There's New York City Public Advocate Jumaane Williams, hoping to bring progressive politics to the Executive Mansion, and Mayor Bill de Blasio who is just a glutton for punishment. Williams filed paperwork to run on Wednesday, while de Blasio is still a rumored candidate at this point. 
But the most eyes have been on New York Attorney General Letitia James, whose damning report into accusations of sexual harassment and assault against Gov. Andrew Cuomo led to his ouster. After weeks of shaking hands across the state and letting the rumor mill churn, James' candidacy became real. Following media reports, the attorney general announced on Friday that she is running for governor, citing in a campaign launch video her record of "standing up to the powerful on behalf of the vulnerable. James' entry shakes up not just the race itself, but potentially the whole of Brooklyn's political ecosystem.
Criminal complaint filed against Cuomo
A criminal complaint was filed against Cuomo this week for alleged forcible touching that took place in the governor's residence. The complaint, filed in Albany City Court, centers on the previously raised accusation from a former aide to Cuomo that the then governor groped her breast. The charge is a misdemeanor that could carry up to a year in prison if the defendant is found guilty. 
Cuomo's remaining aides did not immediately respond to news of the complaint on Thursday, but James – who Cuomo's people have attacked recently – released her own statement. "From the moment my office received the referral to investigate allegations that former Governor Andrew Cuomo sexually harassed multiple women, we proceeded without fear or favor," James said in a statement from the state attorney general's office. "The criminal charges brought today against Mr. Cuomo for forcible touching further validates the findings in our report." The criminal charge could bring an end to Cuomo's – already dubious – hopes of a political comeback. 
Vaccine mandate goes into effect
New York City's COVID-19 vaccine mandate for all municipal workers is officially in effect, and those who refuse the shot will be placed on unpaid leave. It's looking like déjà vu for the vaccine mandate that went into effect for New York City school employees earlier this month: Protests followed lawsuits which followed many more employees giving in and getting the shot. But whether some of the more vocal opponents of the mandate actually give in this time around remains to be seen. The New York City Fire Department has warned that as much as 20% of fire stations and ambulances could be shuttered and taken off the roads due to staffing shortages once employees who resist the vaccine start being placed on leave. But as of late last week, data from the city showed vaccinations are increasing even at the FDNY, suggesting the mandate is having its intended effect, protests or not.
Powered By
NEXT STORY: The 2021 New York City Council speaker contenders