Campaign Confidential
Moya hopes his experience will give him a speaker boost
And more coverage of New York elections.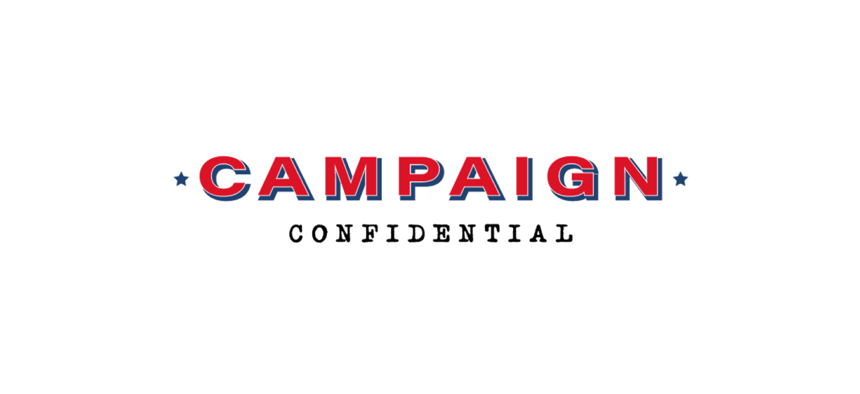 Moya drops beats. Can he pick up votes?
By Annie McDonough
When New York City Council Member Francisco Moya logs on to virtual hearings, press conferences and interviews, the set dressing in his Queens home includes a poster with the words, in big block letters, "In our house we are all equal."It's the slogan of the British house music label Defected – Moya moonlights as a DJ – but it's not a bad motto for someone making the case for why they should lead the next City Council either.
Moya, a former Assembly member who now represents Queens neighborhoods including East Elmhurst and Corona in the City Council, is running to be the next council speaker.
His pitch is straightforward. An incoming City Council class with a sizable number of Latino members needs a Latino speaker – especially in a city where the 29% of the population that identifies as Hispanic or Latino isn't seeing many Latinos in seats of political power. And Moya – an early endorser of Democratic mayoral nominee Eric Adams, friend of organized labor and a lawmaker with experience in both the state and city – may be just the person for the job. Read more here.
By the Numbers
Early voting in New York City for the general election is actually going slower than in the primary – a surprise, given that more people always come out for the general, even though most of the races are effectively decided in the primary. One exception? Staten Island, which has seen a solid 1.8% of voters cast an early vote already. Does that bode well for Republicans in competitive races? Potentially, but there's still limited data for our new world of early voting and expanded mail-in voting. Early voting numbers in the primary didn't foretell the whopping 1,002,088 voters who cast a ballot in the Democratic and Republican primaries this year. "In a normal year, we're looking at a 35% bump primary to general," said Slingshot Strategies' Evan Roth Smith, who did better than most predicting primary turnout. But that bump won't happen this year. "I'd be thrilled if we broke a million," he said.

PBA = Pretty Big Allowance
Want to know which races to watch? Read City & State – and follow the money. The deluge of outside spending forecast in Campaign Confidential last week has flooded the city's southern reaches, from Staten Island to the Rockaways. So far, $136,466 has been spent against Democrat Felicia Singh in District 32 in Queens with the bulk of that coming from the New York City Police Benevolent Association, which calls Singh a "radical, anti-police extremist." The union has endorsed Republican Joann Ariola and has spent $140,869 – so far – on supporting her. The PBA's super PAC is going even bigger in Mid-Island, shelling out $335,309 already to back Democrat Sal Albanese in District 50. Allies of his Republican opponent, David Carr, are flabbergasted, since there's no doubt he would also "back the blue." But the PBA may be trying to prove it still has the political juice to flip a district. Also on the political ropes is the Real Estate Board of New York. Gone are the days where it would spend $4.9 million on City Council races, but REBNY has picked a couple favorites this year, spending to help Brooklynites Steven Saperstein in District 48 and speaker contender Justin Brannan in District 43.
"Don't we all want Scott Stringer to stay involved in public life?"
Eric Adams said some very nice things about the "most thorough, committed, smart, thoughtful, intelligent, dedicated, loving, kind" Gale Brewer, but the other star of Sunday's Upper West Side megarally was Scott Stringer, who emceed. "Your intelligence, your hard work, your passion, your caring mean one thing," U.S. Sen. Chuck Schumer said about the term-limited comptroller. "Don't we all want Scott Stringer to stay involved in public life?" The (sympathetic and geriatric) crowd cheered in response. But some of the reaction on Twitter was decidedly negative, with some hoping for a belated apology for his response to the accusations of sexual misconduct from 1992 and 2001. Stringer denied the 2001 accusation and his campaign pointed out apparent inconsistencies in Jean Kim's telling. Stringer has maintained allies, including, in a quiet way, Rep. Alexandria Ocasio-Cortez, who appeared with Stringer last week at City Hall and ranked him second for mayor. So now a West Side insider says, "Scott is calling people, telling people he's back in the game," and rumors are heating up again that Stringer would try to succeed Rep. Jerry Nadler in Congress. Team Stringer didn't respond, but Team Nadler said not so fast. Stringer is Nadler's "political son," but the member of Congress' wife is now cancer-free and "there is no doubt" he's running in 2022. Nobody seems quite sure what Stringer will do after Dec. 31, but the political lifer isn't likely to hide out in the Hamptons.
Women hosting women
21 in '21 already helped get the City Council to at least 29 in '21. So what's next? Not just swanky rooftop parties. The organization has been organizing district tours – seven so far, and two more on the calendar – where incoming female council members show future colleagues their neighborhoods, from Flushing with Sandra Ung to Sunset Park with Alexa Avilés to East Harlem with Julie Menin. No other group is doing this and members are loving that they can build connections already – including Carlina Rivera, who has been on some of the tours. Remember this if we end up seeing a concerted push for a woman to be the next speaker. But the members will have to do that themselves – 21 in '21 Executive Director Jessica Haller said she and the org aren't getting involved in the speaker race. But she has hired a consultant to plan for 21 in '21's future beyond 2021. They could endorse in the 2023 council elections. And yes, changing the name is on the table – but not guaranteed.
Endorsement Watch
The Daily News and New York Post endorsed Eric Adams for mayor … Rabbi David Niederman of Williamsburg endorsed Adams … U.S. Sens. Chuck Schumer and Kirsten Gillibrand endorsed India Walton for mayor of Buffalo … while The Buffalo News endorsed Byron Brown for mayor … Newsday endorsed Anne Donnelly for Nassau County district attorney … the Daily News endorsed Todd Kaminsky for Nassau County district attorney … The Staten Island Advance, New York City Police Benevolent Association, Sergeants Benevolent Association, Detectives Endowment Association, Uniformed Firefighters Association, the New York State Court Officers Association all endorsed Vito Fossella for Staten Island borough president … the Daily News endorsed Alvin Bragg for Manhattan district attorneyand Joann Ariola for Council District 32 in Queens … the Post endorsed Ariola in District 32 in Queens, Inna Vernikov in District 48 in Brooklyn, Sal Albanese in District 50 on Staten Island and Thomas Kenniff for Manhattan district attorney … the Sant Baba Prem Singh Sikh Cultural Society of New York endorsed Ariola … Manhattan Borough President Gale Brewerendorsed Felicia Singh for District 32 … The Staten Island Advance endorsed Kamillah Hanks in District 49 on Staten Island … and the union organizers at the Amazon facility on Staten Island endorsed Brittany Ramos DeBarros for the 11th Congressional District in 2022.
Staffing Up
David Weiner of Kirtzman Strategies is consulting on Francisco Moya's City Council speaker campaign … Lauren Vega, former digital director for Dianne Morales' mayoral campaign, is digital comms director for Andrae Mitchell's campaign for Assembly District 89 in Westchester County … Emma Simon is joining Rep. Jamaal Bowman's reelection campaign as digital assistant… and The New York Times reported Letitia James' will-she-or-won't-she campaign has hired Celinda Lake, Kimberly Peeler-Allen, Jenny Galvin, Kristie Stiles and David Mansur.
Got tips? Email JColtin@CityandStateNY.com or send a DM to @JCColtin
District Data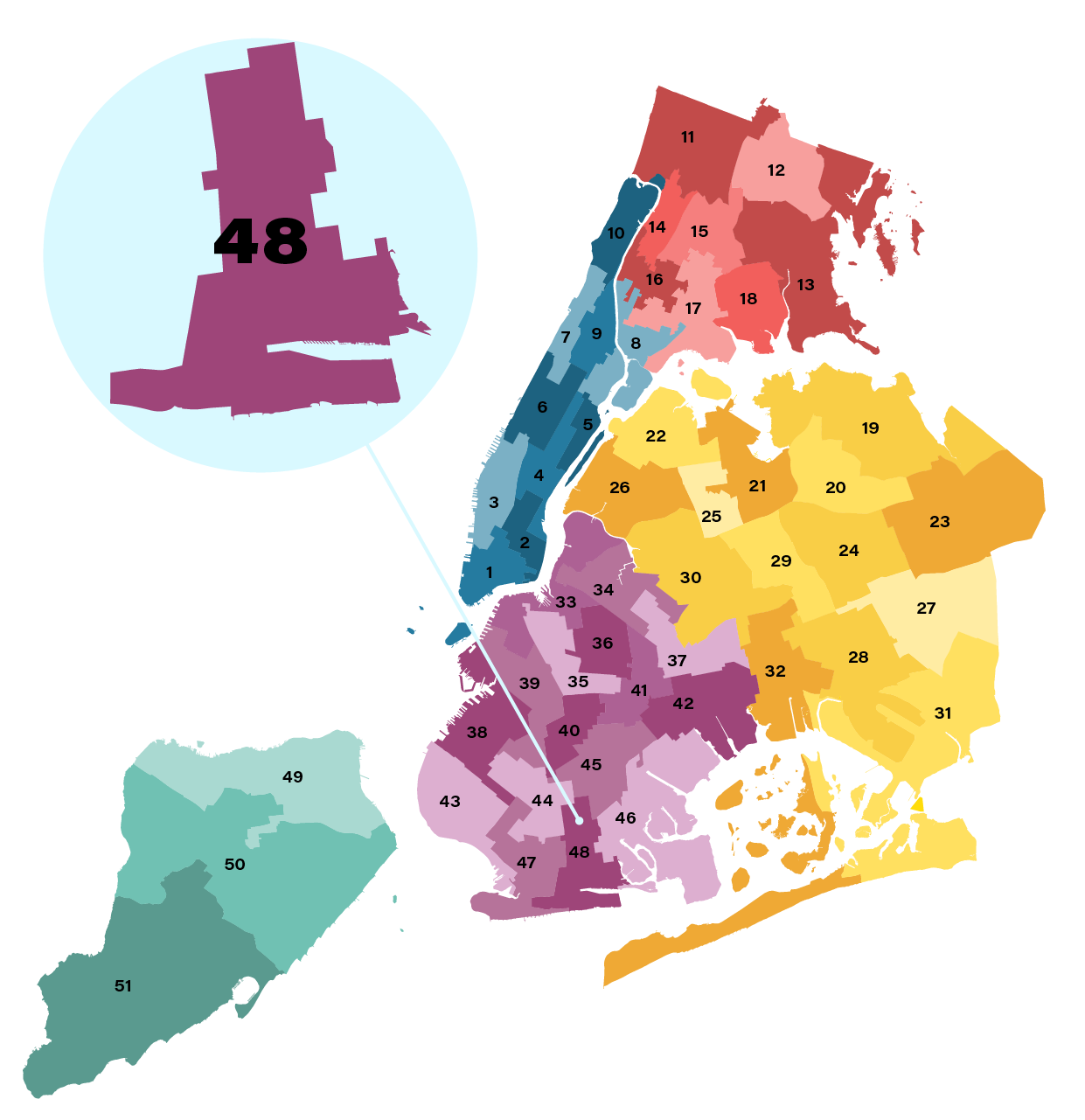 City Council District 48 in southern Brooklyn, including the neighborhoods of Brighton Beach, Manhattan Beach and Sheepshead Bay
Current council member: The seat is empty after Chaim Deutsch, who had held the seat since 2014, was expelled from the City Council in April following his guilty plea for tax fraud.
2010 census demographics: 71.2% white, 14.3% Asian and Pacific Islander, 9.1% Hispanic, 3.7% Black
Housing: 68% renter-occupied, 32% owner-occupied
2017 general election results: Chaim Deutsch (Democratic): 61.5%, Steven Saperstein (Republican, Conservative, Reform): 38.3%
2021 Democratic primary election first-place results: Steven Saperstein: 32.9%, Mariya Markh: 28%, Amber Adler: 17.2%, Binyomin Zev Bendet: 16.1%, Heshy Tischler: 5%
Who's running: Steven Saperstein (Democratic), Inna Vernikov (Republican, Conservative/Centrist). Forget everything you know about political parties for this one. Democrats outnumber Republicans almost 2-to-1 but Donald Trump beat Joe Biden here 65% to 34%. Democrat-turned-Republican Inna Vernikov has the endorsements of former Assembly Member Dov Hikind, a Democrat and Fox News favorite, as well as former Council Member Chaim Deutsch, a Democrat who committed tax fraud. While Republican-turned-Democrat Steven Saperstein has endorsements from Republican Council Member Eric Ulrich and the Trump-backing PBA. But Saperstein also has the support of the Flatbush Jewish Community Coalition and the Sephardic Community Federation, which along with his big spending advantage, might be enough to keep this seat in Democratic(-ish) hands. As one insider told Hamodia, "As far as the candidates themselves, their views are almost identical."
Twitter Posting 
The year is 2028. Fearing a possible primary challenge, Senator Schumer calls on workers in New York State to take up arms and start occupying the factories.

— goblin bill (@billorganizes) October 25, 2021
Thanks for reading City & State's Campaign Confidential newsletter, where senior reporter Jeff Coltin is covering the biggest races in New York, from the City Council speaker to mayor, and looking ahead to the 2022 elections.
Once a week, on Wednesdays. Sign up here.
Powered By
NEXT STORY: Can Francisco Moya play catch-up in the speaker race?