Campaign Confidential
Carlina Rivera's time to recapture speaker momentum
And more coverage of New York elections.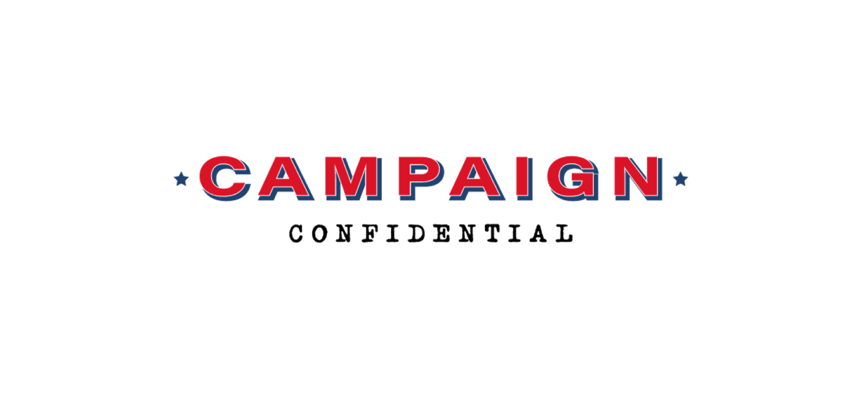 Latina. Progressive. Speaker?
To many, Carlina Rivera seems like the perfect fit to be the next speaker of the New York City Council. She's a Latina, of Puerto Rican heritage, at a time when there are no other Latino citywide or statewide leaders. She's a woman in a city where the mayor, comptroller and public advocate are all men, and will all be men in 2022. She's from Manhattan, the home of the past four City Council speakers, often chosen as a compromise to keep the peace among the historically stronger Bronx, Queens and Brooklyn Democratic parties. Rivera did not endorse anybody in the Democratic primary for mayor, as a member of a legislature that's eager to be seen as a co-equal branch of government. And she's a progressive in a city that fancies itself as left-leaning but whose Democrats nominated Eric Adams, a candidate friendly with big businesses whose idiosyncratic politics could hardly be called progressive.
Despite all that, Rivera hasn't put the votes together yet to secure the position, which has some observers – critics and allies alike – feeling like Rivera has lost her front-runner status. "Four months ago, everyone thought she'd be speaker," said one labor operative who asked for anonymity to discuss private conversations. But that's changed: "There's been no forward momentum at all." Read more about her chances to sway the power brokers here.
By the Numbers
New York City Mayor Bill de Blasio seems to be seriously considering a run for governor in 2022. "I have a long rich history of being an underdog," he said Tuesday, after a Siena College poll showed him in fifth place (out of five options) among Democrats with former Gov. Andrew Cuomo in the field, and a distant third (out of four choices) without Cuomo. That poll also showed that 47% of state Democrats have an unfavorable opinion of de Blasio. So we hunted for every poll – from Siena, Marist, Quinnipiac and more – asking Democrats statewide how they felt about the big city's mayor since he took office in 2014. Quibble with any one poll, sure, but overall there's a clear trend here – de Blasio has gotten less popular the longer he's been in office.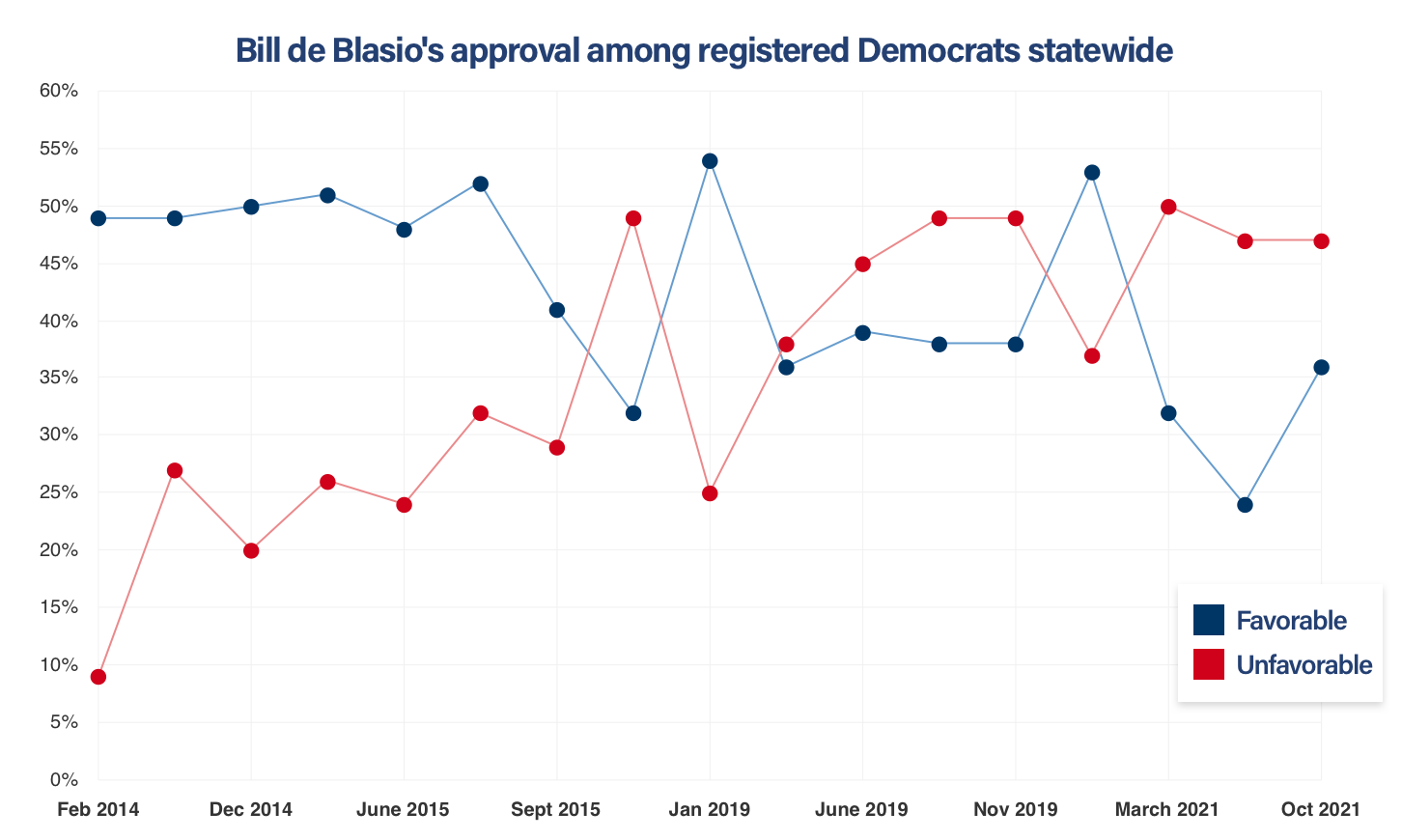 Succession is back on your screens
No, not the HBO show. The Working Families Party and allied progressive orgs like VOCAL-NY are hosting a virtual forum for New York City Council speaker candidates on Nov. 15 from 7-8:30 p.m. It's the first speaker forum to be scheduled this year, and Campaign Confidential is the first to report it. Other events are likely – the New York City Employment and Training Coalition is hosting candidates one at a time over the next six weeks. And City & State will be hosting a speaker forum to an audience of incoming members on Dec. 2. But don't expect a full schedule. Ask literally any contender and they'll say they don't want as many public forums as there were in 2017, when candidates felt so swamped that they teamed up to limit attendance.
Sense and Sensible-ity
As of the filing on Oct. 1, super PACs have reported spending just $1,564 on the general election – a far cry from the $39 million spent on the primaries. But more is coming – Committee for Sensible Government, which is funded by $100,000 from cosmetics billionaire Ron Lauder, has put out a robo call saying: "Do not support or vote for any DSA candidate in this year's November election." This line was after sharing a demonstrably false claim that Rep. Alexandria Ocasio-Cortez blocked federal funding for Israel's Iron Dome. Michael Nussbaum, publisher of the Queens Daily Eagle and a longtime political operative, is behind the effort and tells Campaign Confidential the PAC will spend more in Queens, targeting Tiffany Cabán in Council District 22 and Felicia Singh – who was not endorsed by the New York City DSA and doesn't call herself a socialist – in District 32 in Queens. Singh is also being targeted by mailings from Common Sense NYC, the super PAC funded primarily by Lauder and developer Stephen Ross. Common Sense hasn't reported any new spending yet, but the consultant behind the effort, Jeff Leb, tells Campaign Confidential he expects to spend $300,000 in the general election opposing Singh, "because she's a socialist," and Brian Fox, the Republican running against Justin Brannan in Council District 43 in Brooklyn "because he's a radical right-winger." Common Sense will also be supporting moderate Democrats Steven Saperstein in Council District 48 in Brooklyn and Kamillah Hanks in Council District 49 on Staten Island.
Maloney feels the earth move
Democratic politicians know it: You've got a friend in Carole King. Twitter was buzzing Monday night about how fundraising emails "sent" by the legendary singer-songwriter from Brooklyn bring in tons of money. Rep. Carolyn Maloney, a longtime friend of King, might've piped in and vouched for King's fundraising abilities too if the member of Congress wasn't too busy hosting a Williamsburg fundraiser with a who's who of local pols, including Gov. Kathy Hochul. Maloney has been working hard raising money to defend her seat against progressive darling Rana Abdelhamid and others in 2022, but with $916,000 on hand as of Sept. 30, she might need to send some more emails from Carole King. Six New York City congressional incumbents have more in the bank than Maloney, and Abdelhamid's $375,000 on hand is a strong base. Also, even though DSA-backed state Sen. Julia Salazar and Assembly Member Emily Gallagher were listed as supporters for Maloney's Williamsburg event, both told City & State they did not end up attending. "I don't think it's wise to endorse before redistricting," Gallagher said.
Endorsement Watch
The Daily News and StreetsPAC, which both backed Kathryn Garcia in the primary, endorsed Eric Adams for mayor … while two actors who were on "The Sopranos," Dan Grimaldi and Robert Funaro, endorsed Curtis Sliwa for mayor … the United Federation of Teachers endorsed nearly every single Democrat running for City Council (includingFelicia Singh in Council District 32 in Queens) except for Kristin Richardson Jordan in District 9 in Manhattan, and Kamillah Hanks in District 49 and Olivia Drabczyk in District 51, which are both on Staten Island … the Council of School Supervisors and Administrators also endorsed Singh … RWDSU and state Sen. Liz Krueger endorsed Rep. Carolyn Maloney for reelection … Republican City Council Member Eric Ulrich endorsed Democrat Steven Saperstein in District 48 in Brooklyn … State GOP Chair Nick Langworthy endorsed Republican Inna Vernikov in District 48 … and Emily's List endorsed Gov. Kathy Hochul for reelection.
Got tips? Email JColtin@CityandStateNY.com or send a DM to @JCColtin
District Data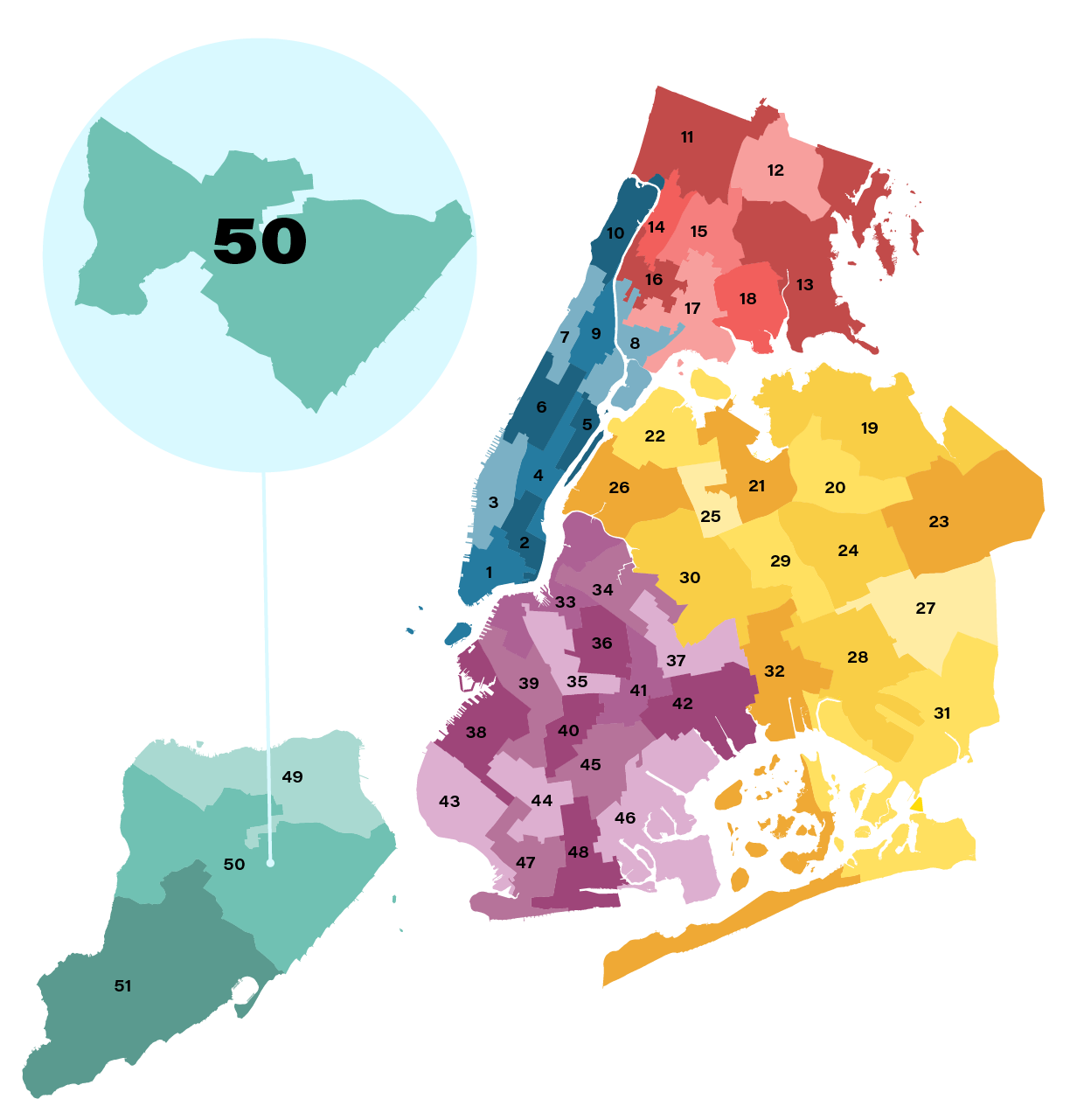 City Council District 50 on Staten Island, covering Mid-Island neighborhoods including New Dorp, Todt Hill and New Springville
Current council member: Steven Matteo, since 2014, who is term-limited at the end of this year
2010 census demographics: 71.2% white, 13.1% Hispanic, 11.7% Asian and Pacific Islander, 2.3% Black
Housing: 64.5% owner-occupied, 35.5% renter-occupied
2013 general election results: Steven Matteo (Republican, Conservative, Independence): 63.5%, John Mancuso (Democratic, Working Families): 36.4%
2017 general election results: Steven Matteo (Republican, Conservative, Independence, Reform): 79.6%, Richard Florentino (Democratic): 20.1%
Who's running: Sal Albanese (Democratic, Staten Island 1st), David Carr (Republican), George Wonica (Conservative). Nobody hates de Blasio more than Sal Albanese. And if any Democrat could flip this seat blue, it's him. Albanese previously served in the City Council representing a Brooklyn district from 1983 through 1997. He's a rare Democrat with the New York City Police Benevolent Association's endorsement in a district where that really matters. David Carr, a Republican who served as Council Member Steven Matteo's chief of staff, would normally be the favorite, but he barely eked out a win in a bruising primary against Marko Kepi, and now may have right-leaning votes siphoned off by Conservative Party candidate George Wonica, a real estate broker who kept pace in fundraising with his opponents despite running on a third-party line. It's a rare race to watch on Nov. 2, amid a long list of sure blowouts.
Twitter Posting 
Should I be one of Curtis Sliwa's cats for Halloween?

— Olivia Lapeyrolerie (@olapeyrolerie) October 18, 2021
Thanks for reading City & State's Campaign Confidential newsletter, where senior reporter Jeff Coltin is covering the biggest races in New York, from the City Council speaker to mayor, and looking ahead to the 2022 elections.
Once a week, on Wednesdays. Sign up here.