Politics
Cuomo's lawyer asks James to recuse herself from probes
The ex-governor's attorney Rita Glavin said the state Attorney General 'forced' Cuomo's resignation.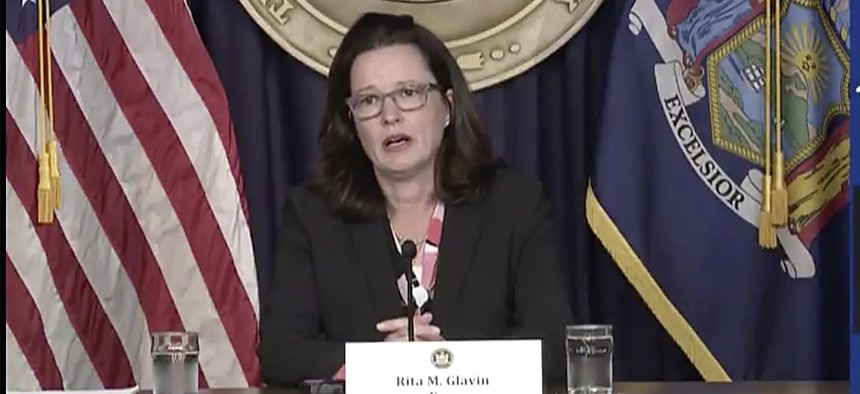 Former Gov. Andrew Cuomo's legal team demanded Thursday that state Attorney General Letitia James recuse herself from her office's investigations into his conduct, claiming James' run for governor is a conflict of interest. 
"The former governor was ambushed on August 3 by a report that has so many omissions and errors, I feel it's built on a house of cards. He was wronged by this," Cuomo's attorney, Rita Glavin, said in a press briefing on Thursday, declaring Cuomo was "forced" to resign after James' office released a bombshell report in August determining that his 11 accusers were credible.
James "is making decisions in the interest of a job she desperately wants," Glavin said, reiterating a claim she's repeatedly made to defend Cuomo.
"That report is what led directly to the governor being forced to resign," she said. "People can say 'oh he chose to resign.' No, the number of state Assembly persons and state Senators who came out in the hours after that report was issued was overwhelming for the governor to resign, or he would be impeached."
Glavin said she sent a letter to the attorney general's office on Thursday demanding James recuse herself from its probes into allegations of sexual harassment and misuse of state resources by Cuomo. 
Glavin also asked James to step away from the investigation she herself requested the attorney general open just 10 days ago into an alleged leak of information by the Albany County Sheriff in Cuomo's criminal case.
Only one of the three probes – into allegations that Cuomo used state staffers to help with his COVID-19 memoir – is ongoing.
James' office finalized her report into sexual harassment allegations against Cuomo in August. As for the "leak," James' office is unlikely to take on the issue, but if they do, James shouldn't be involved, Glavin said.
Glavin made the demands as lawmakers were reviewing a separate report, by the Assembly Judiciary Committee, into Cuomo's conduct. 
She also blasted the attorney general, who announced her 2022 gubernatorial campaign in October, for releasing redacted transcripts of investigators' interviews with Cuomo and his accusers and requested the transcripts in full. The AG's office has said they omitted personal information from the scripts before they were publicly released.