Campaigns & Elections
Rep. Thomas Suozzi enters the gubernatorial race
The Long Island moderate could shake up next year's Democratic primary.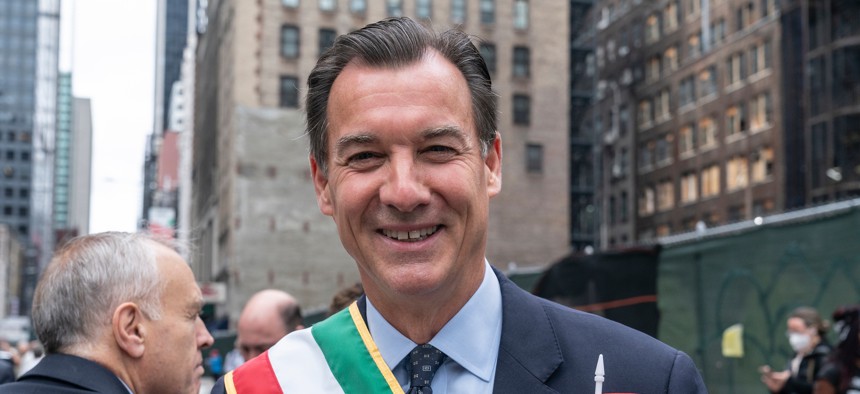 Rep. Thomas Suozzi, a moderate Democrat from Long Island, announced Monday that he'll run for governor next year. He joins the already crowded field of state Attorney General Letitia James, New York City Public Advocate Jumaane Williams and, of course, Gov. Kathy Hochul. His entrance adds another twist – albeit an expected one – in the political calculus surrounding the Democratic primary in June.
In a virtual press conference, Suozzi pitched himself as a "commonsense Democrat," while attempting to distance himself from labels like moderate or centrist. "I think that people who are looking at the governor's race will make the decision based on three factors I think differentiate me from the other candidates," Suozzi said. "One is competence, two is ideology and three is vision for the future." He touted his executive experience as a mayor on Long Island and later as Nassau County executive, as well as his efforts in Congress to repeal the cap on state and local tax – or SALT – deductions.
On ideology, he espoused his belief and ability to "work with anybody" to solve problems, and asserted that he has taken both moderate and progressive positions. He pointed specifically to his support of the Green New Deal in Congress and other left-leaning climate initiatives. As for the future, Suozzi focused on reducing taxes in the state and fighting crime, which he called a "big issue" in New York City. "We're really at a crossroads right now," Suozzi said. "We don't need cheerleading; we need vision."
This isn't Suozzi's first bid to run the state. In 2006, before he entered Congress and when he was leading Nassau County as its executive, Suozzi ran against then-state Attorney General Eliot Spitzer. At the time, he had little support and his campaign fizzled. This time around, he's hoping to have more success against a fellow moderate incumbent never before elected as governor with two Brooklyn politicians competing for votes in the more progressive New York City.
Representing upper middle class and wealthy enclaves of Long Island, Suozzi has made repealing the $10,000 cap on SALT deductions a priority since then-President Donald Trump signed it in 2017. He enters his gubernatorial run with a key victory on this front, touting his efforts to get changes to the SALT deduction included in the recently passed House version of the Build Back Better Act. If approved in the Senate, the deal he helped broker would increase the cap to $80,000 over the next decade.
But Suozzi's moderate lane and appeal to suburban voters puts him on a collision course with Hochul, who is banking on support from the same areas to compete against James and Williams, who will likely dominate New York City. Just as they are expected to split the vote in the city – and specifically Brooklyn – Suozzi's run could draw votes away from Hochul, creating a greater opportunity for one of the downstate progressives to win.
"I need to build a coalition in order to do this, that goes from Long Island into the city up to the suburbs, outside of the city, north of the city, all the way to the rest of the state of New York, out to Western New York," Suozzi said when asked about the apparent overlap between his and Hochul's likely base of support in the primary. As to whether he's concerned about splitting the vote to the benefit of a more progressive candidate, Suozzi doubled down on his track record that he said included a mix of moderate and progressive stances to combat the idea that he is just a centrist.
However, he's already staked out positions that put him at odds with many progressives in the state, including on climate change, a specific area he said he has taken further left positions. When asked, he said he would not support a state-level carbon tax as governor, asserting it should be done at the federal level so as not to raise taxes on just New Yorkers. Suozzi also took more centrist positions on revisiting bail reform and enacting so-called good cause eviction in the state. He said he would like to give judges more discretion to remand defendants deemed dangerous. And he said he would not support legislation that would make it harder for landlords to evict tenants arbitrarily and set certain limits on raising rent. "We can't have rent control everywhere through the state of New York," Suozzi said. However, the proposed system would be much less restrictive than rent control in New York City.
Suozzi's decision to run for governor also opens up his seat in Congress at a potentially perilous time for Democrats after a "red wave" swept over many parts of New York and the country as a whole, notably on Long Island. Redistricting is the obvious unknown when it comes to what a potential race to replace him would look like, but Suozzi said he would work to support a fellow "commonsense Democrat" to replace him. "I'm going to work very hard to make sure that whoever's running for my seat, (who) shares those types of values, will be elected to Congress," Suozzi said. Former congressional candidate Melanie D'Arrigo, who ran an unsuccessful primary against Suozzi last year, has already announced she's seeking the seat again. And Assembly Member Ed Braunstein of Queens, who lives in the small portion of the city that the congressional district covers, is reportedly eyeing the seat as well.
Correction: An earlier version of this story incorrectly identified Eliot Spitzer's elected position in 2006.
Powered By
NEXT STORY: Rittenhouse verdict was a victory for gun advocates. Their next fight is in New York.