Campaigns & Elections
2021 New York City general election results
Eric Adams will be the next mayor of New York, and Republicans did better than expected.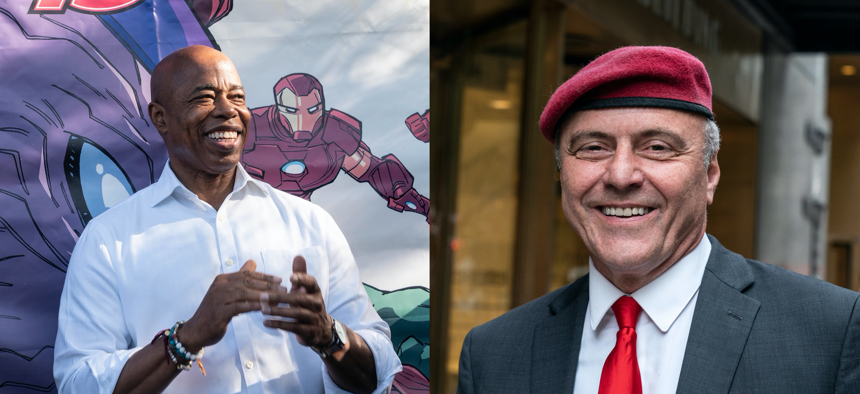 ---
Going into the 2021 New York City elections, some Democrats talked hopefully of further reducing the city's already small number of Republicans in elected office. Could the City Council's three Republicans become two? One? Zero? Instead, the City Council's minority will expand to five members next year.
Republicans in several pockets of the city – and across Staten Island – did better than some political observers expected. In several close races that City & State marked as toss-ups, Republican candidates closed out Tuesday night with not only comfortable leads over Democrats but commanding ones. And in City Council District 32, Queens GOP Chair Joann Ariola secured a win against progressive Democrat Felicia Singh.
Despite not running much of a campaign, Republican former Rep. Vito Fossella defeated Democrat Mark Murphy by a wide margin in the Staten Island borough president race, and several City Council races saw Republicans with double-digit leads too. Republican David Carr won the race for Staten Island's City Council District 50. And Trumpism lived on in southern Brooklyn's City Council District 48, where avowed Trump supporter Inna Vernikov defeated Democrat Steven Saperstein. Maybe it was those Donald Trump Jr. robocalls.
Other close races saw smaller margins. Democratic City Council Member Justin Brannan who is running for reelection in Bay Ridge, barely defeated his Republican challenger Brian Fox, who has peddled conspiracy theories. Brannan, who is running to be the next council speaker, kept up an active campaign through the general election, but the race is far closer than he probably would have liked. Still, he won by a similarly slim margin in 2017.
Tuesday night's results weren't all surprises, however. Democrats won each of the major citywide elections, four borough presidencies and won the vast majority of City Council races. And in the least surprising – though still monumental – news of the night, Democratic Brooklyn Borough President Eric Adams was declared the next mayor of New York City. That call came about 30 minutes after polls closed.
For third-party candidates, the Conservative Party is represented as CON, the Working Families Party is WFP, the Libertarian Party is LP and Party for Socialism and Liberation is PSL.
Mayor
Incumbent: Bill de Blasio (D)
Eric Adams (D): 66.99%
Curtis Sliwa (R, Independent): 27.76%
Catherine Rojas (PSL): 2.49%
William Pepitone (CON): 1.12%
Quanda S. Francis (Empowerment): 0.34%
Stacey Prussman (LP): 0.28%
Raja Michael Flores (Humanity United): 0.21%
Fernando Mateo (Save Our City): 0.17%
Skiboky Stora (Out Lawbreaker): 0.02%
Brooklyn Borough President Eric Adams was declared New York's next mayor soon after polls closed, holding onto a lead of about 50 percentage points with nearly half of scanners reporting. With registered Democrats far outnumbering Republicans in New York City, Adams has been treated as the presumptive mayor-elect since defeating a crowded field in June's Democratic primary. Republican nominee Curtis Sliwa, whose claim to fame is founding the vigilante crime fighting group Guardian Angels, has always been a long shot. A Never Trumper, Sliwa's already slim chances were further reduced when it was Adams, a moderate Democrat, who triumphed over some more progressive Democrats in June.
Comptroller
Incumbent: Scott Stringer (D)
Brad Lander (D): 69.56%
Daby Benjamine Carreras (R, Save Our City): 22.64%
Paul A. Rodriguez (CON): 5.48%
John A. Tabacco Jr. (LP, Independent): 1.74%
New York City Comptroller Scott Stringer may be term limited out of office, but another progressive Democrat will be stepping in to take his place. Council Member Brad Lander was declared the winner of the city comptroller race roughly two hours after polls closed on Tuesday. Lander faced a competitive Democratic primary for the party's nomination in June, beating out City Council Speaker Corey Johnson and current Lt. Gov. Brian Benjamin, among others. 
Public Advocate
Incumbent: Jumaane Williams (D)
Jumaane Williams (D): 68.36%
Devi Elizabeth Nampiaparampil (R, Save Our City): 23.38%
Anthony Herbert (CON, Independent): 6.79%
Devin W. Balkind (LP): 1.32%
Public Advocate Jumaane Williams officially clinched reelection about two hours after polls closed on Tuesday, as was expected. But this election is probably not the one at the forefront of his mind right now. Williams has jumped in the 2022 gubernatorial primary, where he'd face much stronger competition than he did in Tuesday's public advocate race.
Manhattan District Attorney
Incumbent: Cyrus Vance Jr. (D)
Alvin Bragg Jr (D): 83.57%
Thomas Kenniff (R): 16.27%
Manhattan has elected its first Black district attorney, and Democrat Alvin Bragg will have his hands full with a number of high profile cases from Day 1. Republican Thomas Kenniff is also running but faced long odds in the citywide race, as early returns demonstrated. 
Staten Island Borough President
Incumbent: James Oddo (R)
Vito Fossella (R): 60.07%
Mark Murphy (D, Staten Island 1st): 32.27%
Leticia Remauro (CON): 7.49%
Former Republican Rep. Vito Fossella defeated Democrat Mark Murphy in the city's only really competitive borough president race, on Staten Island. It was always going to be an uphill battle for Murphy; the borough presidency hasn't been held by a Democrat since 1989. 
City Council
Most of the City Council candidates who are likely to win or unopposed are Democrats, with the exception of Council Member Joe Borelli, who is running on the Republican and Conservative lines. Each candidate is preceded by their district number, and incumbents are noted with an asterisk.
Likely to win: 1) Christopher Marte, 2) Carlina Rivera*, 4) Keith Powers*, 5) Julie Menin, 6) Gale Brewer, 7) Shaun Abreu, 9) Kristin Richardson Jordan, 10) Carmen De La Rosa, 11) Eric Dinowitz, 13) Marjorie Velazquez, 14) Pierina Ana Sanchez, 15) Oswald Feliz*, 16) Althea Stevens, 17) Rafael Salamanca Jr.*, 18) Amanda Farías, 20) Sandra Ung, 22) Tiffany Cabán, 23) Linda Lee, 24) James Gennaro*, 25) Shekar Krishnan, 26) Julie Won, 27) Nantasha Williams, 28) Adrienne Adams*, 29) Lynn Schulman, 31) Selvena Brooks-Powers, 34) Jennifer Gutiérrez, 35) Crystal Hudson, 37) Sandy Nurse, 38) Alexa Avilés, 39) Shahana Hanif, 40) Rita Joseph, 41) Darlene Mealy, 45) Farah Louis*, 46) Mercedes Narcisse, 47) Ari Kagan, 49) Kamillah Hanks, 51) Joe Borelli*
Unopposed: 3) Erik Bottcher, 8) Diana Ayala*, 12) Kevin Riley*, 21) Francisco Moya*, 30) Robert Holden*, 33) Lincoln Restler, 36) Chi Ossé, 42) Charles Barron, 44) Kalman Yeger*
City Council District 19
Queens
Incumbent: Paul Vallone (D)
Vickie Paladino (R, Independent): 47.16%
Tony Avella (D): 45.73%
John-Alexander Sakelos (CON, Save Our City): 6.85%
District 19 was one of a few districts that Republicans claimed from the Democrats this year, and Tuesday night saw a neck-and-neck race between GOP candidate Vickie Paladino and former Democratic state Sen. Tony Avella. Paladino had the smallest victory of the night; she won by 390 votes.
City Council District 32
Queens
Incumbent: Eric Ulrich (R)
Joann Ariola (R, Save Our City, CON): 66.17%
Felicia Singh (D): 32.57%
Kenichi Wilson (Community First): 1.10%
Democrats won't claim Queens' last remaining Republican seats after all. Republican Joann Ariola, chair of the Queens Republican Party, defeated progressive Democrat Felicia Singh by a decisive margin.
City Council District 43
Brooklyn
Incumbent: Justin Brannan (D)
Justin Brannan (D, WFP): 51.08%
Brian Fox (R, CON): 48.75%
Going into the general election, Democrat Justin Brannan was considered a pretty safe bet for reelection, even if he was keeping up an active campaign amid a challenge from Republican candidate Brian Fox. But Fox – who founded a technology staffing firm and has spread conspiracy theories on social media – only lost to Brannan by a few hundred votes. This wouldn't be the first race that Brannan narrowly won, but it certainly wasn't the comfortable win the City Council speaker candidate had been hoping for.
City Council District 48
Brooklyn
Incumbent: Vacant, after Chaim Deutsch (D) pleaded guilty to tax fraud
Inna Vernikov (R, CON, Centrist): 61.58%
Steven Saperstein (D): 38.18%
There's a lot of party hopping going on in southern Brooklyn's City Council District 48. Democratic candidate Steven Saperstein previously ran for office as a Republican, while Republican contender Inna Vernikov used to be a registered Democrat. Vernikov ended up soundly defeating Saperstein. Vernikov, a lawyer, has organized her campaign around key issues like opposing vaccine mandates and opposing a state cap on charter schools. And she hasn't made her support of Donald Trump a secret. Saperstein, a special education teacher, entered the race with a strong fundraising advantage and the backing of organizations like the New York City Police Benevolent Association – a benefit in districts like the 48th, where public safety was a prevalent issue.
City Council District 50
Staten Island
Incumbent: Steven Matteo (R)
David Carr (R): 59.77%
Sal Albanese (D, Staten Island 1st): 33.06%
George Wonica (CON): 7.03%
Term-limited Steven Matteo's longtime chief of staff David Carr kept this Mid-Island City Council seat in the family. The district has traditionally voted Republican, but insiders believed that Sal Albanese had a shot, thanks in part to a union endorsement from the New York City Police Benevolent Association. Carr raised and spent the most money in the race, and Conservative George Wonica didn't siphon off too many right-leaning voters from Carr.