Politics
Cuomo accusers celebrate release of Karen Hinton's memoir
Charlotte Bennett and Lindsey Boylan attended a party Wednesday night to mark the book launch.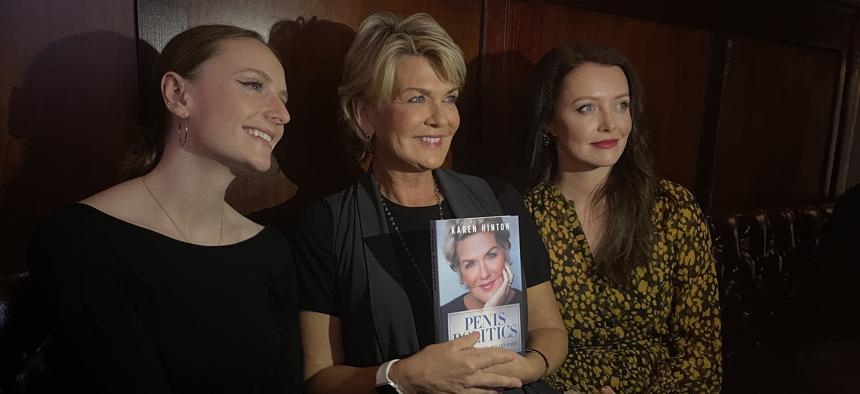 Three of the women who publicly accused former Gov. Andrew Cuomo of sexual misconduct gathered Wednesday at a party in downtown Manhattan to celebrate the release of "Penis Politics," a memoir by Karen Hinton.
Hinton – a former press secretary to New York City Mayor Bill de Blasio and consultant to Cuomo when he was U.S. Housing and Urban Development secretary – released the book and signed copies at Tavern on Reade during an invite-only launch party.
Hinton alleged in March that Cuomo gave her a long, unwanted hug, during which he allegedly became sexually aroused, at a Los Angeles hotel in 2000.
Ex-Cuomo aides Charlotte Bennett and Lindsey Boylan were also in attendance. Bennett has said the governor asked personal questions about her romantic life and groomed her for sex while she was working in the Executive Chamber last year. Boylan said Cuomo made inappropriate comments about her appearance, along with other sexually suggestive remarks, and gave her an unsolicited kiss in his office in 2018. They were both among the 11 women mentioned in the August report by state Attorney General Letitia James that found his accusers were credible and ultimately led to his resignation weeks later.
While Cuomo wasn't mentioned by name at the book party, there were veiled jabs about his downfall.
Hinton joked that she wrote the book "without any state resources," a reference to findings that Cuomo used Executive Chamber staffers to help work on his pandemic memoir. The crowd of about 60, which included activists, political consultants and Hinton's husband, attorney Howard Glaser, howled and clapped at the reference.
"All of you who made time tonight to come here and speak out (and) not shut up about sexual harassment … I'm so glad to be in your presence," Hinton said before introducing Boylan and Bennett.
"I want to recognize some of the women and all of you men speaking loud and clear who are here tonight," she said, while also mentioning Assembly Member Ron Kim and New York City Council Speaker Corey Johnson. "(They have) both done a lot in this area, and I just want to give them a hand wherever they are," she said.
Boylan declined to speak to reporters about the Cuomo news of the week: CNN's indefinite suspension of the ex-governor's brother Chris Cuomo following revelations about his involvement in the scandal, but praised Hinton and her book.
"I fully support the work that Karen has done … to support women. It means the world to me, and that's why I'm here," Boylan told City & State. "I think women are going to go forward, and we are going to persevere. That's what Karen has done her whole life, and that's why I love and support what she is doing, and that's the only way the future changes."
"Penis Politics: A Memoir of Women, Men and Power" details Hinton's struggles with patriarchy and her story of perseverance, starting with her childhood in small-town Mississippi to her career on Capitol Hill and at New York City Hall. The book was banned from Facebook last month over its racy title.
"At the center of Hinton's incredible rise to the pinnacle of success was an undercurrent of men behaving badly," according to an Amazon description of the book. "The role that 'penis politics' played in Hinton's life began in childhood with a male school employee who demanded sexual favors from her female classmates – and extended throughout her life as she bore witness to the struggles that she and her friends and colleagues have undergone to deal with sexual abuse, sexual harassment and gender discrimination."
Hinton read an excerpt from the book at the party that detailed the alleged rape of her high school classmate by a coach.
"Through my book, I tried to give readers a feel for what it's like to be a woman behind a closed door. Lindsey and Charlotte know what that's about," Hinton said. "And it's important that other women who read my book and say, 'God that happened to me' … 'I can't believe that happened to me.' I want my story to be your story. I want you to think about things that happened to you and talk about it. Speak about it, because I think that's the only way we can keep this movement alive."
State Sen. Jessica Ramos, an outspoken Cuomo critic and former colleague of Hinton's in the City Hall press office, introduced her.
"I feel like it's a story as old as time – men have been taking advantage of women and how we're portrayed, how we're spoken to, just really in order to concentrate their own power and keep power for themselves and not share it with us," Ramos said. "I just really am here to say how much I admire Karen for always being brave, she showed so much bravery, even when we were at City Hall together."
The book's release comes as the former governor continues to be battered by the release of transcripts and evidence related to the various probes into his conduct. On Monday, James' office unveiled a trove of interviews and exhibits that contributed to the August report. Those documents detailed Chris Cuomo's involvement in combating the allegations against his brother, a violation of basic journalistic ethics.