Politics
Schumer pledges vote on Build Back Better
The Senate majority leader's vow comes a day after Sen. Joe Manchin said he plans to cast his pivotal vote against Biden's social spending and climate plan.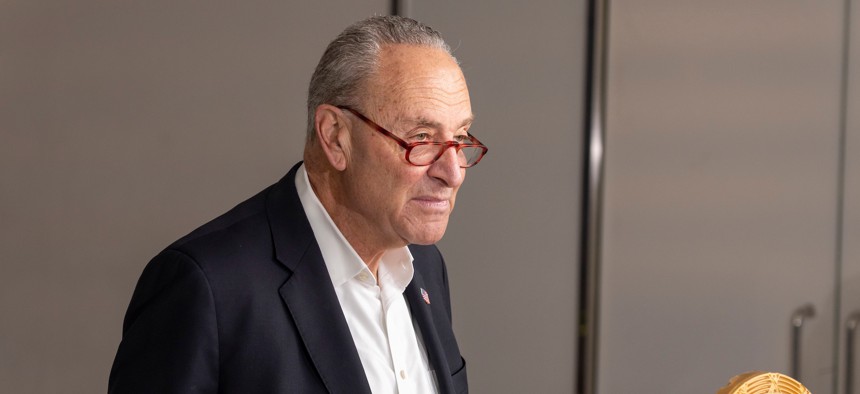 Senate Majority Leader Chuck Schumer said the Senate will vote on the Build Back Better Act, despite Sen. Joe Manchin delivering a potentially fatal blow to the landmark legislation a day earlier by declaring his opposition to the social spending and climate package.
"Senators should be aware that the Senate will, in fact, consider the Build Back Better Act, very early in the new year so that every Member of this body has the opportunity to make their position known on the Senate floor, not just on television," Schumer wrote in a letter to his Senate colleagues. "We are going to vote on a revised version of the House-passed Build Back Better Act — and we will keep voting on it until we get something done."
Schumer's letter comes after Manchin, a moderate from West Virginia whose swing vote holds so much sway he has been referred to as "King of the Senate," said on Fox News Sunday he can not support President Joe Biden's $2 trillion plan.
"I tried everything humanly possible. I can't do it," he said. "This is a no on this legislation. I have tried everything I know to do."
The package was expected to include hundreds of billions of dollars for New York state, including funding for pre-K and childcare, environmental initiatives, healthcare and housing. It could have also expanded the State And Local Tax break, aka "SALT," by raising the deduction limit to $80,000 from $10,000.
Gov. Kathy Hochul on Sunday urged Congress to find a new route to passage, calling the bill a "critical relief to New Yorkers."
"Build Back Better will create jobs, improve lives, & finally address the climate crisis," she tweeted. "We have to keep moving forward. I encourage our partners in Washington to resume negotiations on this legislation."
Rep. Alexandria Ocasio-Cortez, who voted against the infrastructure portion of the package last month because Congress would not agree to pass the social spending and climate plan simultaneously, also called for a new path forward.
"People can be mad at Manchin all they want, but we knew he would do this months ago," she tweeted. "Where we need answers from are the leaders who promised a path on BBB if BIF passed: Biden & Dem leaders. *They* chose to move BIF alone instead of w/ BBB, not Manchin. So they need to fix it."