Campaigns & Elections
Is there still a universe where Tom Suozzi stands a chance against Gov. Kathy Hochul in the 2022 primary?
The Long Island moderate is struggling to match the incumbent's endorsements, poll numbers and campaign war chest.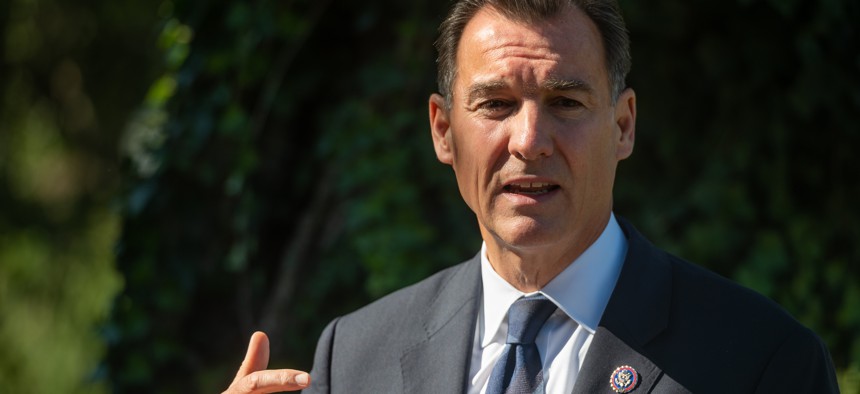 Recent elections have shown again and again how hard it is to predict election results before all the votes get counted, but Gov. Kathy Hochul has an overwhelming lead in the 2022 race for the Democratic nomination for governor based on polling, fundraising totals and endorsements alike. A Siena College poll released this week showed her leading rival candidates New York City Public Advocate Jumaane Williams and Rep. Tom Suozzi of Long Island by more than 30 points.
While Williams dominates on the political left, Hochul and Suozzi are competing for the support of more moderate voters. There are still many more months until the June primary, but Suozzi's pathway to victory in the Democratic primary appears to be getting increasingly narrow. "I don't know why the hell he's doing this," one Democratic consultant said of the Suozzi campaign on the condition of anonymity to speak freely. "I don't know what his path is." And his pathway to victory has only seemed to narrow since state Attorney General Letitia James suspended her candidacy last month, leaving Hochul as the only statewide official (or woman) in the race. 
The Siena poll placed Suozzi last in a four-person race against Hochul, Williams and former New York City Mayor Bill de Blasio (who announced Tuesday that he would not run for governor). He also lost to the "don't know/no opinion" option, and he had barely half the support of the fourth-place Williams. Not a single elected Democrat has endorsed Suozzi's campaign so far. Recent campaign disclosures show that Hochul's $21.3 million war chest dwarfs the $5.2 million he currently has on hand for the upcoming campaign, which includes about $2 million transferred from a congressional campaign account. PolitiFact rated as false his claim about the first female governor in state history serving on an "interim" basis. New limits on the state and local tax deductions have yet to get approved by Congress despite Suozzi's much-touted efforts. "Suozzi should save his money and buy a house," Democratic consultant Hank Sheinkopf said in a text. 
A key challenge for Suozzi is competing with Hochul for the loyalties of the suburban moderates who helped him win past campaigns for Congress and Nassau County executive. "She is not seen as somebody that is off waving a socialist flag calling to defund the police," Larry Levy, executive dean of Hofstra University's National Center for Suburban Studies, said in an interview. The Siena poll showed Suozzi with 9% support among suburban voters compared to 40% for Hochul.
Suozzi is certainly trying to win. His willingness to campaign alongside embattled Buffalo Mayor Byron Brown highlighted how much he wanted to be a bigger player statewide even before he officially announced his candidacy for governor in late November. Suozzi has held a litany of press conferences and telephone town halls since then to highlight his positions on issues like homelessness, public safety and COVID-19 as well as various attacks on Hochul's integrity and leadership style. His campaign announced this week that it had hired ten staff members, but his willingness to call a political reporter personally to introduce himself suggests that he has invested a significant amount of personal energy in the campaign from the get-go.
A campaign spokesperson said Wednesday that Suozzi is staying in the race while downplaying the value of Hochul's advantages. "There is a path to victory, and nobody in this campaign, starting with the candidate, believes we are on a fool's errand," the spokesperson said in a statement Wednesday. The spokesperson criticized the Siena Poll for surveying 806 registered voters (reached Jan. 9-13) rather than likely voters and credited the powers of incumbency with Hochul's success with fundraising as governor. While Suozzi might not have as much money as the governor, the spokesperson said he will have enough to compete. More Suozzi events with voters are in the works.
Suozzi or Williams could still have breakout moments in the campaign, according to Democratic consultant L. Joy Williams, who is not affiliated with any of the campaigns. "These folks are not lazy campaigners," she said of the current Democratic candidates. "I am certainly looking forward to how candidates of this caliber perform." Better name recognition could boost Suozzi in the polls later in the campaign. New York City Mayor Eric Adams, who offered Suozzi a job as his deputy, is one example of a winning candidate who can attest to how many voters are willing to support relatively moderate Democrats. And the failed presidential campaign of former Mayor Michael Bloomberg shows the limits of deep pockets. 
Voters do not cast the first ballots for governor until June, and all sorts of unexpected developments could topple Hochul from her position as the obvious front-runner in the race. COVID-19 might surge in the upcoming months. A scandal or gaffe could damage Hochul's standing with voters. Suozzi might even be able to significantly increase his name recognition, fundraising and overall campaign apparatus enough to overtake Hochul at some point in the race. "There is a potential there," L. Joy Williams said of his electoral chances. "He's a hard worker as well and he doesn't mind crisscrossing the state."
Powered By
NEXT STORY: Who are Kathy Hochul's big donors?