Letitia James
A lot went wrong with Letitia James 2022
Political insiders say the incumbent attorney general had multiple reasons to run for reelection instead of waging an increasingly difficult campaign for governor.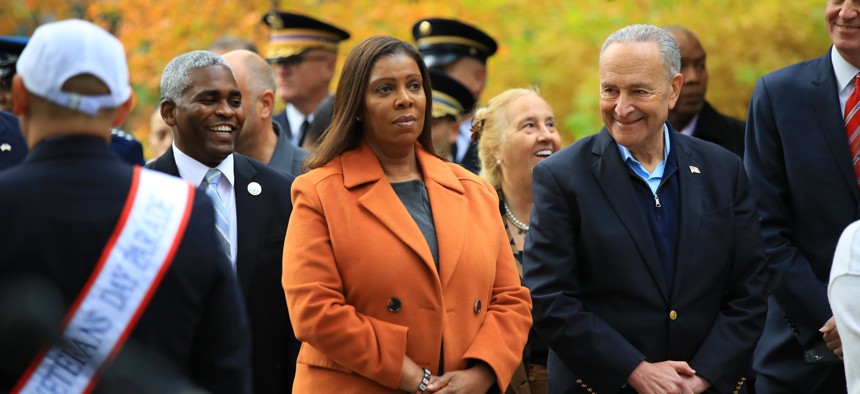 State Attorney General Letitia James said she ended her gubernatorial campaign because she was too busy finishing her current job fighting the likes of the National Rifle Association and opioid manufacturers. "She has always wanted to serve as AG and with so much on the table there she didn't feel like she should leave," Democratic political consultant L. Joy Wiliams, a longtime ally of James, texted soon after James announced she was ending her campaign Dec. 9. A new lawsuit by former President Donald Trump, which aims to block an ongoing investigation into his business, highlights just how busy James will be in her day job moving forward. 
Democratic insiders say James' gubernatorial campaign failed for a number of reasons. Incumbency gives her far fewer political advantages than Gov. Kathy Hochul, who has been surprisingly successful at inheriting many of the political supporters who helped former Gov. Andrew Cuomo win three terms in office. James also seemed to struggle with fundraising and polling. Competition from fellow Brooklynites like New York City Public Advocate Jumaane Williams hardly helped. She ultimately left the race after hardly campaigning in public at all beyond a few events. 
A political reality showed the limits of helping to topple a governor, running to replace him and then trying to get support from many of the people who helped him stay in power for so long. "The assumption was: 'Oh, I'm the Cuomo killer. Everybody will line up and give me the money,'" Democratic consultant Hank Sheinkopf said in an interview. "The power players that raised the money generally do not take risks. Backing Tish James would have been a colossal risk, with the potential of upsetting an incumbent governor who can destroy your way of life." The outsized powers that New York governors in particular have over spending in a state with an April 1 budget deadline is an advantage Hochul has that James could never match weeks before the June primary whatever attention or support she might get from fighting Trump, especially given how legal prudence limits what James can say about ongoing investigations. 
James needed to win big in New York City, hold her own upstate and compete hard for suburban votes statewide in order to have a pathway to victory in the 2022 primary. Her longtime ties to Brooklyn were a big advantage against Hochul – less so against Williams and Mayor Bill de Blasio, who has yet to say whether or not he will run for governor. Kings County powerbrokers like incoming Brooklyn Borough President Antonio Reynoso and city Comptroller-elect Brad Lander ended up endorsing Williams, who received support from more than a dozen political notables statewide, underscoring James' struggles with progressive voters as well. Hochul meanwhile has made inroads with the Black community in Brooklyn and beyond. Civil rights leaders like Hazel Dukes of the NAACP, a prominent supporter of Cuomo's as he fought for his political survival this year, have endorsed her campaign, and she has hired several prominent political operatives seemingly at the expense of James, who recent polling showed had strong – but nowhere near overwhelming – support among the Black voters she would need to beat her rivals. 
Some Democratic insiders also whisper about how some potential supporters were additionally turned off by the reported demands from some prominent Latinos that that anyone seeking their support for governor first back Brooklyn District Attorney Eric Gonzalez to replace James. Luis Miranda, Jr. – a Democratic consultant who has represented both James and Gonzalez in the past – could not be reached for comment by publication time.
Polling has consistently shown Hochul leading her rivals by double digits, and she appears to be well on her way of meeting a goal of amassing a $25 million war chest for the campaign ahead. Political insiders have noted how the suggested donations at her fundraisers are much higher than what James has requested from the same donors. Campaign finance disclosures due next month will show just how much she ended up raising, but it is expected to be a fraction of what Hochul will announce. "If she thought she was gonna win, she probably would have continued to run," said one Democratic insider who has donated to both women in the past. "Attorney general's a tough job to raise money with. Like the average person doesn't care about the attorney general. 'It doesn't affect my business, doesn't affect my union … The governor of the state of New York affects everything." That means more exposure to voters, which is important when it comes to polling and fundraisers alike. 
Bad luck played a key role in undermining the type of message James wanted to bring to voters. "They wanted to run a national kind of campaign to elect the first Black female governor of a state à la Stacey Abrams," one Democratic insider with ties to both James and Hochul said in an interview. "But when Stacey Abrams decided to run again (for governor of Georgia) it kind of deflated that idea. You can't out-Stacey Abrams, Stacey Abrams, right?" Support from out-of-state elected officials like Minnesota Attorney General Keith Ellison and a deep-pocketed California donor failed to galvanize more widespread support from out of state. James later tried to establish herself as a candidate who would be tougher than Hochul against COVID-19 while offering some policy proposals that were very similar. James did announce support for reimplementing a statewide mask mandate before Hochul announced a policy of her own. A potential running mate for lieutenant governor, Westchester County Executive George Latimer, would announce that he had tested positive for the coronavirus a week after he and James had appeared maskless together at an outdoor event where he announced his endorsement of her campaign. 
So James was running against Hochul in a state where the constitution gives governors especially strong leverage over state spending. Williams and de Blasio (who has a record of successfully winning Black votes) undermined her potential to win in voter-rich Brooklyn. Abrams attracted national political energy towards her own effort to become the first Black woman to become a governor. There is also Cuomo. His allies have attacked James incessantly in recent months for supposedly investigating Cuomo while it might help her political ambitions. They have also raised the possibility that Cuomo might run for governor or attorney general or use his still-formidable campaign war chest to thwart James' political ambitions at every turn. James could run for the U.S. Senate in the future or take a seat on the U.S. Supreme Court, though she recently denied interest in the latter. 
James, who did not respond to a request for comment by publication time, says that she just wants to be attorney general for four more years. "I have come to the conclusion that I must continue my work as attorney general. There are a number of important investigations and cases that are underway, and I intend to finish the job. I am running for reelection to complete the work New Yorkers elected me to do," she said in a statement announcing the end of her campaign for governor. Her current job has allowed her to do a lot since she won election in 2018 with the help of Cuomo. She has had a significant role in blocking controversial actions by Trump as president, including efforts to insert a citizenship question into the 2020 Census. James has also issued bombshell reports on alleged sexual misconduct by Cuomo and a documented cover-up of COVID-19 deaths in nursing homes. Recent weeks have featured a trial against Teva Pharmaceuticals USA for its role in the opioid epidemic. 
By not running for governor, James has ensured that she will remain one of the most powerful people in the state for another term in office, given the long odds of Republicans winning their first statewide race in two decades. A gubernatorial campaign meant risk, and while James built her political profile a lot as attorney general, Hochul has arguably gained even more from Cuomo's downfall. James ultimately decided to play a game she can win. A big loser in that might just turn out to be Trump.
Editor's note: This article has been updated to include details about when state Attorney General Letitia James announced support for a statewide mask mandate while running for governor.
Powered By
NEXT STORY: Schumer pledges vote on Build Back Better