New York State
What to expect from Gov. Kathy Hochul's first State of the State address
State lawmakers are anticipating a new political tone, but are still waiting to hear her big ideas.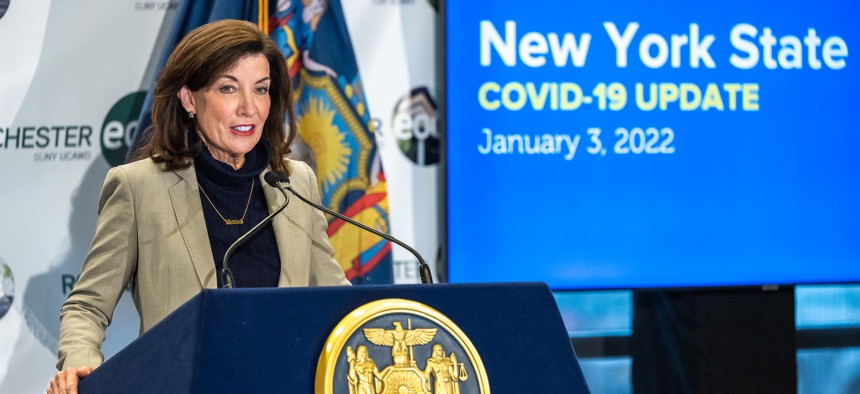 Many people will be watching Gov. Kathy Hochul on Wednesday, but state lawmakers will be her most important audience considering how they could make or break the legislative agenda she will outline in her first State of the State address. That may be why Hochul has already given plenty of hints about how she wants to have a more collegial relationship with legislators compared to former Gov. Andrew Cuomo, who was known for strong-arming recalcitrant lawmakers during his time in office. "This is her chance to present herself in a more global way," Assembly Member Linda Rosenthal of Manhattan said in an interview. "People aren't quite sure, from her mouth, where she wants to go."
Hochul has suggested that she intends on unveiling an expansive legislative agenda on Wednesday that will include proposals for action on climate change, government ethics, higher education and high-profile public works projects like renovating Penn Station in Manhattan. The state constitution provides her with formidable powers to get her agenda approved by the April 1 state budget deadline, but all signs point to Hochul using her State of the State address to continue a monthslong charm offensive with Democratic lawmakers.
Her choice of venue in the Assembly chamber for the 1 p.m. speech is one of several ways that Hochul has hinted in recent weeks at how her State of the State address will be very different from those given by Cuomo from a nearby convention hall during his three terms in office. "I've heard from countless members of the Legislature who remind me that it's definitely not a State of the State – it's called a 'message to the legislature,'" Hochul told reporters last month. "So returning it to the home of the Legislature is the right thing to do." She also recently announced proposals to limit future statewide officials to two terms in office and to prevent future governors from landing multimillion-dollar book deals while in office like Cuomo did as part of her broader efforts to distance herself from him as she runs for a full term in office this year.
The State of the State address will offer her a chance to detail how her moderate brand of politics might be different from Cuomo in other ways. While his administration would often publicize dozens of press releases previewing the annual speech, Hochul has released very few. "I have no idea what the governor is going to say," Assembly Member Amy Paulin of Westchester said in an interview. "We haven't heard anything." So she and other legislators say they will be listening carefully to see what Hochul might say – and what legislative ideas she might appropriate from state lawmakers, per unofficial gubernatorial tradition.
State lawmakers are looking for her to increase state spending on public schools after years of battling Cuomo over the issue, including for students with special needs. "I look forward to having the opportunity to dig deep into the numbers," state Senate Education Committee Chair Shelley Mayer of Westchester said in an interview. Some progressives are hoping that she might back some form of statewide "good cause" eviction protections that might limit rent increases for tenants. Some Democratic lawmakers are pushing for action on climate policy, while others want a permanent unemployment fund for undocumented people. Her speech, in short, will say to what extent she really wants lawmakers to take the lead on legislating.
The state has received billions of dollars in federal relief since the COVID-19 pandemic began in March 2020. That will likely mean that the governor and state lawmakers will not have to tackle any major fiscal problems this year – which is a big difference from recent years when multibillion-dollar deficits were a given. Yet, Hochul has vowed to release "bold plans" for public universities while expanding state efforts to confront climate change. Such things cost money and Hochul, like Cuomo, has said that she opposes increasing taxes on the wealthy. That could lead to conflict with Democratic lawmakers who have backed such proposals in the past. They will be listening Wednesday to hear just how hard of a line Hochul might draw on that issue or any others. "This address is going to be about setting priorities for the state and it would be unwise for the governor to run straight to a no-tax pledge," state Sen. John Liu of Queens said in an interview.
State lawmakers had years to learn what Cuomo's self-described brand of progressive politics meant in practice. Hochul has only been governor for a few months following his resignation in August amid several scandals, which means the speech she will give Wednesday is arguably the most important State of the State in years. It will provide Hochul with a forum to show her vision for the Empire State as the first female governor in state history, but governors cannot expect the type of mass audience that presidents typically get with State of the Union addresses carried live on multiple national networks. Some ordinary New Yorkers might tune in, but most will not. That only matters so much though because Hochul will have the attention of the audience she needs most to enact her preferred policies.
State government faces no shortage of problems to tackle this year. COVID-19 is still raging and violent crimes have increased during the pandemic. The upcoming June primaries could exacerbate ongoing conflicts between the political left, middle and right. The political interests of the governor and her colleagues in the state Legislature do not always necessarily align. State lawmakers have not even heard her speech, but some of them are bullish on how much of a beautiful friendship they might have with Hochul moving forward. "She's setting a tone of being collaborative and communicative," state Sen. Jeremy Cooney of Rochester said in an interview. "She has relationships with us; I think it's going to be really productive in this upcoming session."