Politics
Cuomo will not be criminally charged for allegedly groping aide
The Albany County District Attorney announced Tuesday it has dropped the case.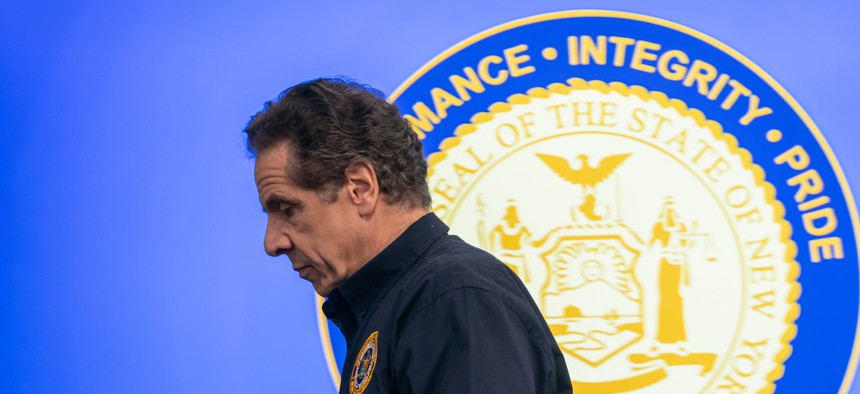 Former Gov. Andrew Cuomo will not be prosecuted for allegedly groping an aide inside the Executive Mansion, the Albany County District Attorney's office said Tuesday.
DA David Soares, like other law enforcement officials who have investigated Cuomo but declined to bring formal charges, said that while the allegations probed by his office were "credible" and he was "deeply troubled" by them, they did not rise to a level of criminality that warranted prosecution. 
"While many have an opinion regarding the allegations against the former Governor, the Albany County DA's Office is the only one who has a burden to prove the elements of a crime beyond a reasonable doubt," Soares said in a Tuesday press release. "While we found the complainant in this case cooperative and credible, after review of all the available evidence we have concluded that we cannot meet our burden at trial."
Soares' office was investigating claims made by Brittany Commisso that Cuomo put his hand on her breast, without warning, while the two were working alone together inside his office in late 2020. 
The complaint was initially filed with the Albany County Sheriff's office, which brought charges in Albany City Court. However, a procedural disagreement with the Sheriff's office and the DA resulted in a delay in Cuomo's arraignment, which was originally scheduled for Nov. 17 and tabled to Jan. 7. 
The Albany Times-Union first reported on Monday that the case would likely not come to fruition, and the DA's office confirmed the news about 12 hours later. 
Soares' announcement comes a day after news surfaced that the Manhattan District Attorney's office would also decline to prosecute Cuomo regarding his handling of nursing homes during the pandemic, and just weeks after three additional probes into his conduct were dropped. 
News that the Manhattan DA had closed its nursing home inquiry was made public Monday in a statement from Cuomo's team. The DA's office declined to comment. 
"I was contacted today by the head of the Elder Care Unit from the Manhattan District Attorney's Office who informed me they have closed its investigation involving the Executive Chamber and nursing homes," former outside counsel for the Executive Chamber, Elkan Abramowitz, said in a statement. "I was told that after a thorough investigation – as we have said all along – there was no evidence to suggest that any laws were broken."
Last week, the Westchester County District Attorney announced Cuomo would not be prosecuted for allegedly kissing two women there.
That decision came as little surprise to legal experts, who said the most serious probe was the one Cuomo was facing – until Tuesday – in Albany County. 
Westchester County DA Miriam Rocah's office was investigating claims that Cuomo kissed a state trooper on the cheek while she was on duty at his home in Mount Kisco. The trooper told investigators with State Attorney General Letitia James' office that Cuomo asked to kiss her, then acknowledged it was inappropriate, according to the damning 165-page report released by James' office in August. 
The second woman part of Rocah's investigation, White Plains school worker Susan Iannucci, has said publicly that Cuomo grabbed her and kissed her on the cheek without consent after a press conference outside a local high school in 2018. Iannucci was not one of the 11 women named in James' report.
"In both instances, my office has determined that, although the allegations and witnesses were credible, and the conduct concerning, we cannot pursue criminal charges due to the statutory requirements of the criminal laws of New York," Rocah said in a statement.
Criminal defense attorney Kevin Kearon, a former Nassau County prosecutor and founding partner at Barket Epstein, told City & State it was unlikely for the Westchester investigation to result in criminal charges, but expressed more confidence in the Albany probe.
"There is no crime in the penal law that would apply to the facts that have been reported," Kearon said. "It may be creepy. It may be inappropriate. It may be grounds for civil action, but it's not a crime."
In December, Nassau County District Attorney Joyce Smith announced her office would not bring criminal charges related to Cuomo allegedly caressing the trooper's stomach at Belmont Racetrack in 2019.
An additional dropped Cuomo probe was being conducted by the Department of Justice into his handling of nursing homes during the pandemic. The agency said in July it would not continue to pursue a case. 
Several other agencies from the local to federal levels have ongoing probes into Cuomo's conduct. The Albany County Sheriff's office was the only one to bring criminal charges.
The Oswego County and Manhattan District Attorney's offices are also investigating separate claims of sexual harassment against Cuomo. Oswego County DA Greg Oakes could not be reached for comment last week, and the Manhattan District Attorney's office declined to provide a status update. 
The DOJ has opened probes into sexual harassment allegations against Cuomo, along with claims he misused state resources on his $5.1 million pandemic book deal, according to a government contract made public earlier this month. A DOJ spokesperson told City & State last week the agency could not confirm or deny the existence of any investigation. 
James' office is also investigating Cuomo's use of state resources in his book deal.