New York State
At convention, NY GOP awkwardly backs both Trump and Ukraine
Party Chair Nick Langworthy likened Ukraine's civilian resistance to the GOP's struggle, while he invoked a Putin-friendly former president.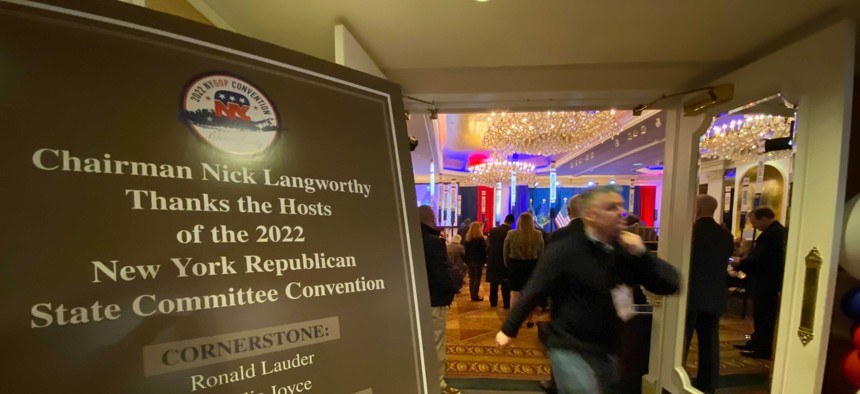 The state Republican Party held its nominating convention on Long Island, but Chair Nick Langworthy's mind was thousands of miles away in Ukraine when he took the stage to address party members from across the state. While some prominent conservative voices have in recent days offered sympathies for Russia and its President Vladimir Putin, Langworthy expressed solidarity with Ukraine – and even compared the GOP to Ukrainians fighting off an invading army. But almost in the same breath, he praised former President Donald Trump – who received criticism for his admiration for Putin – offering a stark example of the balancing act the Republican Party finds itself in on the foreign affairs issue.
In a fiery speech about a red wave sweeping over New York in the November elections, Langworthy referenced the ongoing violence happening in Ukraine, first to take a shot at President Joe Biden. "I don't care what anybody says, or how un-PC this is," he said after saying that Russia and China are both targeting the United States. "If anyone thinks that Russia would have invaded the Ukraine if this last presidential election went differently, you've got another thing coming." Langworthy's declaration was met with applause from the audience before he continued with a denunciation of socialism.
Criticizing Biden, even for events that he had no direct control over or hand in, is common for the GOP. But Langworthy did not acknowledge in his speech the antagonistic relationship Trump had with Ukrainian President Volodymyr Zelenskyy and the praise Trump often offered Putin. The former president allegedly withheld military aid to Ukraine when Zelenskyy would not cooperate with Trump's request to help find disparaging information on Biden's son, Hunter Biden. The decision led to Trump's first impeachment. And throughout his presidency, Trump's closeness to Putin led many in the national security sphere to worry about whether he shared state secrets with the Russian president. 
Soon after standing by Trump, Langworthy identified with Ukrainians fighting for their lives against Russian soldiers. "We need to start acting like the Ukrainians," he said to more applause. "(Like) everyday citizens who are risking their lives for their freedom, we need to be, we need the spirit of the soldiers on Snake Island who stood valiantly in the face of a Russian warship and refused to surrender their country." Langworthy was referencing several soldiers whose last words of "Russian warship: go fuck yourself" have since gone viral all over the world. 
This is a questionable comparison for Langworthy to make, and not just because of the underlying politics and the mixed messaging from his own party on whether to stand with Russia or Ukraine. The Ukrainian military has for days been arming civilian volunteers willing to fight with automatic weapons. When asked about the comparison between armed civilians and Republicans fighting Democrats, Langworthy declined to immediately comment.
Republican politicians at the convention defended Langworthy's comments about Ukraine and his failure to condemn Trump's past statements. "We need to be vigilant about the words that we use," newly designated Republican candidate for Senate Joe Pinion told City & State. "But I think also we need to be forthright in that assessment and say that every time… somebody has admiration for people willing to put their life on the line in the face of the very tyranny this nation was founded to oppose… should not necessarily be viewed unilaterally as a call to arms." He added that Trump's past comments on Putin, some of which he disagreed with, were not made in the current context of the invasion.
Republicans banned a pro-Russia news agency from attending the convention and gave Ukrainian American New York City Council Member Inna Vernikov a prime speaking spot, signaling support for Ukraine.
Langworthy's praise of Ukrainian citizens fighting against Russian aggression also contradicts the position taken by a number of prominent voices on the right, including former Trump adviser Steve Bannon. The week before the invasion, Bannon commended Putin's "anti-woke" positions on things like LGBTQ rights. A guest on Bannon's podcast, a Republican candidate for Senate in Ohio, offered similar sentiments. "We did not serve in the Marine Corps to go and fight Vladimir Putin because he didn't believe in transgender rights, which is what the U.S. State Department is saying is a major problem with Russia," JD Vance said. 
Fox News host Tucker Carlson also questioned the automatic support for Ukraine. "Hating Putin has become the central purpose of America's foreign policy," he said in an opinion piece published the day before the invasion that he has since partially walked back. "The point here is to defend democracy, not that Ukraine is a democracy… But Joe Biden likes Ukraine. So Putin bad, war good." Trump himself has continued to defend his past praise of Putin, while Sen. Mitt Romney – a vocal Trump critic – called members of his party offering support or praise to the Russian president "almost treasonous."
Langworthy offered a prime example of the Republican Party attempting to have things both ways – still supporting Trump while likening the state GOP to Ukrainians fighting to preserve their democracy. The nuance of the balancing act was lost in the fervor of the convention and his speech, but that made it no less emblematic of the internal strife within the party at large as it continues to reckon with the Trump legacy.
The convention also comes a day after Gov. Kathy Hochul – the main villain of the day alongside former Gov. Andrew Cuomo – signed an executive order for the state to cease business and investments with Russian entities. Amid the criticism slung at Hochul by Langworthy and others, none mentioned that new action by the governor. But she received some lukewarm compliments from Republicans when pressed. "These are unprecedented times, and I'm supportive of these measures and anything else as a way of pushing back on Russian aggression," Assembly Minority Leader Will Barclay told City & State.
Others were more critical of Hochul's executive order. "Is it some sort of kind of signaling that she's with the people of Ukraine? Sure," Stefano Forte, a candidate for state Senate in Queens, told City & State. "Do I think that termination of Russian business in New York is going to absolutely stop Vladimir Putin from taking over the Ukraine? No." But even as Republicans at the convention offered their support for Ukraine, the cheers for Langworthy when he referenced how much better Trump would have handled this situation offered a strong indication that members of the party at large are not ready to divorce themselves from the former president – despite his closeness to Russia.
With reporting by Zach Williams.