Politics
During Biden's visit Adams calls for a "9/11-type response" to gun violence
The president announced that he plans to ask U.S. Attorneys across the country to help crack down on the "iron pipeline."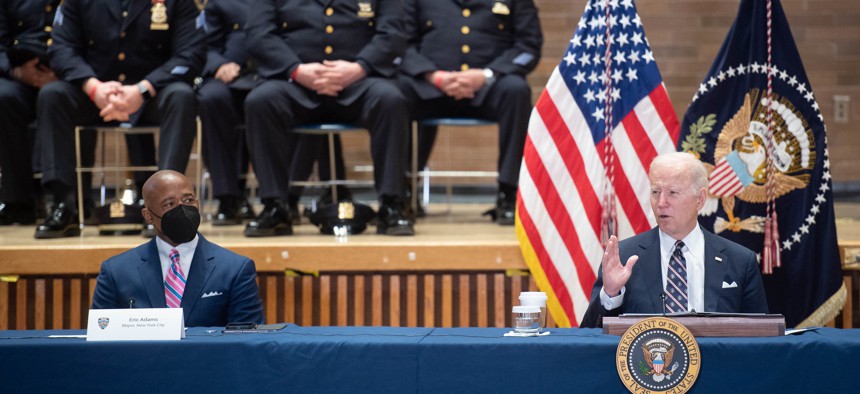 With President Joe Biden in New York City Thursday, Mayor Eric Adams called for a "9/11-type response" to gun violence in the five boroughs. 
Adams seemed to be alluding to the way the federal government response focused attention and resources on the city following the terrorist attacks of September 11 in 2001. 
Speaking at the New York City Police Department headquarters, Adams said he had asked the president to come to the city "and to speak to our city, state and federal law enforcement personnel so we could have a 9/11 response to this violence. We came together as a country when international terrorists decided to change our way of life. And we responded."
Later, the mayor reiterated the message, saying that the president was in New York because he understands that public safety and justice go hand-in-hand. "He understands how serious this moment is. We need, as I stated, a 9/11 type response to address the domestic terror that is pervasive in this city and country," Adams said of Biden, who was here to "get New Yorkers the backup we need."
And Biden was eager to deliver, announcing new plans and taking the opportunity to reiterate old ones. The president said he would direct U.S. Attorneys offices around the country to focus on district-specific strategies to combat violent crime and to crack down on the "iron pipeline" – the flow of firearms from more gun-friendly states in the South to states with stricter laws like New York. Biden also said his administration would launch an initiative to increase the investigation and prosecution of cases involving "ghost guns," or homemade, unlicensed guns that are harder to track.
The president also highlighted that his budget proposal includes an increase of $300 million of funding that would go to help cities hire more officers devoted to "community policing" and $200 million for "evidence-based community violence interventions." 
The answer to gun violence "is not to abandon those streets," Biden said. "The answer is to come together. Police and communities. Building trust and making us all safer. The answer is not to defund the police, it's to give you the tools, the training, the funding to be partners, to be protectors … and know the community." 
Biden and U.S. Attorney General Merrick Garland visited One Police Plaza for a meeting of city, state and federal officials, including Gov. Kathy Hochul and U.S. Sen. Kirsten Gillibrand. The president's show of support was an about face from his predecessor, former President Donald Trump, who postured that he would cut off federal funding to cities he labeled "anarchist jurisdictions" including New York. 
But Biden's visit was about more than just money – it was a further embrace of Adams. The mayor and the president have both raised up one another as moderate Democrats who "get stuff done" in contrast to the progressives who may disdain them.
New York City may seem like an odd place for Biden to discuss gun violence, given that the city has had one of the lowest rates of violent crime among major cities in recent years. But the city – like others across the country – has seen an increase in shootings so far this year. NYPD statistics show that 104 shooting victims were reported in January – the most in that month since 2013, when 104 people were also reported shot. And some of those shootings have received national attention, such as the death of two NYPD officers killed when responding to a call in Manhattan. The mayor, a retired police officer, has made gun violence a major focus of his first month in office. 
But Adams' call for "a 9/11-type response" raised some concerns among civil liberties watchdogs, who were already on high alert after Adams said he would bring back a version of the scandal-plagued anti-crime unit. 
The city came together in positive ways after 9/11, but the NYPD also began a regime of racial and ethnic profiling, said NYCLU executive director Donna Lieberman. "Running roughshod over the civil liberties and lives of New Yorkers in the name of national security was not okay in the wake of the terrorist attacks on 9/11, and it is not okay in response to gun violence today," Lieberman said in a statement provided to City & State. "We need real solutions, not political pandering and divisive action.  We can't go back to a supercharged NYPD and a ramped up surveillance regime that will put communities of color at risk of false arrests and dangerous police encounters."
Adams' press secretary, Fabien Levy, said that Adams' comments were simply about working together. "Local, state, and federal government came together, in a collaborative way, to fight terror," he wrote in an email to City & State. "We need a similar response to fight gun violence on the streets right now."
Powered By
NEXT STORY: Kathy Hochul's Penn Station plan faces another roadblock