This Week's Headline
Mask mandate lifted and Adams' first 'tin cup day'
Rounding up the week's political news.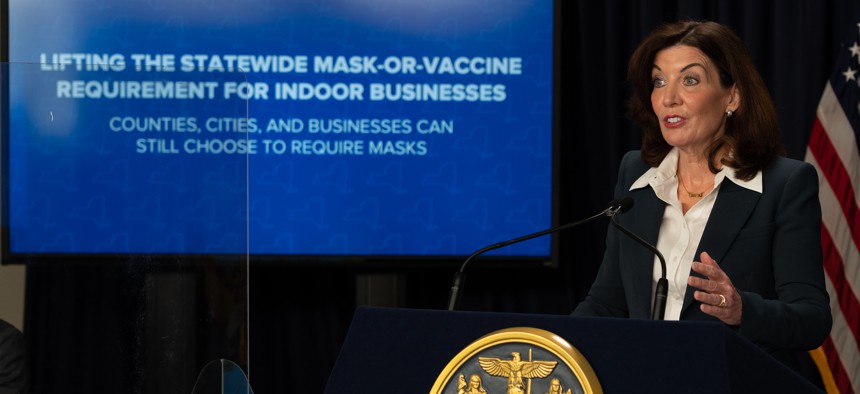 Someone call the vegan police because we'd like to report a crime. Turns out New York City Mayor Eric Adams still dines on fish from time to time, and reportedly other meat products too. We're not out to shame anyone for enjoying the occasional salmon, but Adams for years has made his dedication to a plant-based diet a major tenet of both his personal and political dogma. Makes the revelation feel like a little more than just a white lie. For the rest of the week's non-food news, keep reading.
Mask mandate lifted
With the number of COVID-19 cases dropping around the state as the omicron variant surge dies down, Gov. Kathy Hochul announced the end of the statewide mask or vax mandate that required people to wear masks in public spaces where there was not a vaccine mandate enforced. Hochul put the mandate in place late last year and continued to extend it when its expiration drew near. But with a more positive outlook on the trajectory of the pandemic, and recent action by New Jersey and other Democratic states to ease restrictions, Hochul said that New York could drop the mandate. However, the requirement for teachers and students to wear masks at school remains in place, with the governor saying she would reconsider that decision in early March. The statewide lifting of the mask mandate does not apply to public transportation and health care settings, and any requirements set forth by businesses or municipalities still must be followed.
Mr. Adams (virtually) goes to Albany
Local leaders from around the state made their budget demands before state lawmakers during the annual "tin cup day" as they testified at a joint legislative hearing. Up first, as always, was the New York City mayor, marking Eric Adams' first time participating in his new role. He used the opportunity to once again demand changes to recent criminal justice reforms, most notably the bail law that eliminated pretrial detention for the vast majority of charged crimes. Adams requested state lawmakers get rid of cash bail completely, but allow judges the discretion to consider a defendant's dangerousness to determine whether they should be jailed while awaiting trial. He also made the case to tweak the "Raise the Age" in order to allow the state to try more teens as adults. Both legislative leaders in Albany have said they have no intention to revisit bail or make other criminal justice reform rollbacks.
Cuomo still making his case
Ex-Gov. Andrew Cuomo's attorney Rita Glavin once again took to the internet to assail the credibility of the women who say Cuomo sexually harrassed him and attempt to discredit the findings of the state attorney general report into those allegations. The latest press briefing came days after new reporting suggested that Cuomo is considering a return to public life with a run for attorney general against Letitia James. Glavin didn't speculate about her client's potential political ambitions, but she did say he would personally file a complaint against James to the state Supreme Court attorney grievance committee for her conduct around the sexual harassment investgation. The Sexual Harrassment Working Group, which advocates for reforms to harassment laws, is filing a complaint with the same committee against Cuomo, asking that he lose his license to practice law.
Jumaane Williams gets a boost
New York City Public Advocate Jumaane Williams' long-shot bid for governor got a boost with the endorsement of the Working Families Party. Members of the left-wing party can't vote in the Democratic primary, but they can help provide progressive candidates with support and resources to get ahead. Their success rate hasn't been great recently in gubernatorial and other statewide elections, with WFP-endorsed candidates losing primaries the last two cycles. That included Williams himself when the party backed him for lieutenant governor in 2018. The WFP joins a coalition of progressive organizations that had already endorsed Williams for governor, one very similar to the list of supporters who backed him four years ago.