New York City
Council member to colleagues: Don't bother giving NYCHA your money
Rafael Salamanca Jr., at a hearing Tuesday, warned his fellow council members that they'll be frustrated, just like him, if they provide the city's housing authority with funding and expect things done.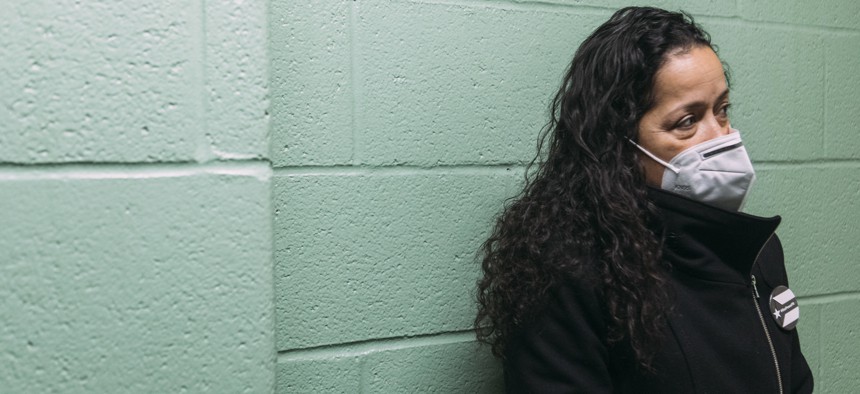 New York City Council Member Rafael Salamanca Jr. had enough. He allocated $3 million from the city budget to the New York City Housing Authority in the summer of 2017 for secure doors at the Melrose Houses in his South Bronx district. Five years later, the project hasn't been done. And NYCHA says it won't be until 2024.
"I strongly advise my colleagues: if you want a project completed, do not give money to NYCHA from your capital dollars," Salamanca said. "Because you're going to go through the frustration that I've been going through for years. 
The City Council's Committee on Public Housing held a preliminary budget hearing Tuesday afternoon. And while NYCHA leaders like Chair and CEO Greg Russ tried to keep the focus on the need for more funding, Council members were more interested in where the money that's already been given to NYCHA is going. 
"It's unacceptable how you guys operate," Salamanca said. "You're here talking to us that you need $40 billion from the federal government to fix all these capital needs. And here you have a council member who has allocated funding for Fiscal Year '18. And the work still has not been completed."
Salamanca is one of the longest-tenured Council members, having first taken office in 2016. But his newer colleagues faced the same issues, with Council members including Althea Stevens, Ari Kagan and Kevin Riley railing NYCHA for a lack of accountability as they used the budget hearing to ask about the status of capital projects at public housing developments in their districts. "Who suffers? Our tenants," when funded projects take years to get done, Council Member Charles Barron said. "What (funding) you have, you have to maximize on that, because our people are hurting."
Russ was apologetic, and promised change and clear accountability. 
"I'll be candid: this has really been difficult. It's unsatisfactory," Russ said. "I don't like having the relationship where you don't feel like you know or understand what's happening with this money."
But that will be fixed in this calendar year by the housing authority creating a new project management system for capital projects, Russ said. "There's going to be a way to contact someone and say 'hey, what the hell is going on.'"
NYCHA will also be launching an online capital projects tracker "in the next one to two months," where the public can see where money is being spent on projects like boiler repairs or playground rehabilitations. Eventually, the authority plans to add capital needs to the tracker as well – problems that should be addressed, that work has not yet started on. 
That sounds similar to "NYCHA Stat," a plan that newly elected Mayor Eric Adams has been talking about on the campaign trail since 2018 to hold the housing authority accountable through public metrics. But Adams' plan would focus on immediate issues, like heating and hot water outages.
The capital needs are mind blowing in scope. In 2017, NYCHA estimated it would require $31.8 billion over the next five years to get its housing into a good state of repair. A mere fraction of that has actually been allocated. How bad is the backlog of work? Russ said that NYCHA hoped to close its $3.2 billion in recovery projects from Superstorm Sandy – including new roofs, backup power systems and exterior lights – by the end of 2023. That would be more than 11 years after the storm hit New York, in October 2012. 
Nearly 400,000 official residents live in NYCHA apartments across the five boroughs, making it the city's largest landlord by far. Most of the authority's funding, for both its operating and capital budgets, comes from the federal government, rather than the city. But altogether, Russ said, the $2.9 billion available in capital funding this year "barely makes a dent in the more than $40 billion in needs." For this, Russ placed his focus on Washington, saying that the compounding effects of four decades of federal divestment from public housing have created "the greatest threat the authority has faced in its 88 years."
Russ said that the authority couldn't just keep waiting on the federal government for a fix, and doubled down on PACT, or Permanent Affordability Commitment Together, a program that brings public housing under private management and – ideally – speeds up repairs. Adams, who met with Russ for the first time as mayor this month, has also backed PACT, but he reportedly had not committed to investing additional city funds in NYCHA. PACT management has been criticized for, among other things, not following through on repairs, and many Council members, including Public Housing Committee Chair Alexa Avilés, have been extremely skeptical. 
Avilés, who was leading her first budget hearing as chair of the public housing committee, kept most of the blame off of NYCHA, however. The Democratic Socialist, said the divestment was "a multi-layered problem of a capitalist culture (that) puts profit over people," and questioned the federal government's funding priorities. "Had NYCHA been the Pentagon," she said, "we'd be flush in cash."