Campaigns & Elections
Petitioning kicks off, with pandemic-era signature requirements gone.
Hundreds of political candidates across the state have begun collecting signatures to qualify for the ballot in June primary elections.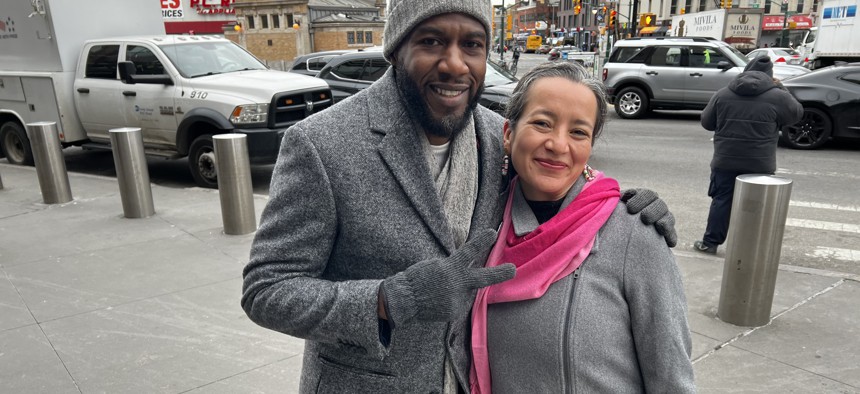 Petitioning season began Tuesday, as hundreds of political candidates across the state started gathering signatures to qualify for the ballot in June primary elections. And in a moment when city and state governments are lifting policies meant to reduce the spread of COVID-19, petitioning too is seeing a return to normalcy. The usual pre-pandemic standards will apply after two straight years where signature requirements were eased and the petitioning period shortened. 
"It was pretty cold," New York City Public Advocate Jumaane Williams, who's running for governor, told City & State  of the near-freezing temperatures in Brooklyn Tuesday morning. Williams gathered signatures with his Democratic running mate for lieutenant governor, Ana María Archila, outside Barclays Center. "Petitioning is a great organizing tool," he said. "In 2018, it was the first big boost we had in the campaign (for lieutenant governor), everybody out there organizing around the petitioning process."
Another major Democratic candidate for governor, Rep. Tom Suozzi, was planning to host a petitioning kickoff rally Tuesday night at the Sheraton New York Times Square Hotel with his running mate for LG, former New York City Council Member Diana Reyna. Midtown Manhattan normally isn't a great place to find voters registered in New York – you're more likely to find someone from Arizona or Azerbaijan in Times Square – but the Suozzi campaign noted that they'll be in the same ballroom where his primary opponent Gov. Kathy Hochul was nominated at the Democratic convention less than two weeks prior. 
That's a reminder not everyone will have to petition. Hochul and the other statewide Democratic incumbents, including U.S. Sen. Majority Leader Chuck Schumer, already qualified for the June 28 Democratic primary ballot due to their level of support at the convention. Leading Republican candidates, including Rep. Lee Zeldin, who is running for governor, won't have to petition either, after winning a certain level of support at the state GOP convention held Tuesday on Long Island.
But for those who do have to gather signatures, those candidates for statewide office like governor, lieutenant governor and U.S. Senate have the toughest job. State law requires them to get 15,000 valid signatures from registered members of their party, and they can't all be from the same area. At least 100 signatures each need to be collected from voters living in at least half of the state's 26 newly redrawn Congressional districts. 
But candidates for other offices have to put in the work too. Candidates for the House of Representatives need 1,250 signatures, state Senate candidates need 1,000 and candidates for Assembly need 500. But those are bare minimum numbers. Most campaigns aim for at least three times the required number, since so many signatures end up invalidated due to issues like being registered outside of the district or signing more than one petition for candidates running for the same office. 
Signatures are assumed valid unless they're challenged in court. There's been a movement in recent years of candidates pledging not to knock their opponents off the ballot in order to reduce the amount of petitioning necessary during the pandemic. But that rubbed some old school politicos the wrong way. 
"Fuck them!"  Frank Seddio, a Democratic district leader and the former leader of the Brooklyn Democratic Party, told City & State. "The process exists. We follow the process," he said of challenging candidates' petitions. "Breathing shouldn't be the only qualification for running for office." 
State government leaders seem to agree with Seddio. Following organized campaigns from candidates calling for petitioning to be drastically reduced or done away with altogether, signature thresholds were lowered by 70% in both 2020 and 2021 in order to reduce person-to-person contact while COVID-19 was spreading. This year, with most of the state's population vaccinated and measures to stop the spread of the disease getting rolled back amid relatively low case counts, there has been little to no organized effort to change the requirements. And that's fine with Williams.
"To be cautionary, I don't think it would be much harm in lowering it a little bit," he said. "The last two years, there were risks taken that were unnecessary. But this year, I think we're in a better spot, particularly as most of this stuff is going to take place outdoors."
Candidates have a little over a month to gather signatures. They can be filed with boards of election from April 4 to April 7. Another petitioning process follows that, starting on April 19, for independent candidates who want to run in the general election on party lines that do not have automatic ballot access – such as the Libertarian and Green Parties, as well as short term, invented ballot lines such as the Rent is Too Damn High Party or the Women's Equality Party.