New York State
After passing a late state budget, Democrats of all types blow off steam at Caucus Weekend
The final state budget exacerbated tensions within the party that followed them to their annual gathering in Albany.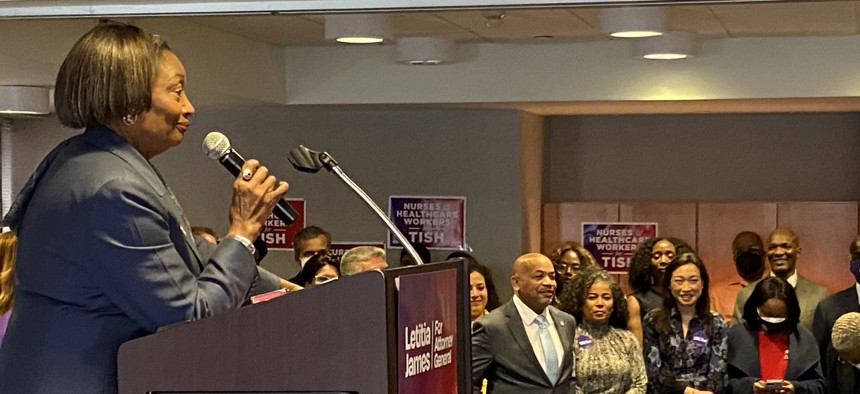 Democrats are feeling mixed vibes following passage of a $220 billion state budget more than a week past an April 1 deadline. Almost as soon as they voted on the budget bills, they were schmoozing at Caucus Weekend, an annual gathering of the party faithful in Albany hosted by the New York State Association of Black, Puerto Rican, Hispanic & Asian Legislators. There was partying: Assembly Speaker Carl Heastie jubilantly performed with rapper Fat Joe. And there was tension: New York City Mayor Eric Adams got heckled while arriving at the state Capitol over his law-and-order approach to homelessness. Late into the night, party insiders debated how the late budget might help or hinder their party while sipping drinks at bars across downtown Albany. 
Gov. Kathy Hochul scored some wins in a final state budget deal that might help her and other moderate Democrats attract support from swing voters this November. Nearly a dozen party insiders interviewed at Caucus Weekend say they are cautiously optimistic about their party's chances against Republicans this November, but remain concerned about how the final budget disappointed the progressive base – especially when it came to changes made to bail reform. 
"This is the most progressive budget that has come out in the last 50 years," state Sen. James Sanders, Jr. of Queens said Saturday as he mingled at the Hilton Albany down the street from the Capitol. "We did not get everything that we could have gotten in this budget. This is not as progressive as it could have been."
Progressive organizers are now looking to leverage such disappointment to their advantage against the Democratic Party establishment in the June primaries. "We like to repeat this trope that budgets are moral documents," India Walton, a socialist and the 2021 Democratic nominee for Buffalo mayor who now works for the Working Families Party, told City & State outside Albany mainstay City Beer Hall on Saturday. "The best thing that we can do is get out to the polls." Protecting criminal justice reforms passed by Albany Democrats in recent years is one area that progressive candidates are focusing on as a potentially winning issue in the primary against moderate rivals. "I made the decision that if I'm not running on that then what am I doing?" Alana Sivin, a socialist running for the Assembly in lower Manhattan, said Saturday at an event upstairs hosted by Tech:NYC.
If they survive any primary challenges from the left, moderate lawmakers will likely be able to benefit from budget provisions like changes to bail reform and the suspension of a state gasoline tax alongside the expansion of the social safety net. "They got good talking points," a former state lawmaker, who requested anonymity to speak candidly, said at City Beer Hall. "No one's ever lost an election because of a late budget." 
Democrats interviewed by City & State expressed little worry about Republicans winning their first statewide election in two decades this fall, but party leaders like Heastie urged the rank-and-file not to take anything for granted at a Saturday event where state Attorney General Letitia James kicked off her unopposed primary campaign for reelection. Billions in new social spending will help Democrats appeal to voters across the ideological spectrum, but only if they can get the party base to turn out while still appealing to swing voters. The state budget has hardly made that challenge much easier, but party insiders say they still have time to craft a winning message to overcome whatever setbacks the budget might have created. "Right now feels like ... a bitter time," avowed progressive New York City Comptroller Brad Lander said of the political zeitgeist among Democrats following the passage of the budget. "Will that be true in November? I pray not."