New York State
Hochul wants to replace Brian Benjamin on the ballot. Will the Legislature let her?
Time is running out for the Legislature to approve a bill that would get Brian Benjamin off the primary ballot.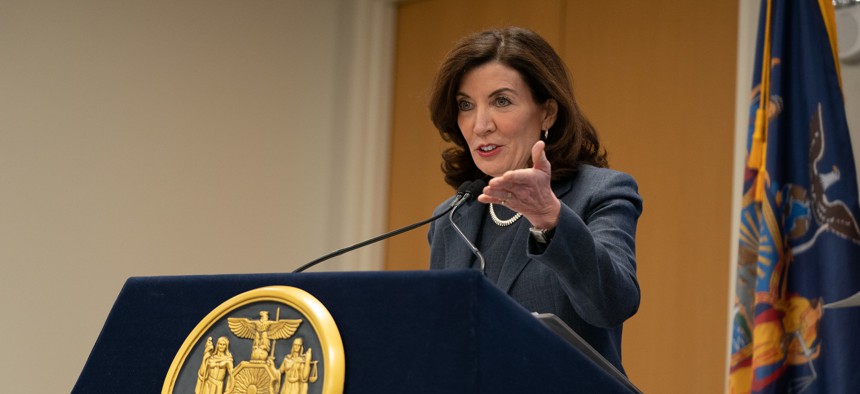 The amount of time for a legislative solution to get former Lt. Gov. Brian Benjamin off the June 28 primary ballot is quickly running out, but Gov. Kathy Hochul has continued to implore lawmakers to take action. A legislative fix appeared dead in the water after initial reticence from the state Senate, and the prospect of a late-stage law change remains on life support – though a compromise may leave Hochul without a new running mate.
The governor told reporters Tuesday that with no sign that Benjamin planned to move out of state after being arrested and indicted under federal corruption charges,  – perhaps the only truly viable option currently available to get him off the ballot – a legislative fix would be necessary. "I would like the Legislature to do that, just that," Hochul said. "And to pass legislation that corrects what is really a strange part of law that does not allow the removal of someone who is under indictment." She added that she has had conversations with legislative leaders about the prospect. 
State Senate Majority Leader Andrea Stewart-Cousins later confirmed to reporters that she spoke with the governor, but still expressed reservations about tweaking the law. "I really, really, really don't like to change the rules in the middle of the process, and certainly in the middle of an election," Stewart-Cousins said. Although there is currently a bill in the Assembly that would get Benjamin off the ballot, no one in the state Senate has yet introduced any legislation to accomplish that. Still, Stewart-Cousins said that her conference has discussed the idea, and both Senate and Assembly Democrats have had meetings on the issue in recent days. 
According to legislative sources with knowledge of the discussions, reservations still exist in both chambers. One point of contention centers around whether legislation should allow Hochul to pick a replacement for Benjamin once he is removed. Sources in both chambers said that at least some lawmakers are wary of giving Hochul that power at this point in the election process, but they might consider a bill that removes Benjamin from the ballot without adding a replacement. One Assembly source said that the chamber is still far from reaching consensus, with another expressing uncertainty that the chamber has the votes. A state Senate source called the prospect of a bill passing slim but possible.
Assembly Member Amy Paulin, who introduced legislation that would allow those under indictment to decline a nomination to the ballot if they are charged with a crime, expressed a degree of optimism about a bill passing in time. "So many members in the Assembly are willing to move forward, so I don't think that there's a problem there," Paulin told City & State. She said that while some expressed outright opposition and others simply wanted a means to remove Benjamin without replacing him, a "significant" number of her colleagues supported the idea of removal and replacement. 
Another potential roadblock emerged on Wednesday, though, with NY1 reporting that legislative counsel was reviewing election law to determine whether it's even possible to remove Benjamin without permitting the state Democratic Party – in effect Hochul – to replace him. A spokesperson for the state Board of Elections did offer additional clarity on the issue.
Powered By
NEXT STORY: Eric Adams speaks to the haters