This Week's Headline
A mass shooting and the lieutenant governor steps down
Rounding up the week's political news.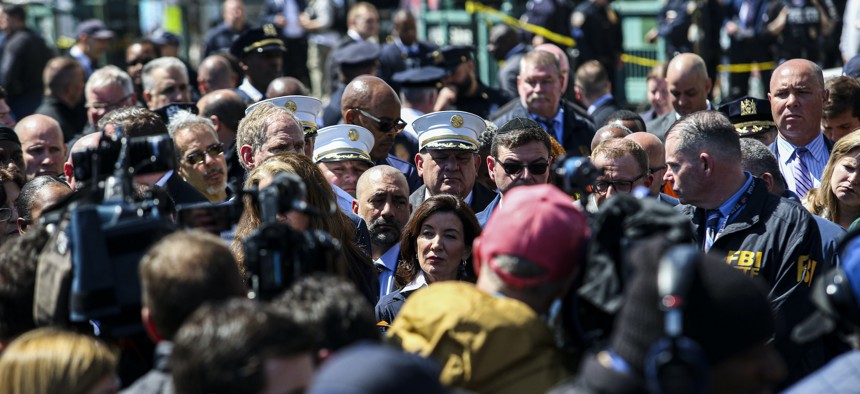 It's been a heck of a week in New York and you'd be forgiven if you wanted to take a breather this weekend. But you might want to do so wearing a KN-95 given the new subvariant spike. Remember, the pandemic isn't over. But spring (finally) seems to have sprung, at least in New York City, with some gorgeous days in the past week for New Yorkers looking to get away from it all. Fingers crossed some of that lasts through the weekend. Keep reading for a refresher on what's been going on.
Violent chaos in the the subway
A gunman opened fire in a subway car in the Brooklyn neighborhood of Sunset Park on Tuesday morning, shooting and injuring 10 people, but did not kill any of the straphangers. In all, about two dozen people were injured during the attack. By the time that police were able to respond to the shooting, the suspect – later identified as Frank James – had escaped. Faulty security cameras at the subway station led to a slight delay in identifying James. New York City Mayor Eric Adams, from quarantine after testing positive for COVID-19, strongly condemned the violence and committed to doubling the police presence in the transit system. He also floated the idea of utilizing some sort of metal detection technology, something met with almost immediate derision by commuters as out of touch. Police apprehended James a day after the shooting with help in part from New Yorker Zack Dahhan, a Syrian immigrant who had been working at a bodega when he spotted the suspect. Federal prosecutors brought charges related to terrorism on violence on public transit against James.
New York is down an LG
After weeks of increasing controversy building up around Brian Benjamin, the now former lieutenant governor was arrested and charged by federal prosecutors with corruption and bribery related to campaign donations and his time in the state Senate. He resigned from his position the same day he turned himself in to law enforcement, but pleaded not guilty. Gov. Kathy Hochul denied knowing about Benjamin's past alleged criminal activity and said she had no prior warning about the arrest. She is now in a position to appoint another person to the position of lieutenant governor to fill out the rest of Benjamin's term. However, under current law, Benjamin will likely remain on the ballot and whoever replaces him in Albany won't be able to run with Hochul in the primary. Assembly Member Amy Paulin plans to introduce legislation that could allow Benjamin to remove himself from the ballot and Democrats to replace him, but it would have to become law before May 1. There are still two other people – Diana Reyna and Ana Maria Archila – who remain in the Democratic primary for lieutenant governor and benefit from Benjamin suspending his campaign. 
First (legal) pot farms set to open
In the first step towards retail sales, the state Cannabis Control Board issued 52 cultivator licenses for local farmers to begin growing recreational pot. Once farmers have grown enough product, they can begin supplying dispensaries in the state that officials expect to open before the end of the year. Separately, the recently approved state budget also includes a fix so that cannabis business owners can deduct related expenses from their state taxes despite pot remaining illegal at the federal level.
COVID-19 on the rise again
State health officials have detected a highly contagious new omicron subvariant of the coronavirus, a poignant reminder that while the many restrictions have been lifted, the pandemic still is not over. The number of COVID-19 cases has been steadily rising recently, especially in Central New York, where the rate of infection has been double the rate of the state for weeks. And health officials said the new subvariant is playing a role. They're urging New Yorkers to take precautions against the virus during the holiday weekend and said people should consider masking at indoor public places again.
Former Nassau county exec finally sentenced
Years after his initial arrest on corruption charges, a judge has sentenced former Nassau County Executive Ed Mangano to 12 years in prison. He was accused of taking bribes from a politically connected restaurateur since he took office in 2010. Mangano's first trial in 2018 ended in a mistrial, and the second in 2019 ended in his conviction. But the COVID-19 pandemic created court delays that have put off his sentencing until now.
Gifted and Talented gets a second life
Making good on his promise to keep the Gifted and Talented program in New York City public schools as is, Adams announced that his administration would in fact expand it to more students and more districts. Although former New York City Mayor Bill de Blasio announced his intention to phase out the current gifted program, Adams and his schools Chancellor David Banks were never on board with the idea. Now, they have opened up 1,000 new seats for a program beginning in third grade. City officials also plan to add 100 more seats at the kindergarten level so that every district in the city can have a program that begins at that level.