Politics
Adams heads to Albany for a late push on his priorities
Extending mayoral control, getting more speed cameras, haven't been as easy as the New York City mayor expected.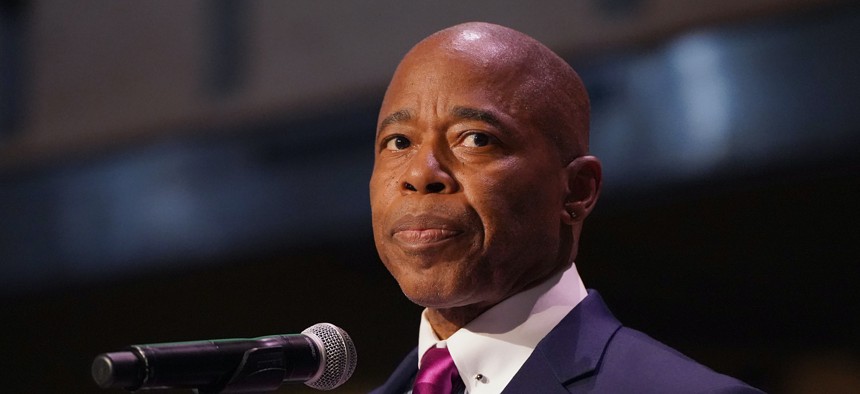 New York City Mayor Eric Adams' self confidence has served him well in life. After all, it got him elected mayor, and he strolled into office with the promise that he'd work well with legislators in Albany. After all, he was a former state senator. There was no more Cuomo. And he wasn't de Blasio, either, who was an easy target from both sides of the aisle. 
Now Adams' self confidence has been put to the test, as it turned out getting his policy priorities written into law has been tougher than expected. Those include extending mayoral control, expanding the city's speed camera program, and extending tax breaks to incentivize the construction of affordable housing. 
The mayor is visiting the state Capitol today for about five hours to lobby for his priorities, and – no surprise – expressing confidence. "I am always optimistic," he told NY1's Zack Fink. If you weren't convinced by the City Hall rally last week, Adams' public schedule of meetings suggests extending mayoral control of city schools for four years is the top priority, given his face time with leaders of committees overseeing education. Assembly Member Alicia Hyndman told reporters she's on his side, but there are more lawmakers to win over before the end of session on June 2. And some, City & State's Rebecca C. Lewis reports, are a "hard no" and won't be budged. Of course, the most important players aren't there, since Gov. Kathy Hochul, state Senate Majority Leader Andrea Stewart-Cousins and Assembly Speaker Carl Heastie are all expected to be in Buffalo today for the president's visit following the racist shooting at a grocery store. One of Adams' deputies was expected to meet with state Senate Democrats' deputy leader, Michael Gianaris, on a workforce development bill today, but not the mayor himself. 
That's just the latest demonstration of the mayor's struggles to connect in Albany. He earned pushback from legislative leaders and progressives after challenging them on bail reform. And then some of his key asks were left out of the state budget. Later visits to the Capitol have been rumored, then postponed. His rally for mayoral control was postponed too, after a canceled flight left the mayor stranded on a fundraising trip to Los Angeles – underlining the fact that Adams seemed to be spending more time in other states than his own state capital. Lately, there's been grumbling and gossip about his intergovernmental affairs team's approach, as well as the way city Transportation Commissioner Ydanis Rodriguez was pushing for control over the city's speed cameras.  
Some of that seems minor, but it's had real consequences. "Home rule" that would allow full control of the cameras has no chance, StreetsBlog reported, so the mayor's team has had to scale back its ask. That could be the way forward for mayoral control too – a two-year extension instead of four, which could be more palatable to lawmakers who miss the hyperlocal fiefdoms of school boards. 
Adams is planning to talk to reporters about his day at the Capitol at 2:30 p.m. His public schedule gave the location as the "Great Western Staircase" – which anybody else in Albany calls it the Million Dollar Staircase. Still, no matter how the meetings went, expect this mayor of a city having a population of one million or more to be expressing confidence.
Powered By
NEXT STORY: Booster shot uptake lags amid COVID-19 wave