Campaigns & Elections
Antonio Delgado releases first TV ad, a month ahead of the primary
The new lieutenant governor is relying on video, while avoiding forums and debates.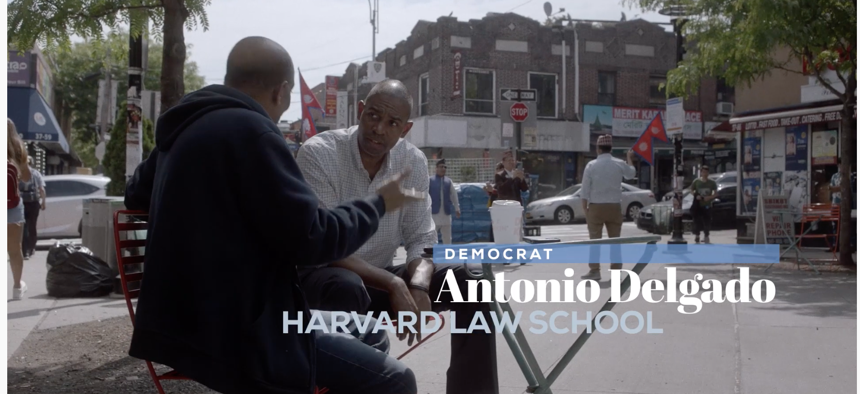 Picked out of his Hudson Valley Congressional district to be lieutenant governor at the last minute, it's safe to assume most Democrats in the state of New York don't know much about the state's No. 2, Antonio Delgado. The lieutenant governor hasn't done much to fix that yet, and has not appeared at forums or confirmed attendance for any debates ahead of the June 28 Democratic primary. But his campaign is taking a major step this week, releasing his first video ad less than a month ahead of Election Day.
Delgado's campaign shared the video exclusively with City & State before the ad starts running on TV and online Wednesday. The campaign says an initial $1.5 million ad buy will run the video across broadcast, cable, streaming services and digital media. 
Titles on the screen give the new candidate's résumé: "Democrat Antonio Delgado. Harvard Law School. Hip Hop Artist. Rhodes Scholar. Congressman. Your lieutenant governor." Delgado then highlights key policies. "That's why I fought to lower the cost of health care. And will always make sure a woman's right to choose is protected. And delivered billions in economic aid for New York."
The ad features Delgado in different scenes in New York City – walking up stairs to an elevated subway stop, sitting on a street corner in Jackson Heights, Queens, and playing basketball on an outdoor court. Delgado lives in Rhinebeck, in the Hudson Valley, and grew up in the Capital Region, but it makes sense to focus on the city, since well over half of statewide primary voters live in the five boroughs. 
Delgado is facing Ana María Archila and Diana Reyna in the primary. He will be the only one who actually has the money to make a major public push. Delgado reported having more than $2 million left in his campaign account, after shifting that much money from his abandoned Congressional reelection campaign. That towers over Archila, who reported just over $203,000 on hand as of last week,  and Reyna, who has only $126,000. Reyna could get a preprimary boost from her running mate Tom Suozzi, who reported having $2.7 million in the bank, but that too pales in comparison to the ad support Gov. Kathy Hochul could give her preferred running mate if internal polling showed Delgado struggling. The governor reported $18.6 million on hand.
It's always hard to get attention for a second-tier race like LG, but Delgado has barely seemed to be trying, limiting his interviews and public appearances since getting tapped to run by Hochul on May 3. He has declined to attend a debate Wednesday at CUNY's Craig Newmark Graduate School of Journalism in Manhattan hosted by City & State, Pix 11 and the Coro New York Leadership Center, and the former congress member's team could not point to any forums hosted by clubs or interest groups that he has attended so far. 
Archila called attention to Delgado's lack of engagement on Tuesday, walking into the lieutenant governor's office at the Capitol flanked by reporters. "New Yorkers deserve an opportunity to hear from the person who claims to represent them, and who's asking for their vote. Antonio Delgado has yet to make any confirmations for any of the debates, and any participation in any of the community forums where people are asking questions of the lieutenant governor candidates," Archila said. "Democracy does not exist in the darkness. Democracy needs people to actually answer questions, be transparent, be available, be engaging with the voters they represent."
Asked if Delgado would attend any debates, campaign spokesperson Madia Coleman pointed to a Daily News article from two weeks ago, where the campaign gave a statement that  Delgado "looks forward to the opportunity to let voters know where he stands on the issues that matter to them in a debate ahead of the primary election." Coleman said that single debate would likely be the one that NY1 is planning to host on June 15.
Until then, engaged voters can rely on Delgado's 30-second campaign ad. 
Powered By
NEXT STORY: Maloney v. Nadler: Who would have thought?