Campaigns & Elections
Which Democrats are running for lieutenant governor?
A multi-candidate field is taking shape ahead of the June primary election.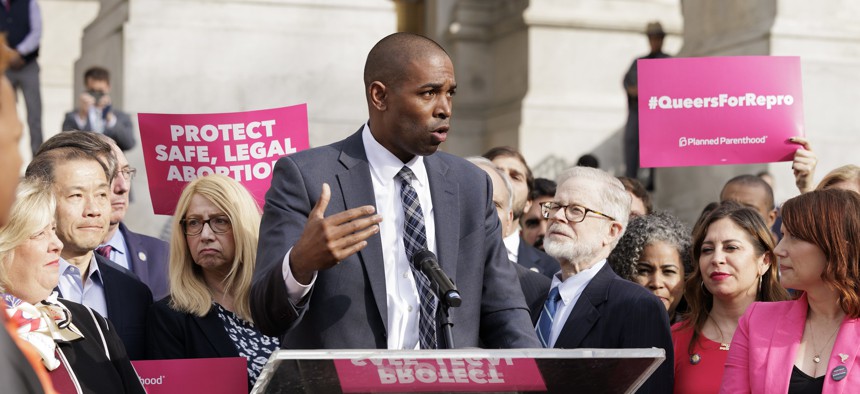 A lot has changed in the race Democratic primary for lieutenant governor since the start of the year. People have joined the race, others dropped out, and one former candidate even got arrested. 
Former Lt. Gov. Brian Benjamin resigned from the position after federal prosecutors indicted him on corruption charges. At the time, he suspended his campaign but had no way off the primary ballot, effectively creating a two-way race between former New York City Council Member Diana Reyna and progressive activist Ana María Archila.
Of course, in true Albany fashion, Gov. Kathy found a workaround to get herself a new running mate after the state Legislature approved a bill that allowed Benjamin to withdraw from the ballot and Hochul to replace him. Enter Rep. Antonio Delgado, new to the race and technically soon to be the incumbent. Benjamin's arrest and Delgado's selection have both shaken up the generally lower-profile race to determine who will make up the Democratic ticket
The No. 2 post in state government offers little formal power beyond serving as the official president of the state Senate. However, past lieutenant governors like Hochul and former Gov. Mario Cuomo have moved on to bigger things. It's made the position a tempting proposition for any politician looking to make a change – whether or not their running mate actually wins the primary for governor. 
Republicans face a big voter registration disadvantage in New York and have not won a statewide election in nearly two decades. That suggests whoever wins the 2022 Democratic primary for lieutenant governor will also prevail in the general election next November. 
Here's the lowdown on the three-way race currently set to take place on June 28.
Antonio Delgado
The newcomer to the race, Delgado has less than two months to ramp up his campaign apparatus and make himself known to New Yorkers around the state. A moderate two-term member of Congress who won his seat in a contentious 2018 race against the Republican incumbent, Delgado does benefit from ties to high-dollar congressional donors to raise funds quickly. Plus, as Hochul's running mate, he will likely reap some rewards from the governor's massive campaign funds. The Black and Cape Verdean politician – who identifies as Afro-Latino – helps to balance Hochul's ticket racially. But he represents a large swath of the Hudson Valley in NY-19, bringing an upstater into a race that had until now been dominated by New York City residents. It may put him at a disadvantage given a presumed lack of name recognition in the city where the most voters live, though his two downstate opponents could split that vote to his advantage.
Diana Reyna
The former City Council member and deputy Brooklyn borough president could help her running mate – Rep. Tom Suozzi – in a few ways. She adds some gender balance to a candidate who has been accused of sexism during the campaign. Her distinction as the first Dominican-American woman elected to public office in New York also gives Suozzi another way to appeal to the types of Latino voters who have helped moderates like Mayor Eric Adams win elections. And if Suozzi loses, Reyna has not said she would stop running for LG. Since Benjamin's resignation, she has held more solo events and even picked up a few endorsements offered to her but not Suozzi. Until then, the two campaigned exclusively as a pair and shared a campaign apparatus. 
Ana María Archila
A progressive activist who gained some notoriety when a video of her following Sen. Jeff Flake into an elevator to urge him to oppose Brett Kavanaugh's nomination to the Supreme Court went viral, Archila has effectively consolidated the institutional left of New York City. An informal running mate to city Public Advocate Jumaane Williams and fellow Working Families Party nominee, Archila has easily the most independent lieutenant governor campaign of the three candidates. She has her own website, endorsements and team that are not directly tied to Williams, though the pair still often appear together at events. She has racked up the most endorsements so far, including top-ranking state legislators and members of Congress, many coming after Benjamin's resignation. But without polling on the race, it's hard to know whether those will translate into actual votes in June.